Brandeis Alumni, Family and Friends
Empowering Students to Engage With Their Communities
Mariah Rich Collins '10 and James Collins '09 are making it possible for students to serve the local community while at Brandeis, just as they did.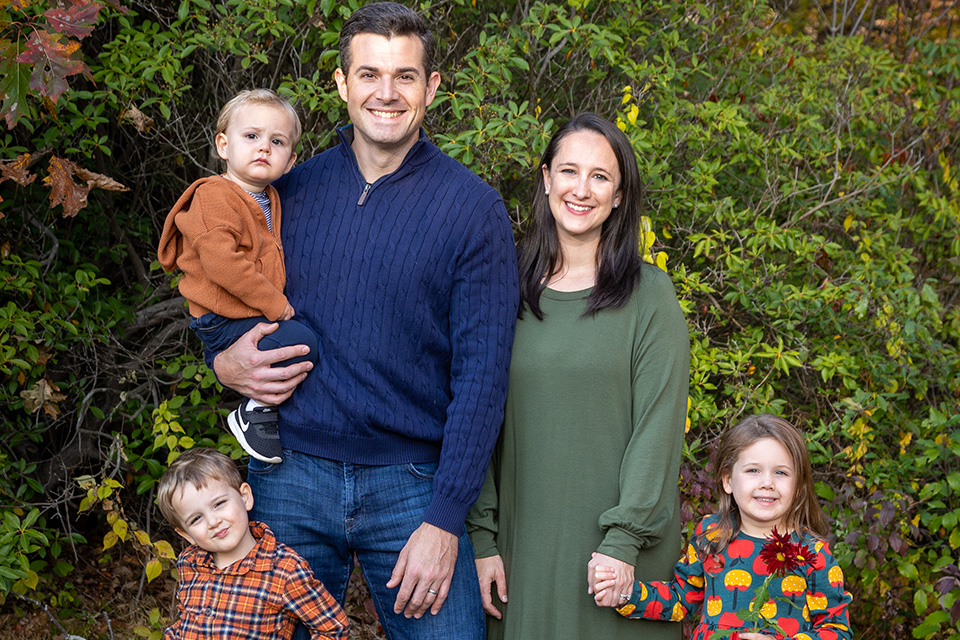 Married alumni Mariah Rich Collins '10 and James Collins '09 share a commitment to social and environmental impact and community-engaged learning. While at Brandeis, Mariah worked across a number of Waltham Group programs and received the Edwin E. Hoken Memorial Prize for service and citizenship. James launched an energy challenge on campus to reduce carbon emissions and volunteered at the Waltham Alliance to Create Housing.
Their dedication to social impact was the impetus for Mariah and James to establish the Rich/Collins Community Leadership and Impact Fellowship at Brandeis. Inspired by a similar program founded at Rice University by Mariah's grandparents, the fellowship is a mini-grant program with a mission to expand student leadership with local community engagement focused on meeting a community-identified need.
Student Harrison Lucas '25 recently reflected on his experience with the program.

"The Rich/Collins Program served as a great way for me to help tackle an issue I am passionate about and step out of my comfort zone. My program called "The Youth Health Initiative" was a 7-week program that sought to promote healthy eating, physical fitness, and overall wellness among middle schoolers. In the program, middle schoolers learned about nutrition, exercise and how the two play a role on one's mental health in a fun and educational way. Through Rich/Collins, I was able to positively impact the surrounding community. Surprisingly, middle schoolers will eat fruits and vegetables, and they especially loved the clementines that I brought to the meetings each week. Based on my program, I've noticed that if you talk about the importance of exercise and healthy eating in a captivating way, they will be more receptive. From me trying to quiet down rowdy pre-teens to having them enjoy jump roping by the end of it, my time during the program was a memorable experience. Not to mention, I earned the nickname "Jump Rope" which the kids called me to get my attention. Overall, I learned the importance of making connections and reaching out to support systems that can help bring my ideas into fruition. Although my program is over, I still participate in community activities such as the Language Empowering Action Program (LEAP), SPECTRUM group as a mentor, and General Tutoring."
The Alumni Association recently spoke with Mariah and James about why they're expanding their commitment to the program.  
The Rich/Collins Community Leadership and Impact Fellowship program is not only unique in terms of its powerful mission but also as a concerted effort by two visionary families. What inspired you to make this empowering commitment to Brandeis students?
The program was inspired by a similar program that Mariah's grandparents started at Rice University. Both of our families have instilled in us the value of community engagement, and we have both dedicated our professional careers to the nonprofit sector. Bringing community engagement and our own personal and professional experiences together, as well as our deep connection to Brandeis, made a lot of sense to us. And, it seemed to fit a need and a niche at Brandeis and in the broader community. We wanted to create a program that could empower both students and the community. In this program, students partner with the community to identify a challenge, co-create a solution, and see the solution through together. We hope the program has an impact in a few ways: meeting community-identified needs, developing student leadership skills, and building partnerships between local organizations and Brandeis.
What motivated you to recently agree to expand your philanthropic collaboration, both in terms of annual giving and for five years into the future?
We have listened closely since the beginning of the program to the student participants, Brandeis leadership, and the community on what is working and what is not. As a result, we have strengthened the program along the way by providing stipends for the students and ensuring that equity, especially racial equity, is central to the program. R/C CLIF gets better every year and we are excited to continue to support the program now and in the future.
Can you share what it means to you to know that this program helps Brandeis students partner with the local community, as well as develop valuable leadership skills?
It's really the reason we initiated the fellowship and why we are so invested. The way the program is designed provides the right balance of independence and support, and creates a framework for student leadership and community engagement. Students learn fundamental skills - including writing funding proposals, budgeting, and planning. They need to work in partnership with the community. They need to listen to the community and build on the assets that already exist in the community. We hope R/C CLIF creates the next generation of social sector leaders.

How do you think the R/C CLIF program can motivate other potential donors to support Brandeis students in helping repair the world?

The fellows we've seen come through the program are all so motivated to make change and have an impact. They come eager to learn from their partners and the community, their program participants, Brandeis community members, and their peers. Our goal is to support Brandeis students in the work they want to do. We know from our own experience that passion and interest are what drives the most successful outcomes. We are sure other donors can get excited about that, too!
What advice do you have for R/C CLIF participants?
To really have a listening and learning mentality. To understand the systems and structures that have led to marginalization and inequitable outcomes and to try to get to the root causes of those inequities. To listen to the community, your participants, and your peers. The community is best positioned to identify and drive solutions, so be a part of that approach in an authentic way. Be willing to change course if necessary. The process is as important as the destination, in many ways.
Mariah and James, you have both been remarkably involved leaders in the non-profit sector, both on campus and since graduating. In what ways did your time at Brandeis lead you toward a life focused on social impact?
James: Mariah and I were lucky to find ourselves in a place after graduating to start our careers in the nonprofit sector. Brandeis guided my trajectory in a way that, in retrospect, is very clear: think globally and act locally. Courses like Global Warming and Nuclear Winter connected all of us to the bigger picture, and my experience interning for the Brandeis Energy Manager provided the opportunity to engage locally. During that internship, I held an Energy Fair and conducted a campus-wide Energy Efficiency Challenge. Additionally, as a member of the Brandeis Varsity Baseball team, I had the honor of being chosen by my teammates as one of the captains during my senior year. These experiences, as well as my connection to the community in Boston, brought me to Action for Boston Community Development, Inc., one of the largest nonprofit anti-poverty Community Action Agencies in the country, where I have focused on delivering environmental justice through energy efficiency, climate equity, and carbon reduction in residential low-income properties statewide.
Mariah: Brandeis reinforced my values of equity and justice - especially health equity and environmental justice. My mentor, the late Laura Goldin, was so critical in my journey. Her coursework took us out of the classroom and into the community. We saw superfund sites, spoke with community members and local justice champions in Boston, and trekked through the woods of Walden Pond and Cape Cod. Community-engaged learning and community service allowed me to see and hear the challenges in the world firsthand. She also was an equity champion, a value I aim to carry forward in my work every day. Brandeis helped me narrow in on my passions and build the tools to take on these passions in my career.