Brandeis Alumni, Family and Friends
Alumni Hit Broadway for an Exclusive Trip Through "A Strange Loop"
Michelle Miller '11 recounts a unique experience with fellow alumni: an enthralling performance of  "A Strange Loop" followed by an exclusive talk-back with select cast members, including John-Andrew Morrison '95. 
Photo Credit: Bojan Hohnjec

Photo Credit: Bojan Hohnjec

Photo Credit: Courtesy Michelle Miller
In early August, I eagerly joined a group of fellow Brandeisian Broadway buffs to see John-Andrew Morrison '95 in "A Strange Loop" at the Lyceum Theatre. To make it even more special, Morrison and four of his castmates stuck around after the show for an exclusive Brandeis-only talkback.
During the conversation, we learned that "A Strange Loop" had taken 20 years to evolve into its current Broadway iteration. When asked what has changed most about the show on its journey to the big stage, actor Jason Veasey replied, "Just her look. She feels expensive now."
Since the start of the pandemic, Broadway has experienced an array of setbacks: decreased tourism to New York City, a lingering leeriness toward sitting alongside strangers in packed theaters, and the unpredictability of positive cases among cast members resulting in frequent callouts, just to name a few. Even long-running fan favorites like "Phantom of the Opera," "Dear Evan Hansen," and "Come From Away" were forced to close due to dwindling ticket sales.  People just aren't coming to the theater quite as often.
As a former Brandeis theater major, an actress who has been in over a dozen shows in her life, and a native New Yorker who has attended Broadway shows since she was a kid, I'm disappointed but not disheartened by the shrinking audiences. As I sat in the audience of "A Strange Loop" teeming with fellow Brandeis alumni, I still experienced that same childlike thrill that comes with seeing a new Broadway show. With a brand-new playbill in hand, I couldn't help but feel an incredible rush of excitement as I took in this incredibly innovative show. I thought to myself: This is home, this is Brandeis, this is New York – all wrapped up in one.
As one of the event's organizers, I got to invite my mother to join us, rounding out our group of 85 Brandeisians and guests. Attendees included members of the Brandeis Arts Alumni Network, Alumni of Color Network, Alumni Club of New York City, and LGBTQ Alumni Network – our presence in the audience reflected the intersectionality of the show itself. I had known the show was highly regarded, being the critic's pick in 2019, winning a Pulitzer Prize in 2020, and taking home the Tony Award for Best Musical in 2022. But let me be honest: This was a very interesting musical to watch alongside my mother.
Playbill describes the show's lead character, Usher, as "a young, Black, gay theatre writer grappling with his toxic inner thoughts while trying to write a musical about a young, Black, gay theatre writer grappling with his toxic inner thoughts while trying to write a musical about…and on and on and on." Hence the strange loop. It is a shocking nosedive into self-pity, self-doubt, homophobia, racism, sexuality, fat shaming, and complicated family relationships. I experienced a flood of emotions as I connected deeply with some themes and noted which others I couldn't connect with, and why. I was fully present, engrossed. That communal, shared experience, electrified by live performance, is exactly what we hope for when we take in theater at the highest level.
I have felt fortunate to speak with dozens of successful alumni in the entertainment industry through my podcast, Mentors on the Mic. What always strikes me is my guests' openness to sharing their stories so honestly. Playwright Michael R. Jackson wrote the first version of "A Strange Loop" at only 21 years old, working diligently to polish and shine light on his material, ultimately arriving at this "expensive" version we saw this summer. Morrison was a part of many of these iterations, pushing through the pain and rejection that is commonplace as an actor, a journey that I can personally relate to. "For a long time, I thought I wasn't what the industry desired," he told Brandeis Magazine in fall 2020. "But finally the time was right for others to appreciate me for who I am. It was a natural fit." Perhaps with further dedication, patience, and a reignited passion for sharing important stories, we can all find a place for ourselves.
As Morrison said in the talkback, "Don't be shy, Judges."
About the Author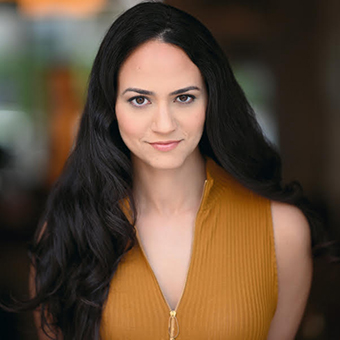 Michelle S. Miller '11 is a New York-based actress and podcast host and is the co-chair of the Arts Alumni Network.