Brandeis Alumni, Family and Friends
Artist Elana Hagler '02 Is on the Money — Literally
Elana Hagler '02 creates art that lands in the hands–and pockets–of millions.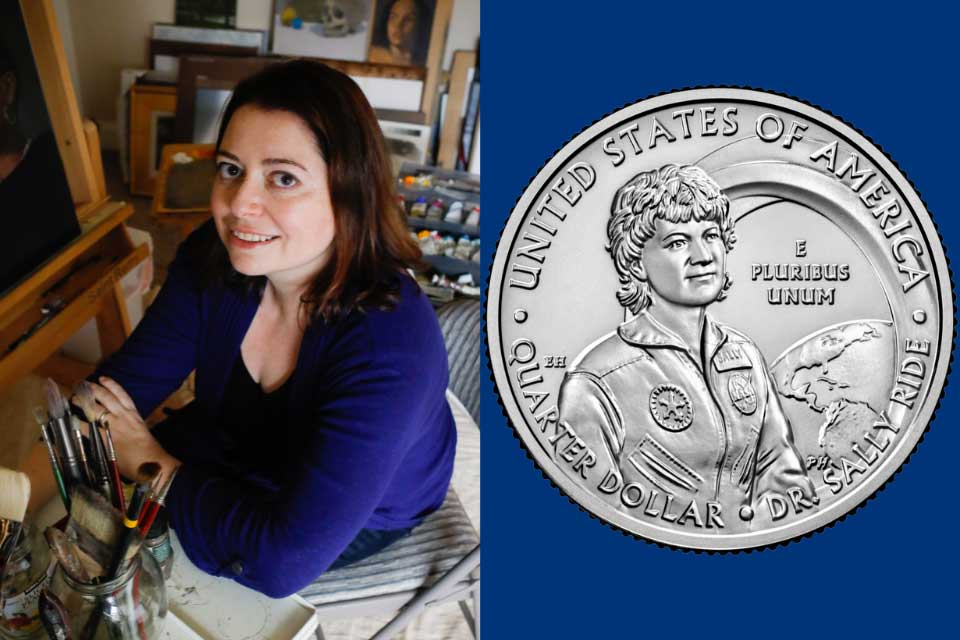 Photo Credit: Left: Nancy Fields, Big Dreamz Creative.
Artist Elana Hagler '02 sold her first piece of art as a young girl. Commissioned for the cover of a friend's notebook, the drawing depicted a "particularly gnarly" skeleton with wings. It sold, in Hagler's good natured but self-deprecating recollection, "for the impressive sum of one quarter." 
Now, Hagler's career as an artist has come full circle. She works with the U.S. Mint, the bureau within the Department of Treasury responsible for producing the nation's coin supply, and her artwork is engraved on the tails-side of one of a new set of commemorative quarters slated for circulation this year. 
Her latest work is a contribution to the newly launched American Women Quarters Program, which will, through 2025, produce five coins a year celebrating trailblazing women from throughout history, all designed by different artists.
The first five quarters in the set honor poet Maya Angelou, film star Anna May Wong, activist Wilma Mankiller, suffrage leader Nina Otero-Warren and, courtesy of Hagler, Dr. Sally Ride, the first American woman in space. 
A subject of boundless inspiration
Hagler says designing the Ride portrait was a "deeply meaningful" experience – a chance to celebrate brilliant women from history and, of equal importance, inspire young girls everywhere. 
"She shattered a glass ceiling by busting through it on a rocket into space and in doing so inspired countless others to tackle obstacles in their way and climb to new heights," she says. "When little girls look at the accomplishments of women, their ideas of what is possible for themselves grow exponentially."
Hagler's design portrays Ride next to a window on a space shuttle with Earth in the background. The image was inspired by Ride's own words: "When I wasn't working, I was usually at a window looking down at Earth." 
The portrait, chosen from a field of designs submitted by different artists, was recommended by the United States Commission of Fine Arts and the Citizens Coinage Advisory Committee, and ultimately selected for minting by Secretary of the Treasury Janet Yellen. 
The Ride coin is Hagler's second design selected for minting. In 2020, she designed a commemorative $1 coin honoring former President George H. W. Bush. She's been designing with the Mint since 2019, as a member of its Artistic Infusion Program, which works to produce and submit new designs for the nation's coins and medals.
A priceless education 
Despite her current career and artistic childhood, however, Hagler hadn't always planned on turning her art into a profession. When she first came to Brandeis, she majored in neuroscience and psychology. Then about halfway through her studies, she dropped neuroscience and picked up an additional major in fine art. 
Subsequently, she was awarded the Remis Art Education Grant, which helped fund a summer trip to Italy before her senior year. There, she met artists Lennart Anderson and Israel Hershberg, an experience she says set her "on the path to become an observational painter." 
She adds that her education at Brandeis has specifically come in handy for her at the Mint, aiding her when she's tasked with researching people, battles, inventions and other specific moments in history for possible commemorative coins.
"I think what has helped me so much in life is that when I was seeking out the best technical and philosophical training in art that I could find, I already had a very strong liberal arts education that bolstered me in every way," she says. "I learned how to learn, and that is priceless."
As for any numismatic artworks on the horizon, Hagler says the Mint likes to keep its purse close to the chest. For now, though, her Sally Ride coin is ready for circulation, maybe finding its way into the hands of a little girl, inspiring her to explore astronomy, or maybe even being used in a classroom somewhere to purchase a drawing from an artist just beginning to discover their calling. 
Looking to connect with fellow alumni in the Arts? Learn more about the Arts Alumni Network. 
About the Author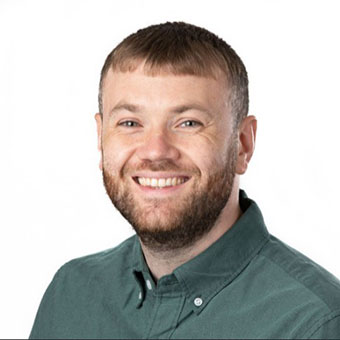 David Eisenberg
Integrated Marketing and Content Strategy Manager