Brandeis Alumni, Family and Friends
From Start-ups to Google: a Q&A with Adam Smoler '01
Myka Held '09 recently caught up with Adam Smoler '01, of Chicago, a politics and economics major at Brandeis who today is one of Google's youngest managers as the tech giant's head of industry for retail platforms.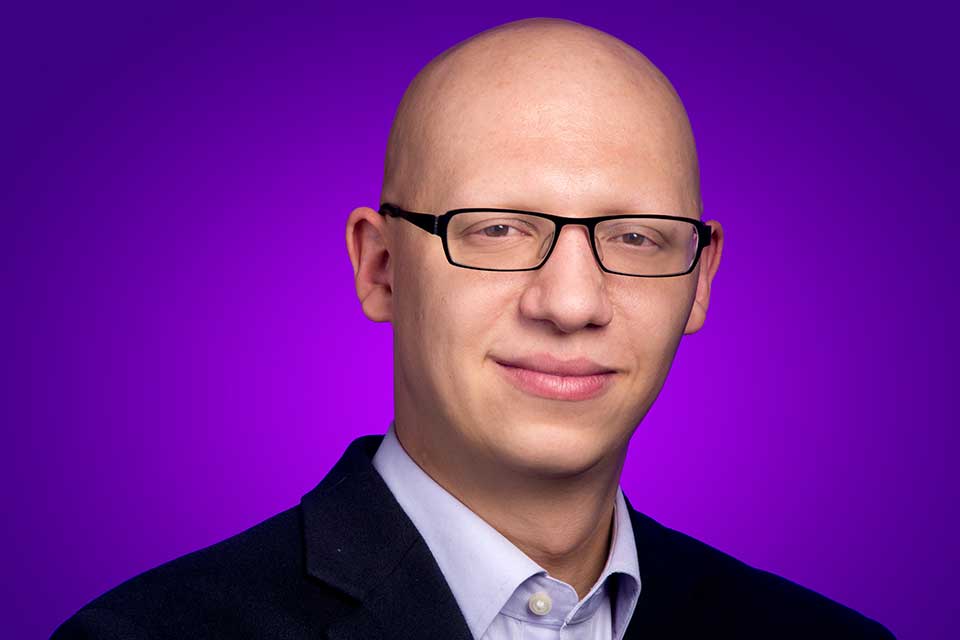 How did you get from Brandeis to Google?
After college, I spent a year in Israel. It was 2001, during the first tech-bubble and I had two summer jobs at tech start-ups. I realized I loved working at start-up companies due to my start-up summer jobs at Brandeis. After my year in Israel was over, I knew I wanted to work on the business side of technology. Sept. 11 happened and there was a major recession.
Coming back to America post-9/11, it was hard to get a job in the tech world. I called up my good friend from Brandeis, Scott Hirshson '01, who was working for a recruiter, and he told me, whatever you do, come meet with these guys I'm working with. Come talk to them. I owe a lot to my classmate Scott. He took a risk on me and talked me up to his recruiting firm and got me an interview with them, without any job in mind. His co-workers connected well with me and got me a job for a team that didn't even have a spot. From there, I became close with co-workers who went to work with Double-Click, and then Google bought Double-Click.
Your title at Google is head of industry for retail platforms. Can you break down what that means?
I oversee a technology that allows the largest media-buyers and media-sellers to transact. It's an infrastructure that allows media buying and selling to occur in the most efficient way. I oversee the retail vertical, or more specifically, retail and technology platforms.
What has been the impact of COVID-19 on your job?
From a client perspective, some clients are thriving in the retail space – more things have shifted online. Other clients are having an incredibly difficult time. The biggest personal challenge is being manager to a team where some people have multiple kids and no childcare; some people living by themselves; and helping my team members through radically challenging times of loneliness and isolation or challenges in work-life balance. Normally, we work in person at the Google building in Fulton Market.
How did you end up in Chicago?
I was living in New York City, as happy as can be, and my wife got into graduate school at the University of Chicago. She went to Booth thinking we'd move back to New York.
But we never left, because we discovered after living 10 years in Manhattan, there's no place we'd rather live than Chicago.
How do you handle work-life balance and what's your advice about that?
I have a one-year-old, a four-and-a-half-year-old, and an almost-seven-year-old. My wife works full-time. Life is pretty darn complex for me right now. It's hard because I have a job that doesn't really shut off. That affords me flexibility if I need to do things with the kids but it means I transfer my time to other parts of the day. It comes with a workday that doesn't end. I try to set clear boundaries and have protected space to be present. The boundaries between work and home have disappeared since working from home, but we eat as a family every night. Since the pandemic started, I haven't missed a family dinner. There's also no work travel and I was traveling two times per month before.
What was the most valuable skill you learned at Brandeis that you still use?
How to be creative and communicable: your ideas are only as good as the way you can articulate them to many different people. At Brandeis, I learned to synthesize ideas and re-articulate my own thoughts in a variety of settings, whether in class conversation, papers, debates, or clubs.
What was your favorite thing about Brandeis?
The small classes, first and foremost. I loved that it was a mid-size school that felt like a small school. I loved being challenged by classmates that were smarter than me, not in a condescending way. It's not about partying. My classmates took school seriously. We had phenomenal professors.
Who was your favorite professor?
Wellington Nyangoni, a professor of African and African American Studies, taught classes cross-listed with my majors. Those classes opened my eyes to globalization and the impact of globalization in the developing world, as well as the economics of hunger and the Third World.
What extracurricular activities were you involved in?
I worked on The Justice on the technical side.
What's your favorite thing to do in Chicago?
Biking to Hyde Park and back on the lakefront path.
What was your favorite restaurant at Brandeis, and what's your favorite restaurant in Chicago?
Brandeis = Joe Sent Me on Main Street
Chicago = Milt's Barbeque for the Perplexed.
Any concluding thoughts?
I'm deeply appreciative of my Brandeis experience and I continue to see the ways it opened my mind. As a hiring manager, I'm still looking for those strong liberal-arts skills and background because we need people to be dynamic and creative and adaptable and non-linear thinkers. Brandeis taught me intellectual curiosity and that things are not just black and white.
-Myka Held '09
Published On: January 12, 2021