Brandeis Alumni, Family and Friends
A Taste of Kolkata in New York City
For Ayan Sanyal '14, a cup of homemade chai is a warm reminder of home and family. His parents moved to Massachusetts from Kolkata, India, and he grew up with a blend of two distinct cultures in his life.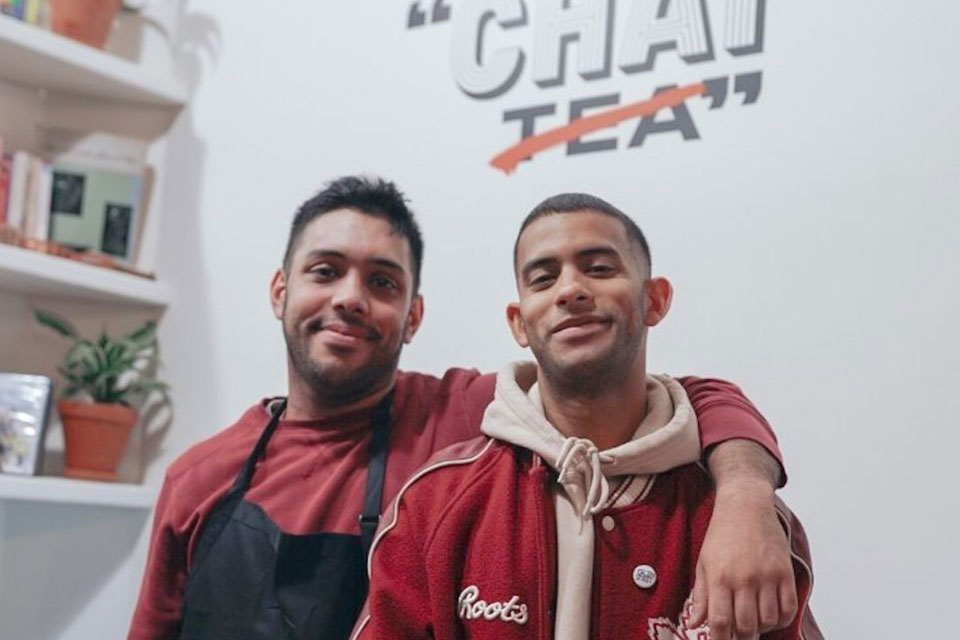 Photo Credit: Kolkota Chai Co.
After graduating from Brandeis and moving to New York, Sanyal visited up-and-coming local coffee shops and noticed the American versions of chai — a type of Indian tea made with milk, sugar and spices — were unlike what he had grown up drinking with his parents. On trips to Kolkata, he discovered a world of street food and drink vendors who sold chai the traditional way, and the culture of tea that went along with it.
Unable to find any authentic blends in New York, Sanyal decided to show America what makes an authentic chai drink so much better.
With his background as an economics major and a business minor, Sanyal partnered with his brother Ani to co-found Kolkata Chai Co. in April 2018. Renting a U-Haul to set up a mobile shop in the local Jersey City Farmers Market, they began making batches of chai for a steadily growing customer base. 
Using a blend of cardamom, fresh ginger and other spices, they hand-grind their spices to make a high quality brew.
"We did the farmers market for one season, spending eight months there while also working full time," Sanyal says. "I got a glimpse of how tough the food business is, how much work it is, and I really started to appreciate it."
Their shop, which opened in September 2019, is situated in a cozy 100-square-foot hole in the wall in the heart of the East Village, known for its varied food culture. On the wall is an artist's rendering of a map of America that spells out the word "immigrants." The cafe is meant to feel like "your home is meeting our home," Sanyal says.
"For me, food equals family," he says. "I think most cultures do gather around food, which makes food beautiful and something that really touches every human soul." Sharing chai is his way of sharing a piece of his culture with people from different communities, he says.
"I'm always experimenting and trying to find a mix between the old traditional chai and new things," says Sanyal. "But at the same time, I always try to make sure that we respect and balance the cultures."
As a disc jockey at Brandeis, Sanyal learned about marketing hands-on, from writing invitations to a 90s-themed party on Pokémon trading cards to selling roses on Valentine's Day to promote an album release.
This spark of creativity continues, and has come in handy as the COVID-19 pandemic has impacted the brothers' business. When visitors to the shop slowed to a trickle, they started delivering chai to their customers and launched an e-commerce business in two weeks to ship DIY Chai Kits to tea drinkers looking to get their fix. 
Sanyal notes the online shop expanded their base to customers outside of New York who wish to try their authentic chai at home.
Kolkata Chai Co. is featured in the first-ever Brandeis Holiday Gift Guide. Visit Kolkata Chai's website to purchase a DIY Chai Kit for yourself or a friend.
— Lauren Medeiros
Published On: November 27, 2020