Brandeis Alumni, Family and Friends
Alumni Artists Bring Their Work Home to New Campus Gallery
April 18, 2023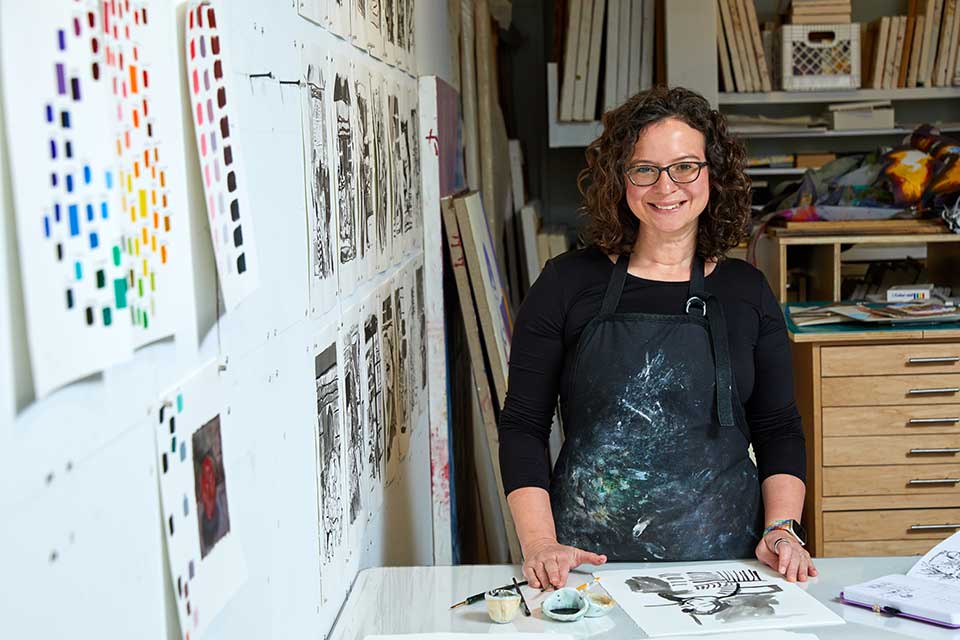 Photo Credit: Joel Benjamin
In conjunction with 75th anniversary celebrations this Fall, Brandeis University will be launching the Brandeis Alumni Art Gallery at the recently refurbished Wien Faculty Center. Sponsored by the Brandeis Alumni Association, the Office of the President, and the Division of Creative Arts, the exhibition series will feature a different group of alumni artists every six months. A pre-launch exhibit will be opened later this month, as part of the Leonard Bernstein Festival of the Creative Arts.
"The Brandeis Alumni Art Gallery is a magnificent partnership between the university, the Brandeis Alumni Association, and Brandeis alumni," said President Ron Liebowitz. "It is a joint effort focused on showcasing Brandeis alumni artists for the benefit of Brandeis students, faculty, alumni, local community members, and the art world at large."
Brandeis Alumni Association President and University Trustee Lewis Brooks '80, P'16, explained, "When we first considered this proposal for an ongoing art exhibition, we thought, what an amazing idea, to promote our gifted, artistic alumni in a dedicated space." Commenting on the high-profile real estate occupied by the Wein Faculty Center on campus, Brooks continued, "Now, students, staff, faculty, alumni, important guests and dignitaries alike will be able to experience, firsthand, the remarkable work of some of the many talented artists who have spent time on our campus. I hope that our artistic-minded students who see these works will be inspired to pursue their own potential in the arts, as other Brandeisians have done before them."  
The pre-launch exhibit opening later this month features the work of Alison Beker Judd '04 PB'05. Judd's recent paintings and works on paper capture the gestures of everyday moments with her family—her three children and husband, Isaac Judd '04.  Judd received a BA in painting and art history from Brandeis. She studied with Joe Wardwell and Susan Lichtman, both of whom will be helping to oversee the design of Brandeis Alumni Art exhibitions. Judd remained at Brandeis for a post-baccalaureate certificate in studio art, then earned an MFA in painting and printmaking from Massachusetts College of Art. She is the founder of Gallery Tempo, showcasing local artists through pop-up gallery shows in Greater Boston. She is also a longtime member of the Brandeis Arts Council. Judd's work, "Alison Judd | be-tween" will be on view in the Wien Faculty Center from April 21-May 5, 2023. Gallery hours:  Monday-Friday, 11 AM-5 PM, subsequent hours TBD.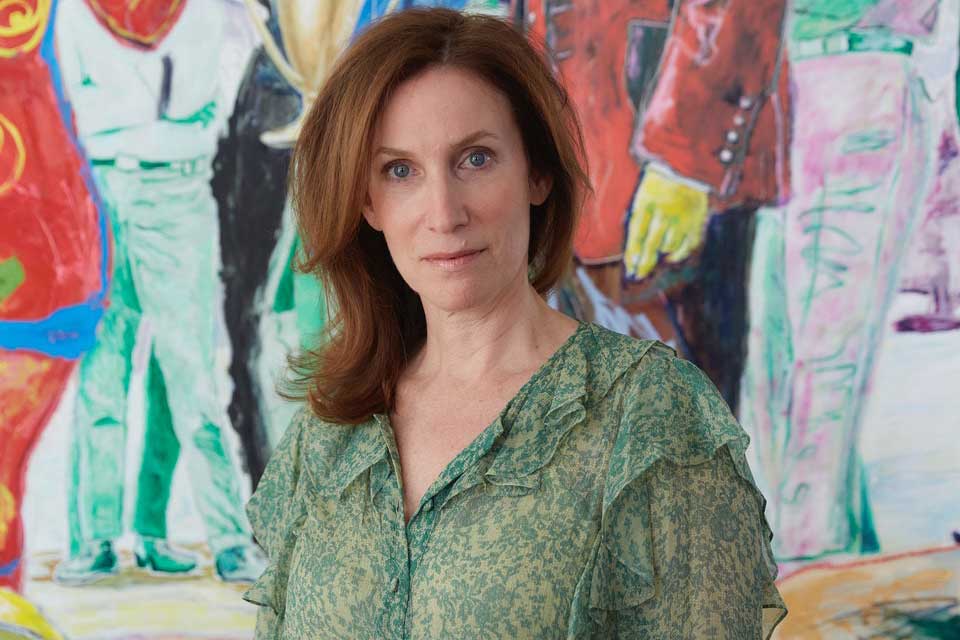 Photo Credit: Courtesy Andrea Molod Soloway
The formal launch of the Brandeis Alumni Gallery in October will feature artists from every decade since the 1950s. "The creative range of our alumni is astonishing," said Brandeis Arts Council Board Member Andrea Molod Soloway '89, the volunteer who has been spearheading the design and development of the Brandeis Alumni Gallery project. "They work in oils, glass, fiber, electronics -- every medium you can imagine. Our alumni exhibit their work all over the world, and we are thrilled to be able to show them off at Brandeis, in the beautiful mid-century modern Faculty Center building."
Soloway has long held a passion for the arts, beginning during her time as a Brandeis student, and later, as an avid collector.  She is also a devoted alumna who has hosted many events in her home, and in New York, in support of Brandeis and her fellow alumni.
Soloway encourages Brandeis alumni artists to indicate their interest in being considered for exhibition by emailing arts@brandeis.edu.