Brandeis Alumni, Family and Friends
Painting Flowers on COVID's Plywood Pall
Amelie de Cirfontaine '18 has brought her own brand of artistic expression from Brandeis to the streets of San Francisco.
A few years ago, Joe Wardwell, associate professor of painting, advised then-student Amelie de Cirfontaine '18 that her artistic process and her studio were "too tidy." So she began painting the studio walls, timidly at first, then with abandon. When Wardwell walked in and declared, "Much better," a muralist was born.
Today, de Cirfontaine is a San Francisco-based street artist who goes by Amilli Onair and works as a freelance digital marketing consultant (if you're not Banksy, street art rarely pays the bills). She was an artist-in-residence at high-tech company Loft Orbital from 2019-20 and has received commissions for indoor murals at other tech startups. Her studio work includes abstract oil pastels on paper.
But street art is altogether different, says de Cirfontaine, a French American raised in Paris, Morocco, Mauritius and New York. It's ephemeral, often created beyond the boundaries of the law, prone to suffering the ravages of weather. Its public nature makes every passerby a critic.
Want to know how Brandeisians are changing the world? Subscribe to the weekly BrandeisNOW email newsletter. 
"Painting in different forms is like speaking many different languages," de Cirfontaine says. "Street art should represent all the people walking on the street."
During the pandemic, de Cirfontaine brought life to boarded-up storefronts, covering them with a series of paintings she calls "Blooming Thoughts," filled with gleeful flowers rendered in bright colors. Passionate about women's rights, she also painted public tributes to Ruth Bader Ginsburg, in which the late Supreme Court justice's likeness is crowned with blossoms. "My art is intensely feminine," she says, a quality that sets her outdoor murals apart — perhaps due to the safety risks of painting alone at night, men vastly outnumber women in the medium.
Street art demands confidence. "There is no how-to book," says de Cirfontaine. She comes to a site with sketches, then creates her paintings freehand and with paper stencils. When COVID-19 cast its plywood pall over San Francisco bars and restaurants, de Cirfontaine used the boards as her canvases. Although most owners welcomed her efforts, one business had her work taken down and hauled to the trash.
But the challenges of creating murals pale next to its rewards, says de Cirfontaine, who hopes someday to devote herself to street painting full time: "There is something so special about making this art."
Looking to connect with fellow alumni in the arts? Learn more about the Arts Alumni Network.  
About the Author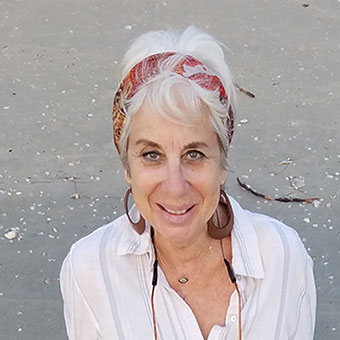 Former senior editor of Bostonia, Susan Seligson is an award-winning journalist who has written for The New York Times Magazine, The Atlantic, The Times of London, Redbook, Yankee, Salon, The Boston Globe, Radcliffe Magazine and many other publications. She is the author of several books including Going with the Grain (Simon & Schuster).
This article originally appeared in the Fall 2021 issue of Brandeis Magazine.