Brandeis Alumni, Family and Friends
Alumni Association President Lewis Brooks '80, P'16, to the Class of 2025: "Find Your Brandeis"
September 1, 2021
For the first time, the Brandeis Alumni Association welcomed the Class of 2025 to Brandeis in a convocation ceremony during New Student Orientation, the start of an important tradition. Alumni Association President Lewis Brooks '80, P'16, who spoke at the August 29 ceremony, wants the newest class of Brandeisians to understand that being Brandeis alumni does not start at graduation. Instead, they can begin building connections with Brandeis' vast alumni network the moment they arrive on campus.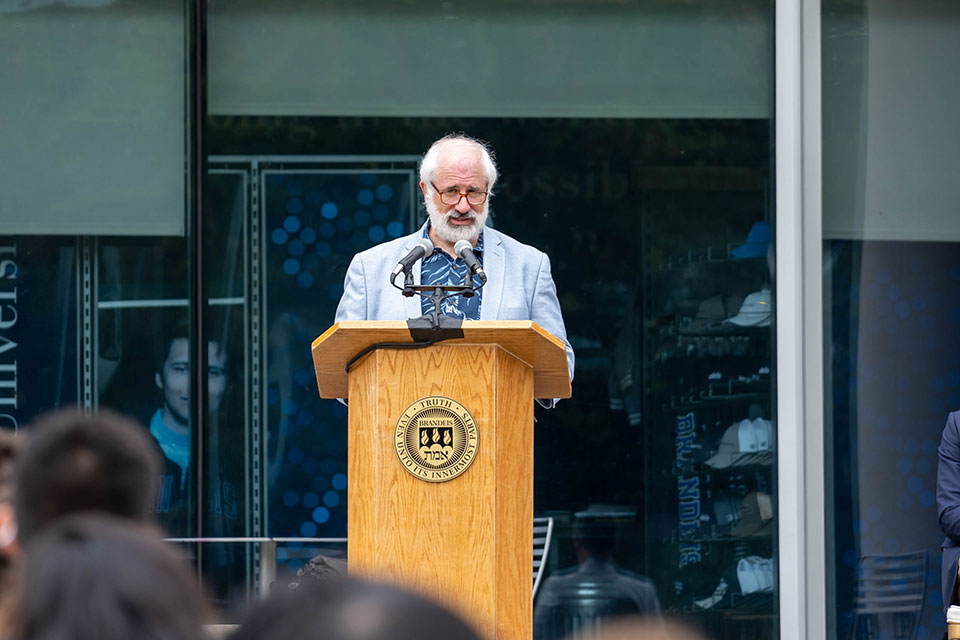 Brooks joined President Ron Liebowitz, Provost Carol Fierke, PhD'84, Vice President of Student Affairs Raymond Ou and Rabbi Seth Winberg on the Great Lawn in front of the Shapiro Campus Center to welcome the class. Each speaker was introduced by a member of the Orientation Core Committee. Brooks, who was introduced by his nephew, Harrison Kaish '22, offered the following remarks:
Thank you, Harrison. 
I am very lucky to have six nephews. Harrison is definitely one of my top three favorites. 
I'm Lewis Brooks, from the Brandeis Class of 1980. Harrison is not my only Brandeis relative; both of his parents, my wife and my daughter are alums. 
And while it's true that I am closer to your parents' age, it's also true that, like each of you, I was a student here. 
A good number of decades ago, at an event just like this, I sat with my class. My class met indoors in Spingold and you are outdoors on the great lawn, but we all were thinking similar things. I had just moved into Reitman 215, a natural triple at the end of a long hallway of a dorm in North Quad. My roommates and I were still figuring out if we wanted all three beds in one of our two rooms, or do we mix it up. You're figuring out things like eating in Lower Usdan versus Sherman. Is it worth walking up the hill or down the hill for your next meal? And what about Upper Usdan and the C-Store and the Stein?  Did you pick the right UWS? "Medical Ethics" or "Bad English" or "Mythology of the American West?" 
And to Raymond's point, when someone says meet you at Shapiro, how do you know which one?
And then there are all the clubs and activities — you've been hearing about them and right after this is the involvement fair. There are lots of opportunities. On top of that, Orientation was turned sideways because of the Tropical Storm Henri NON-event. But as you saw and will continue to see, Brandeis is agile. It adjusts and makes things work.
But I do understand all of this can be a little bit VERY overwhelming. 
And now you're hearing speech after speech welcoming you to Brandeis. You've heard from the president, the provost, the vice president of student affairs, our rabbi. And now someone else is talking about, of all things, the Brandeis Alumni Association. You've barely started and already "alumni?"  
As Harrison told you, I am the president of the Alumni Association. I represent Brandeisians from the very first class of 1952 to the most recent graduates in the Class of 2021. 
But why mention alumni now? The reality is you are all going to be Brandeis alumni. But until then, you should know that the 60,000 of us scattered all over the world are a valuable resource for you. We were all Brandeis students, we've all moved into Brandeis dorms, we've eaten the food, taken our classes, walked up and down that hill, made life-long friends, graduated, got jobs and made lots of memories. 
Your years here will offer you countless opportunities that you can't even imagine right now, and knowing there are members of the Brandeis family that you can reach out to if you have a question is something you should at least remember, but hopefully embrace. 
You will be introduced to a way to connect to us as you're introduced to the Hiatt Career Center. So there's nothing for you to do right now. No notes to take, no lists to add your names to, no offices or meetings or tables to visit. 
Just remember we're here. 
Whatever the need, Brandeis does an excellent job of providing you the guidance and the resources where and when you require it. The Alumni Association is part of that. And whether it's career guidance or your major or going abroad or clubs, we've experienced it and can help if you'd like. And not just old alums like me — almost 9,000 of us are BOLD alumni, Brandeisians of the Last Decade. 
Brandeis has an incredible amount to offer, and we can help if you want.  
Just up the hill is the math building, where I decided I did NOT want to be a math major. I see where I took countless photographs for the Justice and the yearbook. All the way up is North Quad and Reitman where I lived for not only my first year, but all four years at Brandeis. Right behind us is Massell Pond, where friends have hung out, waded, fished and, in the winter, walked. Just over there is Rosie, or what I call Rosenthal, where some of my closest friends lived, as did my wife, my daughter, brother-in-law, sister-in-law and Harrison. And on Chapel's Field, where the Involvement Fair will take place in a few minutes, I attended carnivals, barbecues, concerts, comedy shows, colorful Holi celebrations and reunions. And in the Berlin Chapel, 36 years ago, I got married. 
This is a very wonderful time for you and you are in a very wonderful place. Explore, meet people, get lost, find your Brandeis and make your memories. They will last a lifetime. And know that if you need an alum to chat with, we are here. 
Thank you and welcome to Brandeis.
Read President Ron Liebowitz's convocation address and remarks on the new academic year.