Brandeis Alumni, Family and Friends
Meet Lewis Brooks '80, P'16, the New Alumni Association President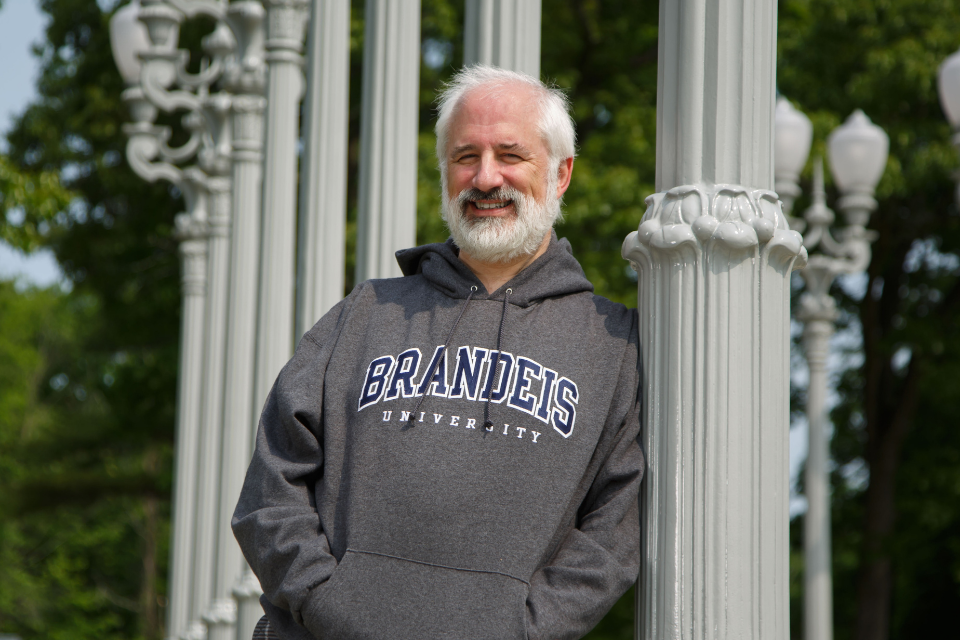 Photo Credit: Heratch Ekmekjian
Lewis Brooks '80, P'16, began his term as the new president of the Brandeis Alumni Association on July 1. Since graduation, he has proven himself as a devoted Brandeisian, serving on every one of his class reunion committees, as a class correspondent, vice president on the Alumni Board and most recently as the Hiatt Career Center's representative to the Board.
Despite a demanding travel schedule as CIO of DDB Worldwide, one of the world's largest advertising networks, Lewis rarely misses a Brandeis meeting or a chance to visit campus (and Waltham's finest eateries). Beyond his love of eclectic cuisine, he is perhaps most well-known as the official-unofficial Brandeis photographer, having taken thousands of photos over the last 40 plus years that capture both the student and alumni experience.
When he was back on campus last month for Alumni Weekend, Lewis reflected on his time at Brandeis and shared his goals for the future. 
Q&A with Lewis Brooks
What is the most important value you learned at Brandeis?
Community. During my Brandeis years, I had the benefit of interacting not only with my class, but with much of the student body as well as the staff and administration.
I worked at the Student Service Bureau and as a driver for the university, I presented photo slideshows in Levin Ballroom during Friday night movies, I took senior photos for the yearbook and I lived in the same dorm (Reitman!) for all four years. These interactions outside of the classroom showed me the value and importance of community.
To reference Dean of Students Jamele Adams, Brandeis is "Our House." While we never called it that back then, nothing describes the Brandeis community better for me. 
If you could be any other Brandeisian, who would it be?
University photographer Ralph Norman. He captured Brandeis' growth and development on film over five decades. Because of his work, we have a visual history of our school. I am envious of what he did and grateful for what he left behind.
What was your favorite Brandeis moment captured in a photo?
This one is tough. Putting aside snapshots from when I first met my wife Denise '84, our wedding on campus and when my daughter Hannah '16 graduated, there are still thousands of photos to choose from. But one of the moments that rises to the top was when I attempted a class selfie at my 35th Reunion. In addition to 1980, you'll see many neighboring classes in there – that's what makes it even better. 
What was a favorite moment from Alumni Weekend 2019?
Seeing Brandeisians across many decades interact with one another. I listened to a member of the 50th Reunion class interact with a current student, and two distant generations compare their Ford Hall stories. We all share a bond that is the Brandeis experience.
What three words of advice would you give to current Brandeis students?
Enjoy the ride!
What is your biggest challenge ahead as the new Alumni Association president?
Reaching the subset of alumni who are not actively engaged with the university. There are Brandeis grads who have never returned to campus after their commencement or whose Brandeis experience was different – we need to understand why. 
What is your biggest opportunity?
Today's students are tomorrow's alumni. More than just a welcome on their first day and a congrats on their last, the Alumni Association needs to meaningfully engage students throughout their Brandeis careers.
What else do you want fellow alumni to know about you?
There used to be a daily newsletter called "Today" that listed the day's campus activities and events. It was printed on pink paper and placed in a box for pickup near Mrs. Schneider (the check cashing lady) in Usdan. On April 1, 1979 an April Fool's edition mysteriously appeared and no one ever found out who did it, until now. It was me (with help from a friend).
Published On: June 6, 2019