Brandeis Alumni, Family and Friends
Alumni Board Welcomes New Members
July 31, 2020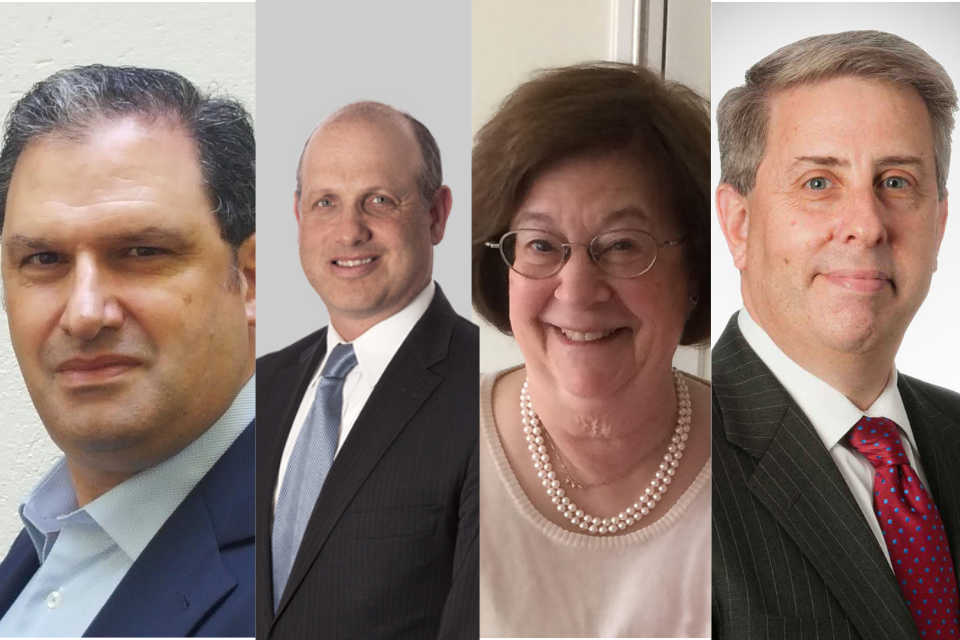 The Brandeis Alumni Association Board of Directors has announced five new members and the re-election of six others to second two-year terms.
Elected new members-at-large are David Allon '81, P'22; Joan Feinberg Berns '70, MA'71, PhD'74; and Elias Rauch '84. Appointees are Joram Cukierman '98, MA'99, representing the International Business School, and Howard Jeruchimowitz '94, P'23, president of the Alumni Club of Chicago.
"We're delighted to welcome these new members to the Board," says Trustee Lewis Brooks '80, P'16, president of the Alumni Association. "The diverse strengths and experience they bring will bolster our efforts to keep Brandeis alumni connected with each other and their alma mater."
Allon, of Wayne, Pennsylvania, is a managing representative at Woodbury Financial, past president of the Alumni Club of Philadelphia, and father of Zach '22. He brings his business background as well as a strong connection to Israel, his birthplace.
Berns, of Wayland, Massachusetts, president of Kenmore Realty Corp. in West Newton, Massachusetts, brings three Brandeis degrees and experience as a professional fundraiser at Harvard Medical School, where she was a director of development, as well as at Brandeis, Harvard-Radcliffe Hillel, Beth Israel Deaconess Medical Center and Hebrew Senior Life.
Rauch, of Scotch Plains, New Jersey, and New York City, co-founding partner of Gitterman Wealth Management, brings financial expertise and has been active in alumni and student career networking events in New York City.
Cukierman, of New York City, a managing director at Goldman Sachs, is the youngest of three brothers who each majored in economics at Brandeis, and over the years has hosted many Brandeis students at Goldman Sachs, 40 of them in 2019.
Jeruchimowitz, of Northbrook, Illinois, a former editor-in-chief of The Justice, is an attorney with the firm of GreenbergTraurig, LLP, who co-chaired the Chicago Alumni Lawyers Network before becoming president of the Alumni Club of Chicago. He is father of Caylie '23.
Meantime, six other members-at-large have been re-elected to second terms, ending in 2022. They are Pamela Anderson '79, of Silver Spring, Maryland; Amy Greenberg Bard '79, of Needham, Massachusetts; Kai-Moritz Keller '07 of Beijing; Steve Rabitz '92 of Teaneck, New Jersey; Jonathan Sclarsic '03 of Washington, D.C.; and Michael Zinder '75 of New York City.
All graduates of Brandeis University are automatically members of the Alumni Association, currently more than 60,000 members strong. The Board of Directors guides the association's programming for alumni. New board members, nominated on the strength of their alumni engagement, are elected at the spring meeting and begin their two-year terms on July 1.