Brandeis Alumni, Family and Friends
Bela Labovitch '87, P'17 Is Leading Women to Enter Careers in Tech
This Women's History Month, the Brandeis Alumni Association invited perspectives from several alumnae who are inspiring the next generation of scientists and engineers.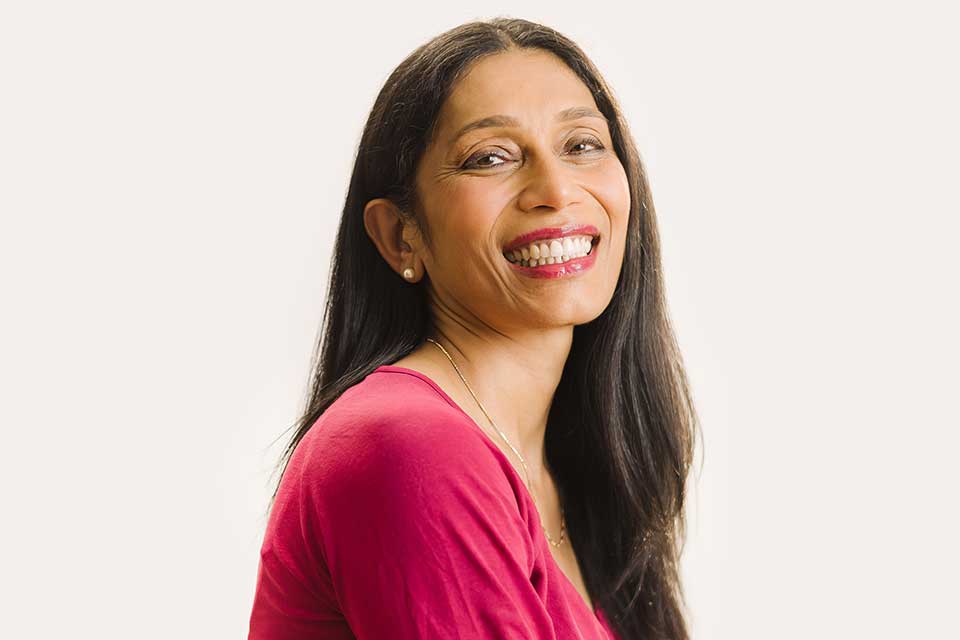 Bela (Apparao) Labovitch '87, P'17, is vice-president of engineering at athenahealth, a company headquartered in Watertown, Massachusetts, that supplies cloud-based software for healthcare providers' offices and health systems. She has held positions including chief technology officer, vice-president, architect and developer at companies ranging from start-ups to larger enterprises. 
Labovitch is particularly interested in attracting and keeping women in the technology field and raising women leaders. She serves on the steering committee of the Women's Leadership Forum at athena and founded their Women in Technology initiative. She is a STEM mentor and speaks at organizations such as Girls Who Code. 
The Healthcare Technology Report in 2019 named her as one of the Top 25 Women Leaders in Healthcare, while Girl Geek X named her to its list of 60 Engineering Leaders to Watch in 2020.
She was invited by the Brandeis Alumni Association to reflect on her career in STEM and on the part her Brandeis experience played in shaping her professional path.
I am inspired by the mission of what I do. Our focus is to make healthcare better and improve the lives of both patients and providers. There are so many hard problems to solve – such as creating interoperability between systems. As someone said recently, we can literally get video from MARS back to Earth but you can't send medical records across the street. We are working to fix this, among other problems. As a software engineer, I am always excited about the difference I can make through the application of technology.
Influenced by my father, who was an astrophysicist, I always thought I would be a physicist. When I came to Brandeis, I was excited by the range of classes and options I had to major in. I loved my CS 101 class and Introduction to Psychology, so I ended up majoring in Computer Science and Psychology
I developed a passion for building software at Brandeis. I had such great professors who challenged and inspired me and ignited the spark of curiosity and continuous learning. What better field than computer science can a learner choose? Technology changes constantly.
My favorite professor at Brandeis was Tim Hickey, who inspired my curiosity in artificial intelligence and its potential. I studied Prolog with him and did my thesis with him. I remember him inspiring an 'aha' moment: the realization that computer science isn't just about programming and homework assignments, but utilizing technology to make a difference in this world. Thanks to Tim, I am back at Brandeis every year for one reason or another – most recently to convince Brandeisans to come join me in solving some challenging problems at athenahealth.
I cannot think of a better choice for a young woman than STEM – particularly computer science. I recently gave a keynote at the Women In Tech conference at Tufts University. My presentation was titled "The Top 10 Reasons to Consider a Career in Tech." The target audience was young college women. I am passionate about bringing women into technology. For women – and anyone – it's a career where you can make an impact, and continuously learn and be challenged while utilizing your creative and analytical skills.