Brandeis Alumni, Family and Friends
Dr. Hannah Zeltzer '12 on the Front Line Against Coronavirus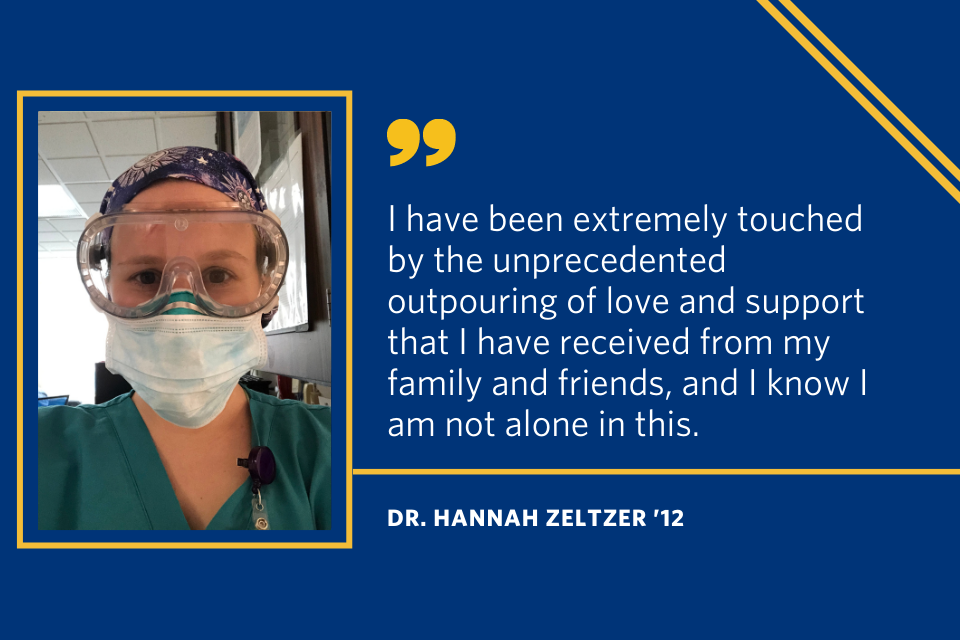 Dr. Hannah Zeltzer '12 is a second-year obstetrics/gynecology resident at a hospital in Queens, where she treats a vulnerable patient population, some of whom have COVID-19.
The Brandeis Alumni Association asked her share her perspective with the Brandeis community.
While I have remained covering the OB/Gyn service, more than half of my colleagues have been pulled to help with COVID-19 Code teams overnight. I feel lucky to be somewhat sheltered for now, although this means more frequent 24-hour shifts with fewer residents to share the workload. It's nothing we can't handle, though.
The patient population I work with is one of the most vulnerable in the city; they often have difficulty obtaining appropriate access to care and have very high-risk pregnancies. This pandemic has further limited access to care for multiple reasons: patients were concerned about coming to the hospital or clinic for fear of catching COVID-19; some patients thought our obstetric clinic was closed (it is not) or even that labor and delivery was closed; and many of the specialty consults our patients require were unavailable in the transition from in-person specialty clinic visits to telemedicine. As one of my attendings reminded us, we may all be concerned about the pandemic but that doesn't change the usual challenges and medical problems we face with our very high-risk patient population, it just means we have to be even more diligent and supportive of our patients. 
I have been extremely touched by the unprecedented outpouring of love and support that I have received from my family and friends, and I know I am not alone in this. This support has spread beyond our close relations. I have seen healthcare workers supporting each other, making sure that their coworkers are fed, have PPE [personal protective equipment] or know where to find it. The local EMS [Emergency Medical Services] and FDNY [New York City Fire Department] have come outside our hospital to sound their sirens and cheer us on even though they are frontline workers and deserve recognition themselves. 
Although not true for all labor floors in the city, we have been lucky to not have had any pregnant patients critically ill with COVID-19. We do have patients with the virus, however, and many are asymptomatic which can pose an even greater risk to their family and our staff. 
In terms of my "regular life," I was a busy resident prior to the pandemic, but I always made time to periodically meet up with friends or co-residents (outside of work). Now I go to work and go home. Like many people, I've maintained connections through Zoom gatherings. Another large part of my life is studying; while independent study persists (in some ways I have more time for that now), our built-in education has disappeared, leaving me to rely solely on myself. As all elective cases have been cancelled, our gynecological and surgical skills, for the most part, have been put on hold—as they should be. Managing this crisis is the most important thing right now. 
As a teenager I was inspired by stories about my grandfather who was a doctor. I became a doctor to blend my love for intellectual curiosity and helping people. I love Ob/Gyn—it keeps me on toes, I'm passionate about women's healthcare, and there is honestly nothing that beats the feeling of delivering a baby! In spite of all of the sorrow and tragedy this pandemic has brought, there is still the hope and beauty of new life every day. After performing an uncomplicated cesarean section a couple weeks ago, one of the nurse anesthetists I worked with commented that she was grateful to have been a part of the delivery, helping safely bring new life into this world, because over the last week all she had seen was death. This reminded me again how grateful I am for the specialty that chose me. 
Stay home, even when you have cabin fever.
I see people making excuses to go out. Don't, unless it is essential. Continue to support each other, and especially support your friends and family who are essential workers. Everyone who has checked in on me during this crisis has no idea how much even a message saying, "Hey, I'm thinking about you. Please stay safe," lifts me up. If you are healthy and able and want to help, please donate blood. Help your neighbors with groceries who are quarantined or who are elderly/have medical conditions that put them at greater risk. Avoid risky activities that might land you in the hospital. For example, make sure you're only using Lysol to clean!
---
Read additional reflections from Brandeis alumni on the front line in New York City.
Published On: April 19, 2020