Brandeis Alumni, Family and Friends
Dr. Eugene Vortsman '08 on the Front Line Against Coronavirus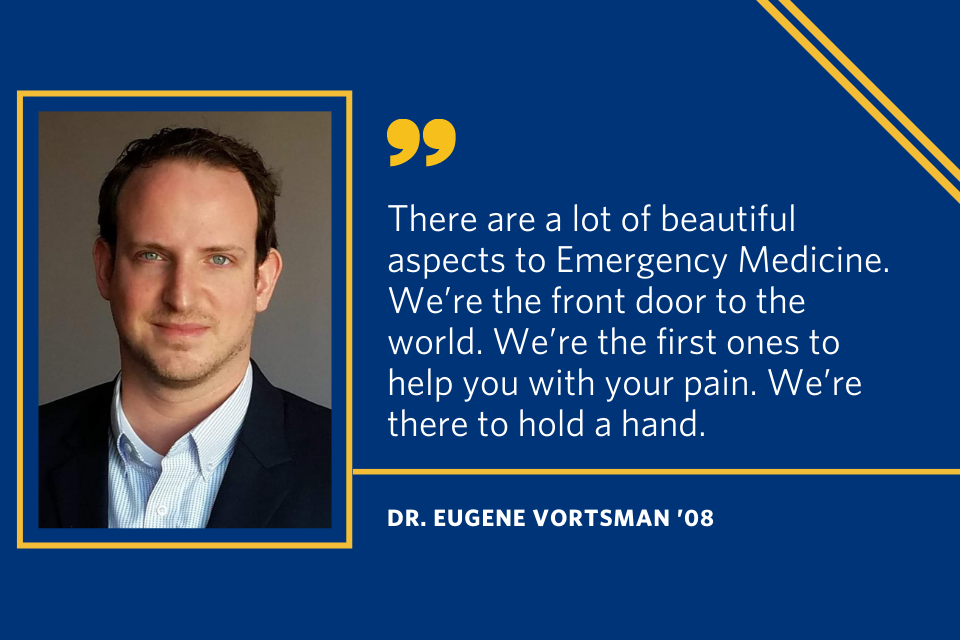 Dr. Eugene Vortsman '08 is treating COVID-19 patients as an emergency medicine attending physician working for Northwell Health Systems primarily at Long Island Jewish, a large teaching hospital in East Queens, New York. 
The Brandeis Alumni Association asked him to share his experience with the Brandeis community.
The hospital is, I would say, over 90% COVID at this point. We gown up, wear personal protective equipment and start evaluating patients. We have to decide who needs monitoring inside the hospital and who could still manage to be at home.
We're at over 1,000 COVID patients at this point. Normally we have something like 15 people on ventilators in the hospital at a normal time, and currently we're at 160.
Unfortunately, the standard of care has changed a little bit. Let's say a 40-year-old man has what looks like pneumonia in multiple places in his lungs and his oxygen level is a little bit low. Two months ago we would have admitted him to the hospital. Now we might send him home and have him come back to the hospital if he gets worse.
One of the frustrating things is the fact that we don't have many tools, like medications, that we think are really helping people. And that kind of feels like you're fighting a fight with your arms tied behind your back a bit, and then there's also very legitimate panic and fear, which is understandable but definitely adds to the challenges.
This disease is ripping through families and nursing homes and shelters. Often we'll have a very sick patient one day and maybe they don't make it. The next day or two days later, it will be their spouse or their daughter coming in very sick as well, and they're scared.
The volume of admissions has gone down. That means that our volume in the hospital has kind of come down a little bit as in new patients, but the level of sickness has gone up. Hopefully we hold on strong to the quarantine and the social distancing to continue bringing the numbers down because it's that exponential growth that makes us the most scared.
There's this tense wait to see what happens next. Hopefully we don't pull the trigger too soon, and we don't start traveling too soon or opening up the economy too soon.
Every front-line doctor or nurse, respiratory therapist, unit receptionist, janitor, all of us, are staying away from our loved ones out of fear that we're an asymptomatic carrier. I'm single. I'm able to go back to my home and it's empty, which is great for safety reasons, but one of my residents can't pick up his kids, and they don't understand why. He's sequestered down in his basement because he doesn't want to get his family sick. I have three little nieces and nephews, and for their safety, I stay away from them. We did have an adorable socially distanced Seder, with me standing on the sidewalk with a glass of Manischewitz and them standing at the top of the stairs, giving me a wave.
Personally speaking, I'm trying to not let COVID destroy me. What that means is I'm still trying to eat healthy, I'm still trying to do home exercises, reaching out to friends and a lot of FaceTime. 
My best friends are still guys from Brandeis. My friends from the fencing team and my fraternity, they've reached out in so many ways. One of my friends from Brandeis is a teacher in Anchorage. We did a webinar answering the kids' questions about the pandemic, the hospital and how they can stay safe. It was very cute.
Take this opportunity to reconnect with loved ones and reconnect with old friends. Learn a hobby, learn a language, get healthy, try to do home workouts. Check in on all your friends and family that are still going to work every day, whether they're taking care of sick people, delivering food to people's homes or stocking the shelves at the supermarket.
I always found medicine to be an amazing thing to be able to do, the ability to learn about the human body, to learn about disease, how things normally work, what happens when they don't work and what you can do to fix those things. There are a lot of beautiful aspects to emergency medicine. We're the front door to the world. We're the first ones to help you with your pain. We're there to hold a hand.
---
Read additional reflections from Brandeis alumni on the front line in New York City.
Published On: April 19, 2020