Brandeis Alumni, Family and Friends
Shen Tong '91 on the Front Line Against Coronavirus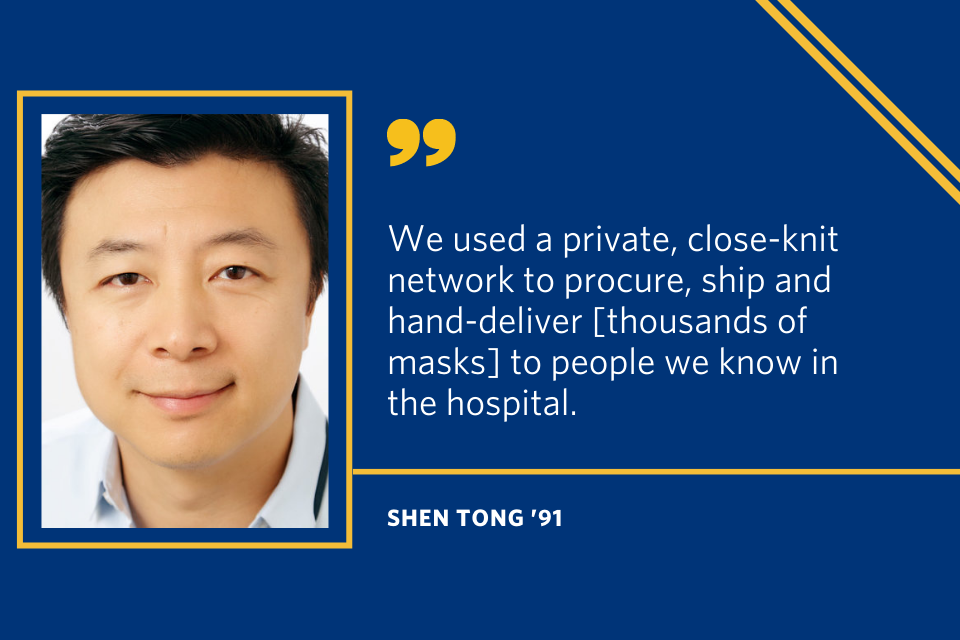 Shen Tong '91 was a leader of the student pro-democracy demonstrations in Tiananmen Square in 1989. Now the social activist, entrepreneur and managing partner of FoodFutureCo is spearheading a grassroots COVID-19 relief effort to get masks and protective equipment to New York City hospitals.
The Brandeis Alumni Association asked him to describe the network in action for the Brandeis community.
We knew this was coming. Back in January there was a COVID-19 relief effort for China. That became a funding source for the effort here. Nobody believed "there are zero cases here." When it hit here, we'd been passing out masks to office staff in our building. We were doing personal care for our associates and especially their elder family members. Very soon, as expected, nurses and doctors came in. We didn't expect the gap (in supplies) would be continuous. In a way, it's a good and bad thing. The good thing is that this grassroots people-to-people effort is working. The bad thing is, why is there still a gap?
We used a private, close-knit network to procure, ship and hand-deliver gear to hospitals.  We called on friends in a number of private networks -- Occupy Wall Street, Burning Man, people in the healthy food and social economy circles  -- who are aligned already in this kind of thinking.
Through Facebook people donated money and volunteered. People who had just lost their jobs volunteered to drive, to sort and pack. Well over a hundred have enlisted as drivers, dispatchers and coordinators. All the coordination and dispatching is complicated. We need to ship multiple times a day.
A difference of two hours means lives. Sometimes we'll have one package sent to an uptown hospital in Manhattan. By the time the shipment arrives, the recipients will say, "Well we're not that short, but we would like to keep some." So we'll send the driver to split the package, to leave some there, then redirect to one or two other locations.
Think about nurses and doctors who are given one mask per week to hold on to. They're told after this, "You're going to use your scarf." After that, any properly made mask would help. We're not just shipping masks. Today we're shipping out medical gowns and gloves. We're sourcing more face protectors. We were focusing on Manhattan the first week. By the second week it was very clear it had become tri-state. By the third week, we were matching nationally.
The COVID-19 Relief Project has directly delivered 9,000 and coordinated another 26,000 masks, for a total of 35,000. We've helped a lot of people and saved a few lives. But we're not talking about 10 million masks here. Our unique contribution is time. From Day 2 of the stay-home order, March 16, we were able to put masks in people's hands.
In the rest of the country, in the coming weeks, this will all repeat. We really hope what we're able to achieve will show that every single person can immediately make a difference, by using your own affinity group. It could be a few dozen people, or just a few people. We can do this. Every single person can do this.
I find myself called to act. It's always heartening to see people feel the same way. People do respond. That's the amazing thing. 
---
Read additional reflections from Brandeis alumni on the front line in New York City.
Published On: April 19, 2020