Brandeis Alumni, Family and Friends
Mark Seth Lender '71, MA'74, Reflects on Earth Day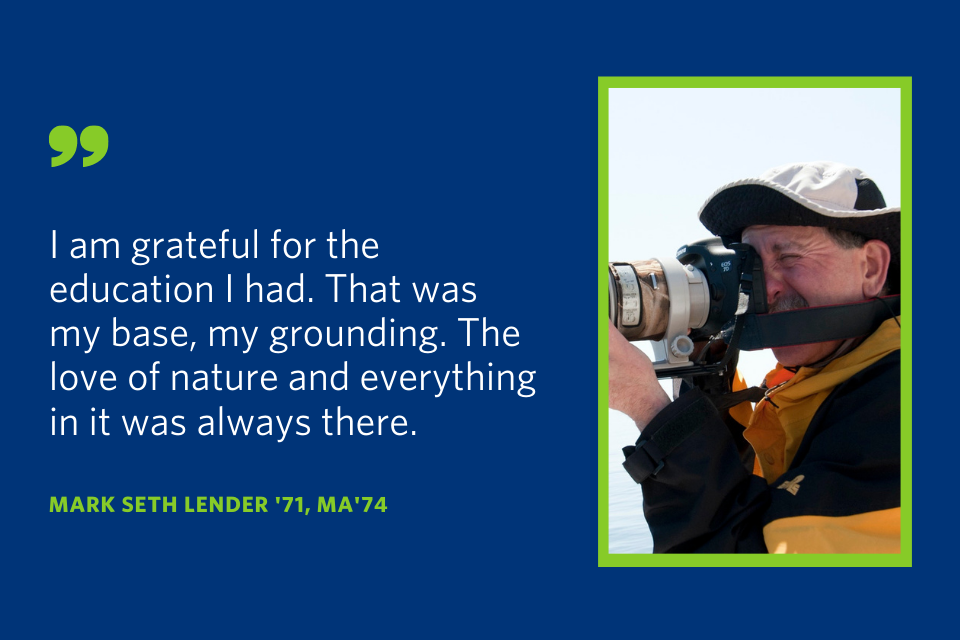 Mark Seth Lender '71, MA'74, is a producer and explorer-in-residence for Living on Earth, Public Radio's environmental news magazine. His wildlife fieldwork, spanning seven continents over a quarter of a century, inspires his monthly broadcasts.
Mark is also the author of a children's book, "Smeagull the Seagull: A True Story," about a herring gull that comes calling every day at his home and has become part of the family. His new collection of wildlife writing, "Cardinal Points: True Short Stories of the Natural World," is to be published in Fall 2020.
In honor of Earth Day, which marks its 50th anniversary on April 22, the Brandeis Alumni Association invited him to reflect on his wildlife fieldwork and share how seagulls are like people.
Herring gulls ARE people. The timbre of their voices, the way they walk, their physiognomy are different, to the point where any of these factors alone, and certainly together, allow for individual identification. More interesting are the variations in level of intelligence, especially as regards problem solving. Smeagull the Seagull has been knocking on our sliding glass door to be fed for 13 years now. Other gulls have tried to copy him, but cannot quite get his cadence right and they know it, and try infinite variations to see which will garner my attention. As to Smeagull, he figured out that glass was transparent and solid and that he could bring me to attention by knocking, all by himself. He spent weeks studying the glass, not that I knew what he was doing till after the fact. So yes, they are more like us than different.
I've been doing fieldwork for 25 years. In that time, there have been many experiences that were extraordinary, even life changing. I'm particularly fond of the following stories. A polar bear is featured in "Standing Bear Comes in Peace," a family of elephants in "Restraint," which also features crocodiles, and a colony of King Penguins in "King Penguins Entering Surf." These were all inspired by photos taken while traveling. 
The stories have been broadcast, and will appear in print in the collection I'm working on called "Cardinal Points, True Stories of Life on Earth."
My work is mostly my writing and I do that from a desk with a view of Long Island Sound. I am polishing a collection of a decade of my wildlife writing, and I love this work. I'm very lucky that way. Same for my wife, Valerie Pettis. She is working on our second children's book after "Smeagull The Seagull." All I want to say for now is that it's about clouds and she is working in watercolor. We love working from home, being in the same house together. Not a lot has changed in our day to day. But like everyone else we are frightened. And we are especially frightened for the world. People and wildlife both.
Brandeis gave me a liberal arts education in the broadest and best sense. Literature, physics, philosophy of science and cosmology, and anthropology were especially important to me. But so was sculpture. In my own writing on wildlife and the natural world, it all comes into play. I am grateful for the education I had. It was such a luxury. That was my base, my grounding. The love of nature and everything in it was always there. I just had to acquire the courage to act on that love.
---
Read additional Earth Day reflections from Brandeis alumni.
Published On: April 20, 2020