Brandeis Alumni, Family and Friends
Raquel Kallas '15 Reflects on Earth Day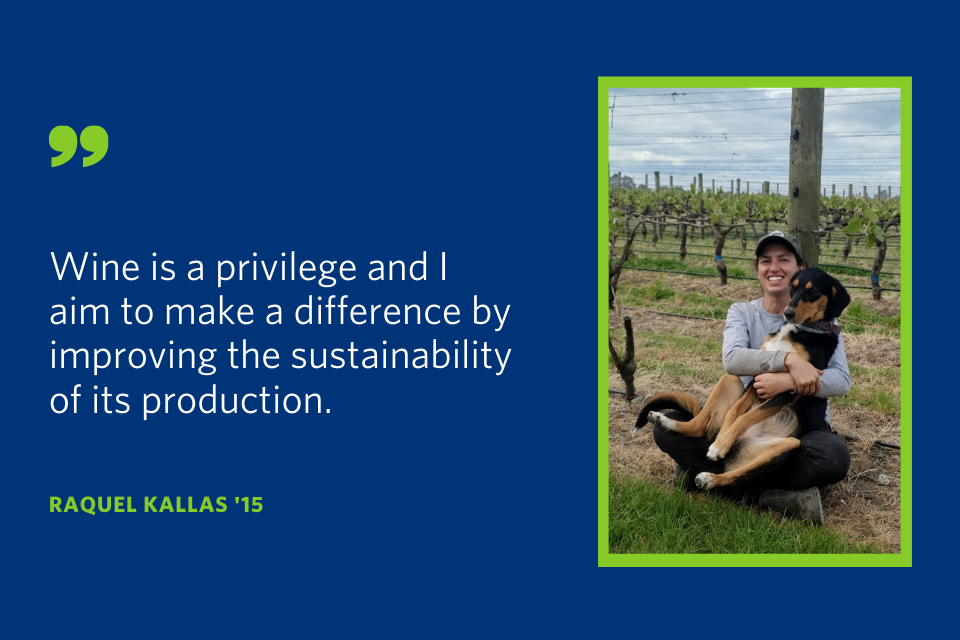 Raquel Kallas '15 is a research viticulturist with Villa Maria, a winery in New Zealand known for its sustainable practices.
In honor of Earth Day, which marks its 50th anniversary on April 22, the Brandeis Alumni Association invited her to reflect on sustainability practices in the wine industry and her most formative experience at Brandeis.
As a luxury good, the wine industry should make extraordinary efforts to be sustainable. I think most people in lockdown around the world right now would definitely agree that wine is essential, but obviously it is not feeding the world. Wine is a privilege and I aim to make a difference by improving the sustainability of its production. As an industry, we should be pulling out all the stops to conserve water, improve soil health, become carbon neutral, minimize agrochemical inputs, maximize biodiversity, and ensure good working conditions for the predominantly immigrant communities that undertake the bulk of the labor.
To the best of your ability, understand how your food is produced, especially in terms of labor and inputs. It's easiest to do that when the food is sourced from your community.  Don't put blind faith in labels like "organic" or "GMO-free"; those labels don't mean that the production process was all rainbows and unicorns, nor do they indicate some kind of default moral superiority. The priority should be on holistic management practices, diversified growing systems and humane conditions and fair compensation for the workforce.
I'd say the biggest challenge is making sure we come out the other side with a serious collective reassessment of business as usual. It's easy to point fingers and say, "Well the virus came out of an exotic live animal market in China, we don't really have that in the U.S. so no need for any introspection." But in the U.S. we have livestock farming practices that breed dangerous zoonotic diseases as well, there are just better biosecurity controls compared to an open market. This whole mess is Mother Nature sending us all to our rooms to think about what we've done, and the opportunity is to learn from it.
I participated in a Brandeis program called the JBS Environmental Field Semester in the fall of 2012. It was an intensive program for a small group of students, organized by the American and Environmental Studies Professor Brian Donahue. This was my most formative experience in college. I built the scaffold of my philosophy on my role as an animal in the environment; as part of the ecosystem and as a steward. I also discovered the motto: "Food is your most intimate connection to your environment."  I'm not sure if Brian originally said that or if it's from one of his assigned readings, but it's so true and critical to remember given the distance that modern life and consumerist society has put between people and their food sources.
Drink local, or at least regional. The northeastern U.S. produces some fantastic wines. Many grape cultivars grown in the northeast are hybrids of native American grape species because they are cold hardy and relatively pest and disease tolerant. Most people are only acquainted with cultivars of Vitis vinifera, the European grape species that is the progenitor of all the familiar grapes like Cabernet Sauvignon and Chardonnay. Be open minded! Try wines like Marechal foch, Vignoles, La Crescent and Cayuga White. I got my start in the wine industry at a small vineyard in New Hampshire, sadly it is no longer open. In Vermont, Shelburne Vineyard and La Garagista produce beautiful wines. In upstate New York, the Finger Lakes region grows Riesling that gives Germany a run for its money. If you want a taste of New Zealand, look out for Villa Maria's Sauvignon blanc! It is widely available in the U.S.
---
Read additional Earth Day reflections from Brandeis alumni.
Published On: April 20, 2020