Brandeis Alumni, Family and Friends
Carly Greenberg '11, MA'12, Is Making Chocolate Sustainable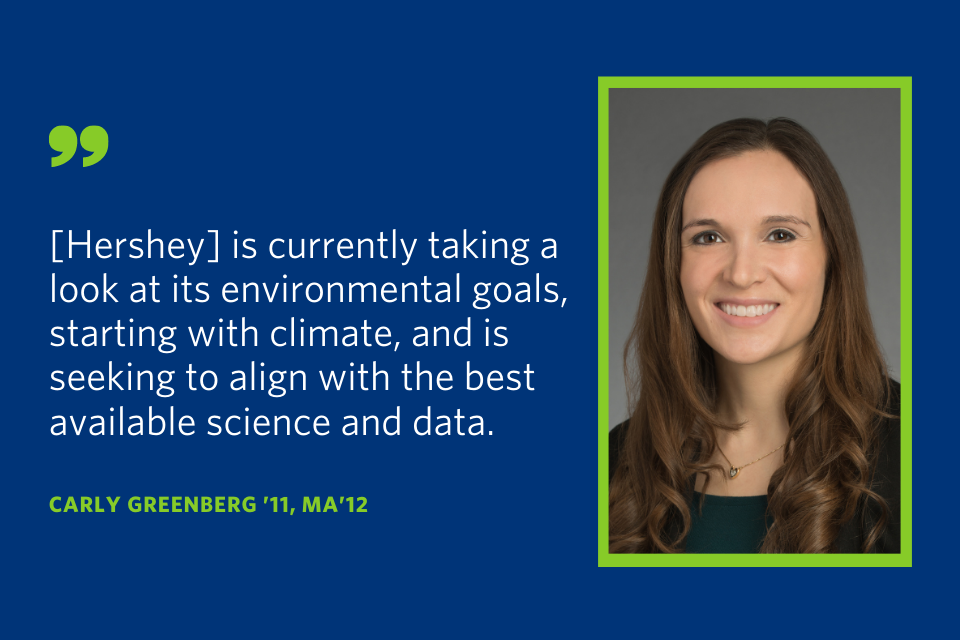 Carly Greenberg '11, MA'12, joined the Hershey Company in 2019 and oversees the chocolate-maker's environmental sustainability strategy as well as it's environmental, social and governance (ESG) reporting. Carly is one of only a handful of people who have worked on pressing sustainability challenges, such as climate change, from both investor and corporate perspectives. Her current work is part of an ambitious program Hershey has set forth for lessening the impact of its business on forests, water, land and air while ensuring responsible sourcing of its cocoa.
In honor of Earth Day, which marks its 50th anniversary on April 22, the Brandeis Alumni Association invited her to reflect on her career path in sustainability.
At Brandeis I originally thought I would pursue law. My sophomore year, I took Environmental Law with Professor Laura Goldin and the environmental part stuck. The law part, not so much. I pursued an environmental studies minor and discovered the world of sustainable finance and corporate sustainability through an internship found on Professor Goldin's Earth Notes listserv. I was amazed by the positive impacts investors could have and I fell in love with the industry through that internship. Between internships and eight years full-time at Boston Trust Walden company – one of the oldest sustainable investment houses in the United States — I logged nearly 10 years of experience in the sustainable investment world. This experience was also instrumental in helping me make the leap from finance to an in-house sustainability team at a Fortune 500 company. 
It's easy to be proud of Hershey as a company. We have a long history of doing the right thing, which was a core value of our founder, Milton Hershey. His legacy remains deeply ingrained in our company to this day. Few people know that Milton Hershey set up one of America's earliest social enterprises. The majority of the company's dividends to shareholders are paid to the benefit of the Milton Hershey School, a cost-free, residential K-12 school for children from low-income backgrounds from across the United States. Next time you purchase a Hershey's Milk Chocolate Bar, check out the back for the Milton Hershey School seal!
Two of Hershey's initiatives that I find particularly cool: (1) Hershey will achieve its goal of sourcing 100% certified and sustainable cocoa this year, and (2) the company is currently taking a look at its environmental goals, starting with climate, and is seeking to align with the best available science and data. Doing so requires pivoting from a "What can we do for the world?" to a "What does the world need us to do?" mindset. 
Climate change is an issue that really needs all hands on deck. My Earth Day request is for everyone to do at least one small, right thing that helps the planet. And once you've managed that small thing, choose the next small, right step. If everyone took small actions to improve their own behaviors it would make a big impact. 
My heart goes out to everyone during these extraordinary times caused by the novel coronavirus. I hope everyone is staying safe and healthy. At the same time, I am hopeful that this pandemic will serve as a call to action to do more on climate change and sustainability. Climate change will increase the range and prevalence of diseases; pandemics become more common in a climate-changing world. Furthermore, the global solidarity we have seen in response to the virus is the same sort of international cooperation we need to effectively make headway on climate change. It is good to know it's possible!
---
Read additional Earth Day reflections from Brandeis alumni.
Published On: April 20, 2020