Brandeis Alumni, Family and Friends
Jane Corson-Lassiter '76 Sees Environmentalism as a Personal Responsibility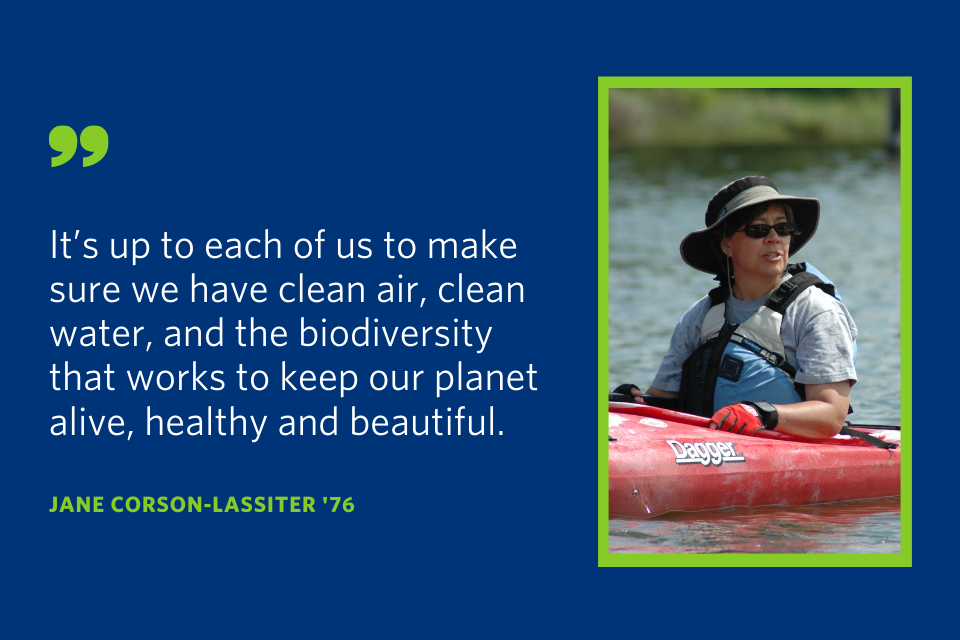 Jane Corson-Lassiter '76 is a district conservationist in Virginia for the U.S. Department of Agriculture's Natural Resources Conservation Service. She was recently named Conservationist of the Year by the Virginia Chapter of the Soil and Water Conservation Society.
In honor of Earth Day, which marks its 50th anniversary on April 22, the Brandeis Alumni Association invited her to reflect on her life's work as a conservationist and how her time at Brandeis influenced this path.
We don't live in nature, we are part of it. It's up to each of us to make sure we have clean air, clean water, and the biodiversity that works to keep our planet alive, healthy and beautiful. Focus on improving your local environment by reducing your footprint and creating sustainability in the world we share with a wonderful array of living plants and animals. 
I was in college back in the early 70's when the country started to put some muscle behind environmental protection and understanding the need for clean air and clean water. I was at Brandeis for the first Earth Day. I took a biology major (along with some studio art) to understand the natural world. There weren't many programs in environmental science at the time. I learned to think more analytically.  
Every day I enjoy my home landscape where I am always learning through observation and trial and error how to grow habitat for the multitude of species that live here with me. I incorporate native plants for the local food web, minimize lawn area and harmful inputs, and pretty much let nature takes its course. 
Every day I can see conservation practices on the landscape that were installed through collaborations with local landowners and farmers. These practices conserve soil, water, and wildlife habitat and make a difference. Perhaps my favorite practices include the large pollinator habitat plantings that we've done in recent years. It's something to see acres of wildflowers in bloom. 
I learned my conservation ethic from my parents and grandparents. I treasure this heritage and am pleased that both my son and daughter have made choices to study and work with environmental questions.
---
Read additional Earth Day reflections from Brandeis alumni.
Published On: April 20, 2020