Brandeis Alumni, Family and Friends
Deana Becker, MA'04, Reflects on Earth Day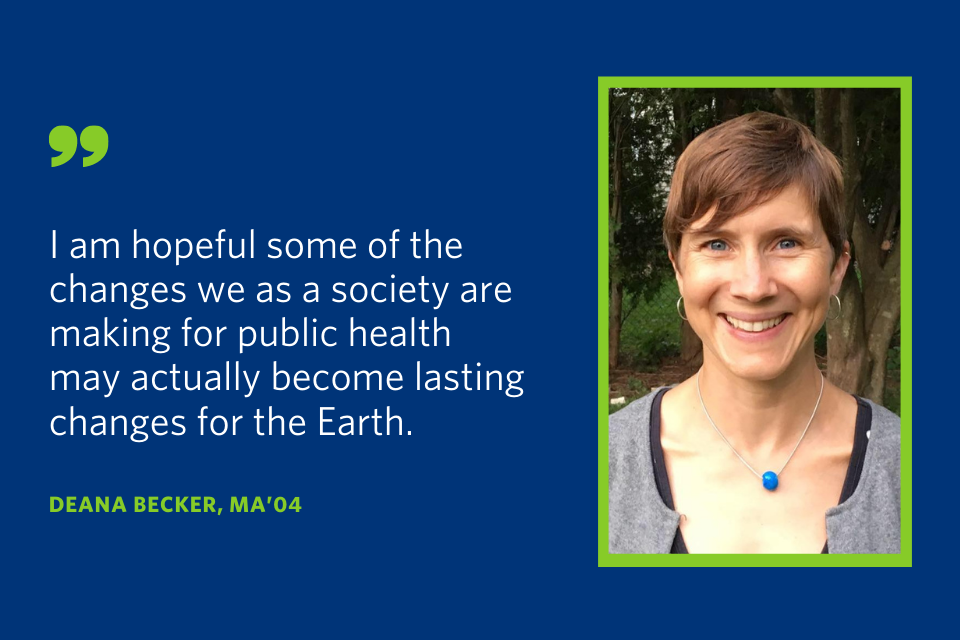 Deana Becker, MA'04, is director of stakeholder operations for Preserve, a Waltham-based company that uses recycled materials to make eco-friendly household products that, in the company's words, are good for both people and the planet. Through its Preserve Ocean Plastic Initiative, the company makes shavers and toothbrushes from plastic, collected from coastlines and waterways, that was at risk of entering the ocean.
In honor of Earth Day, which marks its 50th anniversary on April 22, the Brandeis Alumni Association invited her to reflect on the intersection of environmental and social purpose.
How do we turn a yogurt cup into a toothbrush? Preserve works with polypropylene, often referred to as #5 plastic, which is very common in food packaging and can be recycled and remolded many times without losing its key properties. Yogurt cups are a great example. The recycling process includes washing, shredding and melting them. The resulting pellets look a lot like tiny lentils. We are able to use these pellets for injection molding of the toothbrush handle.  From there, the handles are bristled with virgin nylon and we have a toothbrush! 
During the current COVID-19 crisis, toothbrushes are selling well. Oral health can have a big impact on overall health and I think many people are prioritizing maintaining their health right now.  We are happy to be able to keep up with demand and have also worked with partners to donate toothbrushes to New York healthcare workers who are living for the time being away from home.
I am hopeful some of the changes we as a society are making for public health may actually become lasting changes for the Earth.  For example, while it's great to have face-to-face meetings together, I think we're all seeing now that a meeting can still be effective over video. It used to be unthinkable in some industries that travel wouldn't happen for key meetings. But now that we're all forced into it, we see that it actually does work.  Less travel means less in the way of carbon emissions, and also more time at home with family. I am also hopeful that as more people get outdoors to break up their days at home, they will appreciate more about what the natural world offers us -- and why it is so critical to protect it. 
In the Sustainable International Development program at Heller, it was a given you wanted to make a positive impact on the world. Being surrounded by a cohort who all had that mindset was incredible, and made clear to me that environmental and social purpose are completely intertwined. Working in an environmentally-focused business, I feel strongly we have a social mission as well. Michael Appell's class, now at Heller but then at the International Business School, introduced me to businesses that consider the "triple bottom line" of people, planet, and profit. Michael became a friend and it's fun and gratifying to go back and speak in his class about the work at Preserve.
Passion is critical. No matter your passion, the mindset needs to be one of solving a problem. There is a great chance to make a difference. Every industry and every workplace needs someone who is going to nudge things in the right direction for the environment, ultimately moving the needle.
---
Read additional Earth Day reflections from Brandeis alumni.
Published On: April 20, 2020