Brandeis Alumni, Family and Friends
R Remi Matthews '19 Reflects on Black History Month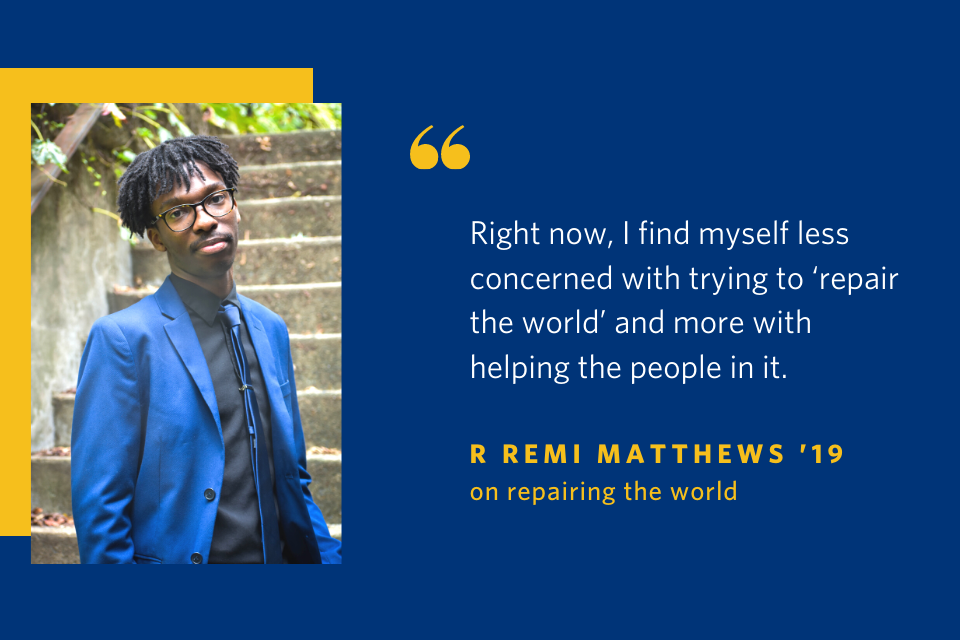 R Remi Matthews '19, a Posse Scholar at Brandeis who double-majored in computer science and African and African American Studies, says his one-letter first name stems from his father's family's tradition of giving all first-born males a name starting with "R."
The music lover and community volunteer was elected by his Brandeis senior class to give the undergraduate commencement address in 2019. "Take pride in your own power," he told graduates. "That same power that pushed you through your time here will continue to push you to greatness... Now you have the responsibility of taking that power and using it to actually do something." Matthews is now a software engineer at Moody's Analytics in Atlanta.
In honor of Black History Month, the Brandeis Alumni Association asked him about how the theme of "repairing the world," one of Brandeis' founding principles, has played out in his life.
Q&A With R Remi Matthews '19
In your life experience, have you set out to "repair the world?" If so, how?

Right now, I find myself less concerned with trying to "repair the world" and more with helping the people in it. The world is nothing without the individuals in it, so being able to be there and support as many people as I can is one of the most important things for me, whether it's donating money to a charity I or calling up and checking in on a friend I haven't spoken to in a while. As a software engineer for a finance company, I can't say I'm repairing the world by writing my code. But I can say that I'm helping my team by taking some of their stress away, and tackling some of the tasks they were simply too busy to handle. And that's my favorite part of my job, honestly.
How did your Brandeis experience shape your path?
I certainly credit the Brandeis African and African American Studies department for shifting how I look at various problems. Spending so much time in the tech world, I would find myself thinking very technically and not as critically or analytically as the AAAS major requires. And those skills are only enhance how I tackle coding bugs and designing user interfaces at work.
What words of advice or encouragement would you offer a student at Brandeis today?

Network, network, network. There are very few points in your life where you will be surrounded by people with so many different areas of interest and levels of expertise, and it would be detrimental for you to not make use of that. Your Brandeis peers and professors can connect you with potential mentors, employers, friends, business partners, lawyers, doctors, etc.
---
Read additional Black History Month reflections from Brandeis alumni.
Published On: February 4, 2020