Brandeis Alumni, Family and Friends
Lucretia Jones '77 Reflects on Black History Month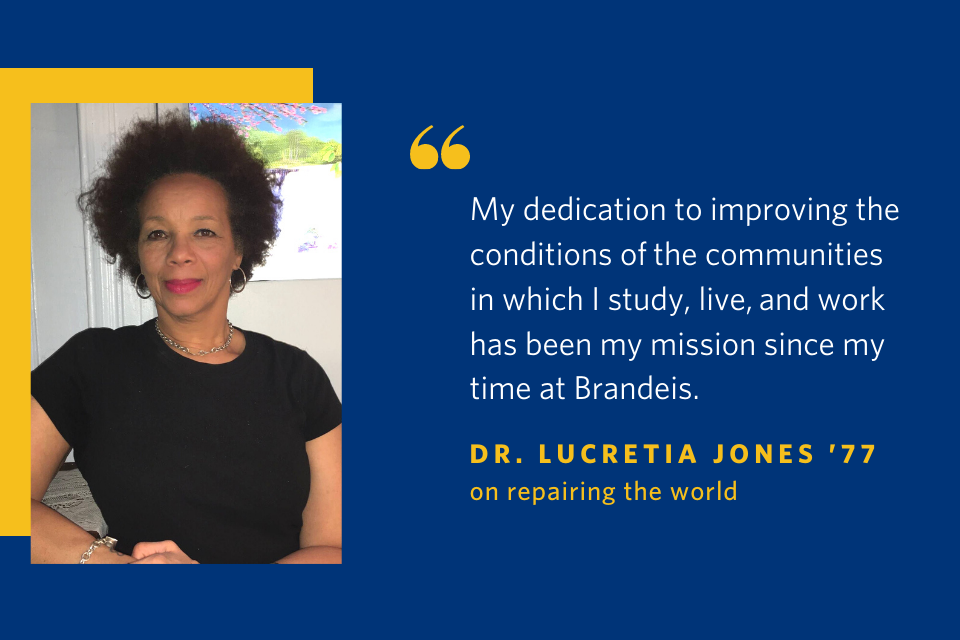 Dr. Lucretia Jones '77 directs the surveillance unit which investigates communicable diseases as well as emerging disease outbreaks for the New York City Department of Health and Mental Hygiene. She is also a founder of the grassroots community group Mothers on the Move and a board member of the Bronx Community Research Review Board.

Jones says living in the South Bronx inspired her passionate activism on equity, health disparities and community-engaged research. She received her doctorate in public health from the City University of New York's School of Public Health and her master's in public health from Columbia's Mailman School.
In honor of Black History Month, the Brandeis Alumni Association asked her about how the theme of "repairing the world," one of Brandeis' founding principles, has played out in her life.
Q&A Dr. Lucretia Jones '77
In your life experience, have you set out to "repair the world?" If so, how?

Though I never consciously set out to "repair the world," my dedication to improving the conditions of the communities in which I study, live, and work has been my mission since my time at Brandeis. 
In the South Bronx, where I was born, raised and still live, I fought hard to make my community a safe and healthy place for all to not only live, but thrive. As a community activist and founding chair of Mothers On the Move, I know I have made a difference, even if only in the small world of the South Bronx, through my work on education reform, environmental justice, and safe streets.
As an epidemiologist at the New York City Health Department, I work on its "Race to Justice" internal reform initiative to advance racial equity in our workplace and the communities we work with. I also volunteer with the Bronx Community Research Review Board. Out of 62 counties in New York State, the Bronx rates 62nd in health outcomes, so is bombarded with research proposals without community engagement or benefit. We are determined to change this.
How did your Brandeis experience shape your path?
In the footsteps of those brave black alumni who took over Ford Hall in 1969 to demand more black professors, students, and an African American studies program, I too found myself fighting for equity as a student majoring in the recently created AAAS Department. I remember when we took over a building to fight for continual funding for the Transitional Year Program as well as some of the same demands of 1969. This began my journey of being an outspoken voice to help change the inequities I encountered.
What words of advice or encouragement would you offer a student at Brandeis today?

Remember you can repair the world, even if it's in a small focus or by helping improve one person's life. I encourage current Brandeis students to take advantage of all opportunities Brandeis has to offer, especially the professional networks, professors, students and alumni. Don't hesitate to ask for advice or referral from anyone, including me. I encourage students to find their passion and become a voice for change.
I'd like to offer the words of a Brandeis alum I was honored to meet last year at the AAAS 50th anniversary: "I'm no longer accepting the things I cannot change," said Angela Davis '65. "I'm changing the things I cannot accept."
---
Read additional Black History Month reflections from Brandeis alumni.
Published On: February 4, 2020