Brandeis Alumni, Family and Friends
Judge Edward Redd '71 Reflects on Black History Month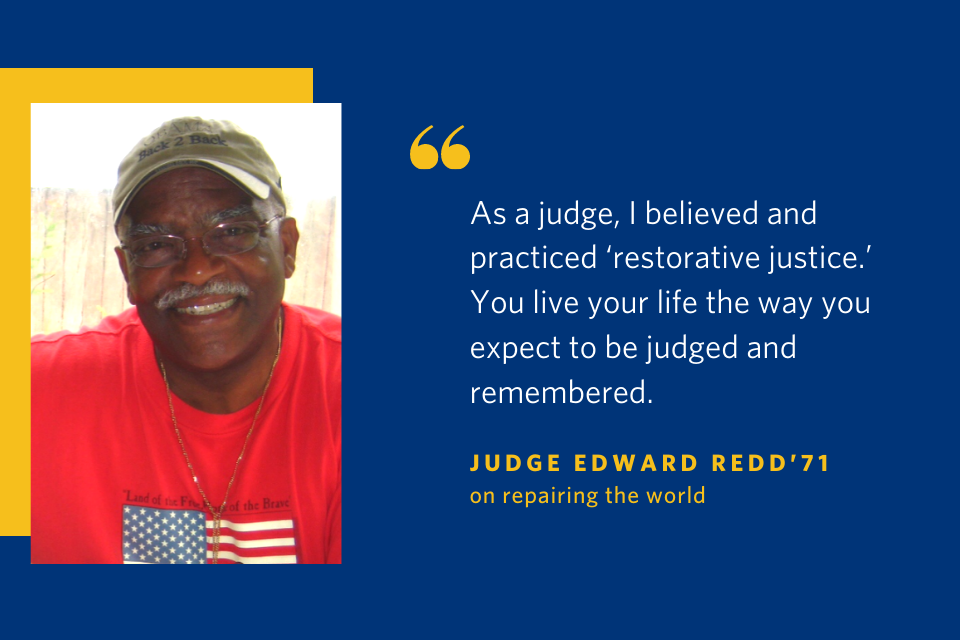 Judge Edward Redd '71, who received his law degree from Boston College in 1974, served as executive secretary of the Boston NAACP during the desegregation of Boston's schools in the mid-1970s and was a consultant to the U.S. Department of Health, Education and Welfare under Presidents Ford and Carter. Governor William Weld nominated Redd to a judgeship in 1993, and he was promoted to presiding justice of the Roxbury District Court in 2005 before retiring from the bench in 2012.

In honor of Black History Month, the Brandeis Alumni Association asked him about how the theme of "repairing the world," one of Brandeis' founding principles, has played out in his life.
Q&A With Judge Edward Redd '71
In your life experience, have you set out to "repair the world?" If so, how?

As a judge, I believed and practiced "restorative justice." I lived in Roxbury, a predominantly black and Hispanic community of Boston. Many of the defendants who appeared before me at the Roxbury District Court, when given opportunities to participate in unique alternatives to jail, rose to the occasion. This ultimately changed their lives for the better: they went on to become productive citizens and had no further court appearances. 
I believe in the Haitian proverb, "Mountains beyond mountains," which I take to believe [means] when you complete a task, you move on to another task. There is a philosophical concept that says, "One's livelihood depicts one's beliefs, and all else is falsehood." This is the way I live and serve: You live your life the way you expect to be judged and remembered. 
It is important to put forth the best "witness" you can for others who may follow you. You want to be the most positive example that you can be.
How did your Brandeis experience shape your path?
Brandeis taught me to take great pride in my ethnicity as an African-American man. My time at Brandeis in 1969-71 was a time of great social unrest and racial pride. I learned the positive embrace the Jews have for their own culture. My pride as a black man was reinforced when I traveled to Africa in my senior year as a Sachar Scholar.
What words of advice or encouragement would you offer a student at Brandeis today?

In this brief life and tough times, one must learn to persevere. This reminds me of a song by Dinah Washington, "What a difference a day makes" -- then again 24 hours. That's it!
---
Read additional Black History Month reflections from Brandeis alumni.
Published On: February 4, 2020