Brandeis Alumni, Family and Friends
Dr. Janice Johnson Dias '94 Reflects on Black History Month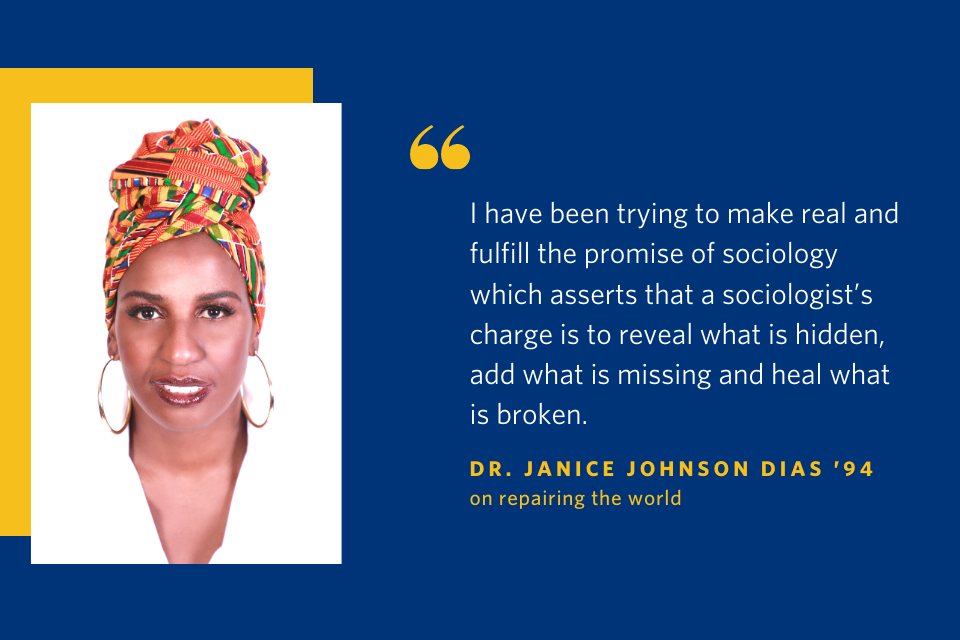 Dr. Janice Johnson Dias '94 is founder and president of GrassROOTS Community Foundation, a national public-health and social-action organization that supports and develops community-driven solutions to the health challenges facing women and girls living in poverty. She holds a PhD in sociology from Temple University and is an associate professor at John Jay College of Criminal Justice.
Johnson Dias has been described as a force of nature: As a scholar-activist, her life's work is to develop research-informed, innovative solutions to the challenges facing urban and vulnerable populations. 
In honor of Black History Month, the Brandeis Alumni Association asked her about how the theme of "repairing the world," one of Brandeis' founding principles, has played out in her life.
Q&A With Dr. Janice Johnson Dias '94
In your life experience, have you set out to "repair the world?" If so, how?

I am not sure I would say "repair," though it may be fitting. I am more inclined to think of my work as "contributing" to the world. Beginning with my undergraduate degree at Brandeis, I have been trying to make real and fulfil the promise of sociology which asserts that a sociologist's charge is to reveal what is hidden, add what is missing and heal what is broken.  
I have co-founded and lead a national training organization with an emphasis on public health and social action. GrassROOTS Community Foundation has provided a training ground for me to address policy and program and it has helped me train a new cadre of girl changemakers. 
We have concentrated our work in cities where women and girls have the highest rates of poverty and chronic health challenges. During the summers, we host a leadership training academy for girls titled SuperCamp. This work continues throughout the year with our leadership development program, SuperGirls Society, that teaches black girls to use their skills and talents to make a difference in the world. And they have made a difference. 
Our SuperGirl and my daughter, Marley Dias, founder of the #1000BlackGirlBooks campaign, has collected and donated over 12,000 books where black girls are the main characters. She has written her own book, published by Scholastic: "Marley Dias Gets It Done and So Can You."
Other girls in our program have developed STEM-based games aimed at improving girls' confidence in mathematics; remodeled housing for unaccompanied minors living at the Newark YMCA; organized a charity basketball game to collect winter coats for youth in Newark; developed a program aimed at educating youth and adults about healthy eating; provided health aids for children with arthritis, and visited and donated resources for orphaned youth and students in Haiti.
How did your Brandeis experience shape your path?
At Brandeis, sociology helped me in understanding the ways in which racial inequities embedded in the institutional practices of the university shaped our access to resources, namely the classes and professors who taught us. During my time there, we had less than 10 black faculty and no tenured black women. Additionally, we had no safe convening spaces for black and brown students. Further, we had little to no representation in student government. 
Along with my peers, we fought hard for changes. We were modestly successful in increasing in the number of black faculty; but were more successful in other areas. We created the Intercultural Center and several of us, myself included became members of the Student Senate. 
Scholar-activist professors like Dessima Williams, Carmen Sirianni, and Gordy Fellman made sociology real for me. The work they did in the community provided a blueprint. They used sociological knowledge to contribute to social change. Said differently, they lived sociology. Twenty eight years later I am still using what I learned during that time to help the young people with whom I work.
My time at Brandeis taught me we cannot create solutions without the input of those we are serving. We must always ask and co-create with those whose lives we seek to positively impact. If we fail to do so we will replicate the inequities we seek to end. 
Lastly, Brandeis taught me that academic excellence is a prerequisite for social change. My classes with Professors Macy and Sirianni taught me that theory matters, but so does the scientific process. We must engage in work that is rigorous, verifiable and sustainable.
What words of advice or encouragement would you offer a student at Brandeis today?

I encourage Brandeis students to study hard and make the information they are being taught real to them. I also encourage them to stay curious and optimistic. By choosing to do these things, they will become better advocates for justice.
---
Read additional Black History Month reflections from Brandeis alumni.
Published On: February 4, 2020