Brandeis Alumni, Family and Friends
Herman Hemingway '53 Reflects on Black History Month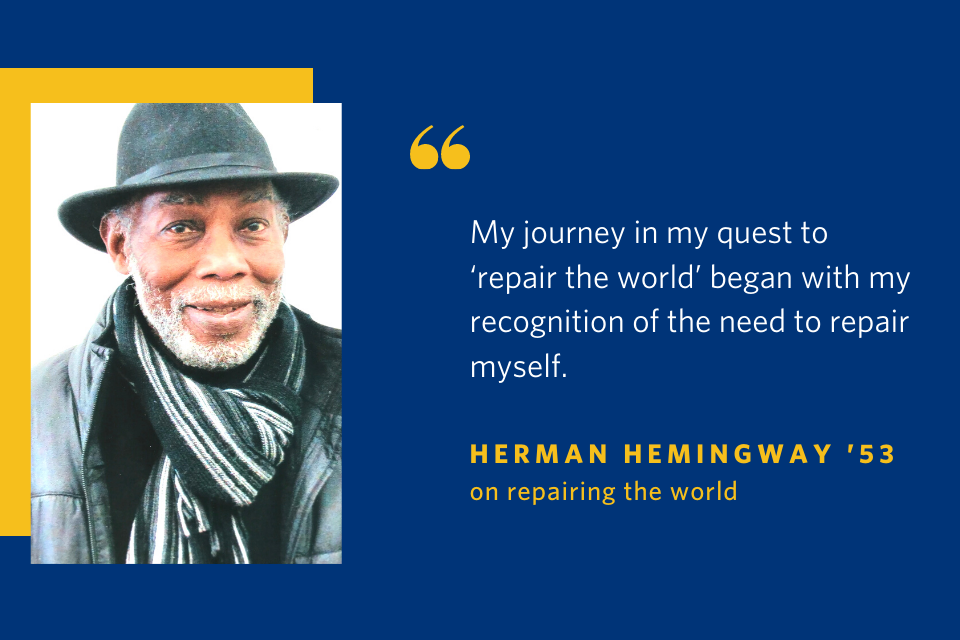 Herman Hemingway '53, the first black man to graduate from Brandeis, had a dream to further the cause of social justice, to fight racial prejudice and to advocate for the poor. He grew up in Roxbury when the neighborhood was heavily Jewish, and while Harvard, Boston College and one-year-old Brandeis all offered him scholarships, he chose Brandeis because he thought it was "innovative and exciting."
After majoring in Near Eastern and Judaic Studies at Brandeis and earning a law degree from Suffolk, Hemingway fulfilled his dream, serving as a public defender, an administrator of public housing programs, an architect of the Boston Human Rights Commission, and chair of the criminal-justice department at UMass-Boston.

In honor of Black History Month, the Brandeis Alumni Association asked him about how the theme of "repairing the world," one of Brandeis' founding principles, has played out in his life.
Q&A With Herman Hemingway '53
In your life experience, have you set out to "repair the world?" If so, how?

My journey in my quest to "repair the world" began with my recognition of the need to repair myself. Even as a child I was faced with having to survive in a society that considered me flawed. At the age of 12, I marched in demonstrations against the racism that restricted folks that looked like me from fair housing, fair education, fair employment and competent health care. I was taught by the social institutions to believe that this was the way the world was, and to survive, one had to accept and adapt.
How did your Brandeis experience shape your path?
After high school I was offered full scholarships to Harvard, Boston College and Brandeis. It was at Brandeis that I would receive the tools to repair myself so that I could help to "repair the world." Brandeis had been created by the Jewish community as reaction to religious discrimination. It was at Brandeis that I learned that the tools of change were within my grasp. Later in life I would use those tools to address racism in the military, in law school and finally in the criminal justice system. I have used the study of law as my most valuable tool. And sometimes I have succeeded and sometimes failed.
What words of advice or encouragement would you offer a student at Brandeis today?

Throughout my life, I have believed that everyone has a sense of fairness and justice, and that the first step was to acknowledge one's own belief in self and in the strength of one's own truths. Second, I have learned to fight for them regardless of the known or unknown consequences. Finally, I have found that when one repairs the world, the reparations made will make the subject strongest at the breach.
---
Read additional Black History Month reflections from Brandeis alumni.
Published On: February 4, 2020