Brandeis Alumni, Family and Friends
Pay it Forward: A Q&A With Former Wien Scholar Shota Adamia '15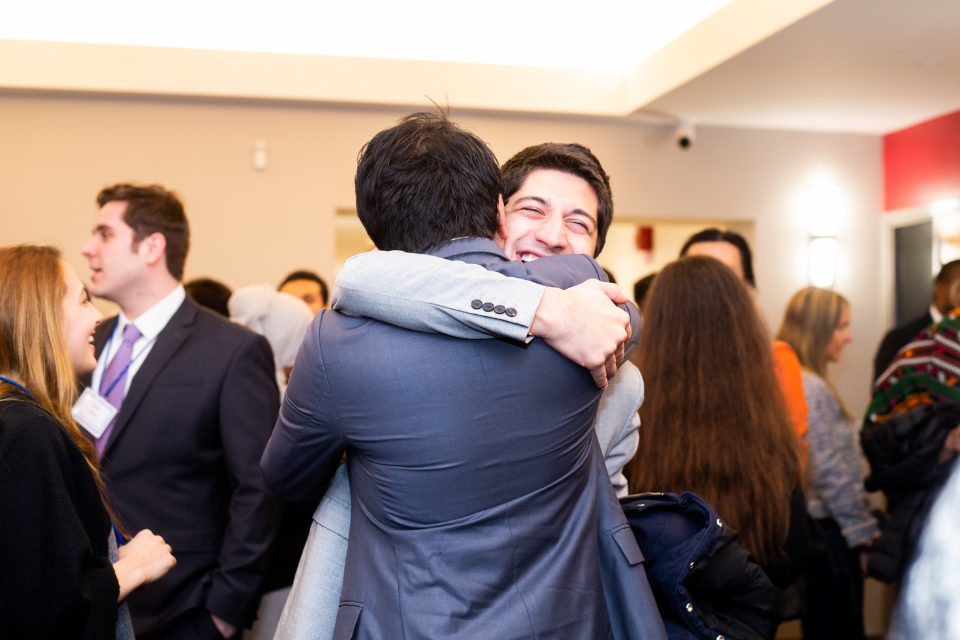 Last month, the Wien International Scholarship Program celebrated 60 years of bringing nearly 900 scholars from more than 110 countries to study at Brandeis. Shota Adamia '15, a former Wien recipient from Tbilisi, Georgia, returned to campus for the anniversary celebration, and took some time to talk with the Alumni Association about the impact the program has had on his Brandeis experience and beyond, why he gives back to his alma mater and his advice for fellow Brandeisians.
Q&A With Shota Adamia '15
As an international student from Georgia, how did you first hear about Brandeis? 
I came across Brandeis as I was doing my research online and the essay question of the application caught my eye. The prompt read: "If you could choose to be raised by robots, dinosaurs or aliens, who would you pick?"
And who would you pick?
I did not suspect I would revisit this question almost ten years after having answered it for the first time; surprisingly, my choice has not changed. I am picking the aliens still. The robots would be too structured, the dinosaurs would be too anarchic and the aliens would be just the right amount of puzzling.
You came to Brandeis as a Wien International Scholarship Program recipient. What impact has that program had on you?
Being a Wien scholar defined a significant part of not only my Brandeis experience, but also my personal development. Bringing students from across the globe, the Wien International Scholarship Program was my introduction to the world, the diversity of our fellow students and community members, and the importance of understanding people's backgrounds. The program provided the financial support necessary to attend Brandeis as well as a network of committed individuals who look out for one another. I have gained some of my closest friends through the program and it is thanks to the program that I have been able to receive an excellent Brandeis education.
What was it like meeting Wien scholars across multiple generations at last month's 60th anniversary celebration?
The celebration only reinforced my strong ties to the program which brings young students from across the globe to Brandeis and shapes them into world leaders. The sense of belonging and the responsibility of giving back that I have heard my fellow Wien alumni describe speaks to the strength, success and potential of the Wien International Scholarship Program.
Tell us about your Brandeis student experience.
Dynamic, eye-opening, and challenging – that is my best attempt to describe the four amazing years at Brandeis. The strong connection of the community defined my experience at Brandeis. I could feel the passion of the community on a daily basis – the passion for change, social justice and understanding. The opportunity to connect directly with teachers provided me with invaluable mentor relationships in several departments, the diverse student body gave me friends for life and the commitment to student success shared by everyone at Brandeis got me where I am now in my professional life.  I would not exchange my four years at Brandeis for any other experience.
You were the recipient of several prestigious scholarships while at Brandeis. How important is it to pay it forward for future Brandeis students?
The support of the alumni network is integral to the success of Brandeis. I have met extraordinarily committed and active alumni both through Brandeis functions and my professional life. I am confident that emulating them is a recipe for success for the current and future students. The opportunities that Brandeis gives to its community calls for a lifelong commitment to the support that is possible for alumni, both through financial means and advice to current students.
Tell us about your career path since Brandeis and what you are doing now.
After leaving Brandeis, I continued working in the fashion industry. I had gotten a head start there through the YMA Fashion Scholarship Program to which Brandeis had introduced me. I was guided through the experience by Professor Alice Kelikian and up to this day she is my mentor. A few years ago, I transitioned my full-time job to the legal industry. I have been working in legal media at ALM since, and I am based in New York City. My client portfolio includes top law firms in the US, and I build marketing campaigns for my clients across the largest legal media network in the country which ALM owns.
How did your time at Brandeis shape the path to where you are today?
I would not be where I am now without the excellent education I received at Brandeis, internship and research opportunities that Brandeis offered, and the extraordinary mentors whom I met at Brandeis and who have continued to guide me since I have graduated. Brandeis helped build the hard skills necessary to succeed in my profession as well as the confidence and eagerness to face challenges. Brandeis also provided access to scholarships through which I was able to acquire the financial foundation and professional network that were integral to my first steps and continued success in professional life.
What advice do you have for our incoming class of Brandeis students and for our graduating seniors?
I would advise the incoming class to research the opportunities that abound at Brandeis, and the graduating seniors to stay in touch with their fellow alumni, keep up with current events at Brandeis and give back for the continued success of our alma mater.
Published On: April 24, 2019