Brandeis Alumni, Family and Friends
Entrepreneur Brian Goldberg '99 Serves Up a Cross-Cultural Food Sensation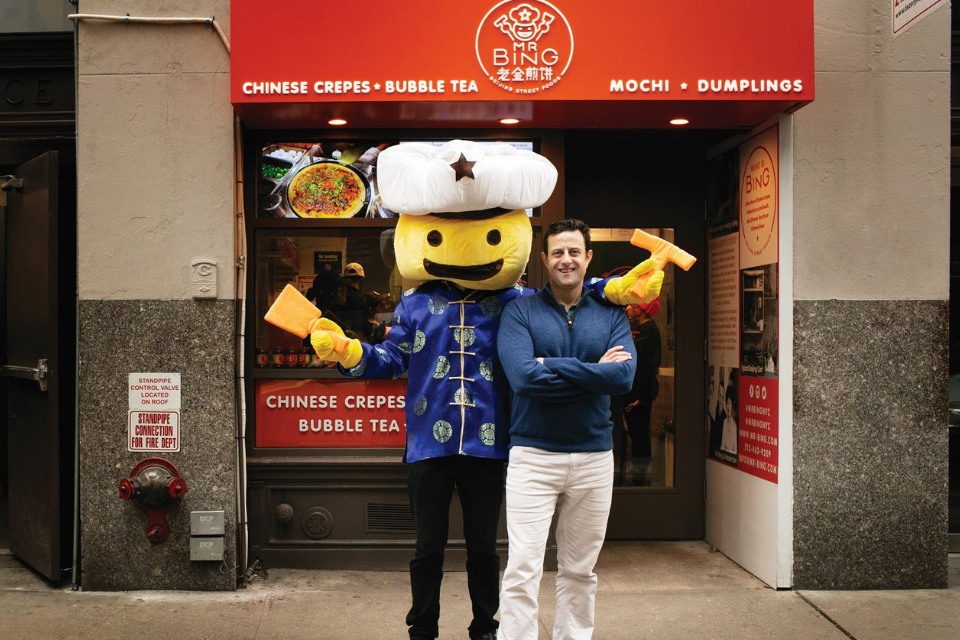 By Heather Salerno
On a sunny morning, tourists are crowding into New York City's Times Square to take selfies with costumed characters and snag discount Broadway tickets. And, even at 11 a.m., a line is snaking along the sidewalk near Mr. Bing, a food stand in the middle of the pedestrian plaza.
Mr. Bing serves jianbing — "bing" for short — a savory egg-coated pancake wildly popular in northern China. An Asian couple sits down to share a traditional bing with vegetables. A family from Spain enjoys a sweeter version oozing with Nutella.

One woman wanders over to observe the cook, who ladles a thin layer of mung bean, crispy chili paste, rice and wheat flour batter onto a cast-iron griddle, followed by a layer of eggs, crispy wontons and a sesame scallion hoisin sauce. "What is it?" she asks.

Mr. Bing's founder and CEO, Brian Goldberg '99, happens to be standing nearby. His friendly quick-fire response is delivered in a style worthy of a carnival barker: "It's a Chinese crepe folded up like a sandwich. Hot and soft on the outside, crunchy on the inside. Little bit of sweet, little bit of spicy. Lot of protein, lot of egg, lot of veggies. Lot of texture, colors, flavors. Mmm, delicious!"

The woman laughs and orders an $11 bing filled with Peking duck. That's the goal, says Goldberg — introduce a street food from the Far East to Americans, one customer at a time. "If you can make bings famous in America, you've got a pretty good career ahead of you," he says.

With that, Goldberg digs into his own steaming vegetarian bing with a side order of dumplings. He fell in love with bings while studying in Beijing as an undergraduate, sometimes eating them for every meal. He's always thought Americans would feel the same way once they tried them, and — if Mr. Bing's slow, steady success is any indication — he's right.

Starting in late 2015, Goldberg launched a series of pop-up bing stands at festivals and events around Manhattan. Time Out New York named his jianbings one of NYC's 100 best dishes of 2016. That year, Mr. Bing took home the Rookie of the Year prize at the Vendy Awards, the city's biggest street-food competition. Since then, the treats have been featured on CNN and NBC's "Today" show, and in The New York Times, which described Goldberg as "[doing] his part to make jianbing as mainstream as ramen."

Now Mr. Bing has four locations in Manhattan, including a stall at the trendy Urbanspace@Vanderbilt food hall near Grand Central Terminal and the chain's first brick-and-mortar restaurant, in the Chelsea neighborhood. Goldberg says the business is on track to bring in approximately $3 million in sales in 2018.
Read the full article via Brandeis Magazine.
Published On: March 14, 2019