Brandeis Alumni, Family and Friends
'Mad' For a Reason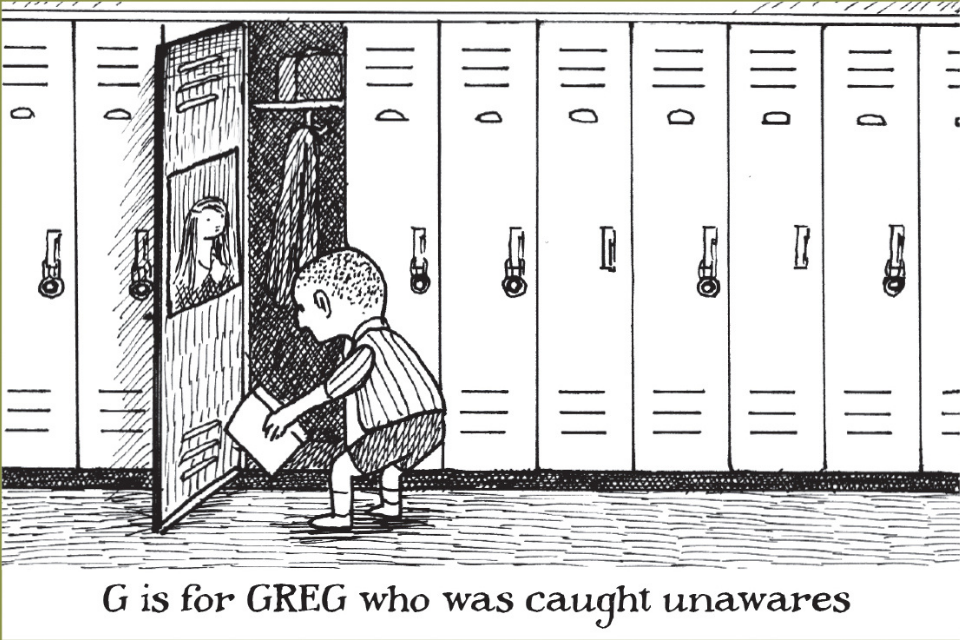 Photo Credit: Mad Magazine
By Brian Klotz
When it comes to depicting the horrific nature of gun violence in schools, Matt Cohen '93 isn't pulling any punches.
In Edward Gorey's famed 1963 book "The Gashlycrumb Tinies," a series of 26 alphabetically-ordered children are killed in a number of grisly ways. Gloomy illustrations accompany rhyming couplets, such as "A is for Amy who fell down the stairs; B is for Basil assaulted by bears."
"The Ghastlygun Tinies," an updated version written by Cohen and illustrated by Marc Palm, was published in the December 2018 edition of Mad Magazine, which hit newsstands in October. The introduction notes, "Sadly, times have changed and there's basically one way most kids seem to die now." Set entirely in a school, it begins innocuously enough – "A is for Alice the young science whiz; B is for Brian cramming for a quiz" – but soon takes a dark but tragically familiar turn: "G is for Greg who was caught unawares; H is for Hiro who needs more than prayers." By the end, we learn that "Q is for Quinn whose life had just begun" and "R is for Reid, valued less than a gun."
Bold and unflinching in its depiction of school shootings, the piece is an uncharacteristic inclusion for the storied humor magazine. When Cohen submitted it this summer, he was unsure of its likelihood for publication, especially once he learned it would require four pages. "That's a lot of real estate in a magazine," says Cohen. "Especially for something with no jokes, let alone something heartbreaking."
But Mad's editorial staff not only accepted the strip's tone, they encouraged it. "They kept opening the door to let it be emotional," says Cohen.
The gamble paid off – prior to the issue's release, a Twitter user posted images of Cohen's strip online and they went viral, with the original tweet receiving upwards of 50,000 retweets and 100,000 likes to date. Public figures weighed in with praise, including comedian John Hodgman, who wrote, "It is devastating and beautiful and true. As damning and dark as it is beautiful."
For Cohen, a marketer whose work has appeared in the magazine sporadically over the past 25 years, the experience was surreal. "The volume of response it got was a shock to the system," he says, "but it was a relief that people were taking it in the spirit it was intended." Cohen had been concerned that, since the piece appeared in the middle of one of the world's most well-known humor magazines, readers would think it was meant to be funny. "I was worried people would think I was making light of the situation, when in reality the opposite was true."
Growing up, Cohen was "obsessed" with Mad Magazine. As an undergraduate at Brandeis, he joined with classmates Noel Rappin '93 and Jason Schneider '93 to found Gravity, a campus humor magazine that remains in existence to this day. Responding to an ad for a Mad Magazine internship on an English department bulletin board, Cohen used samples of his Gravity work to successfully apply in the summer prior to his senior year. "It was a great program," he says. "You were never a gofer, they had you doing a little bit of everything."
Since then, Cohen intermittently submitted work to the magazine, with published strips including more traditional Mad Magazine fare such as parodies of "The Incredibles" and "How I Met Your Mother." Distraught by the epidemic of mass shootings in the U.S., Cohen created "The Ghastlygun Tinies" to draw attention to an issue that he fears the public has become desensitized to.
"I was trying to look at things from a different angle because we've become numb to it," Cohen says. "Whenever there's a shooting, it becomes a numbers game. We use the number of deaths to gauge how upset we should be, and I think as we've gotten more immune to seeing larger and larger numbers, it takes away from the reality of the situation.
"I wanted to focus on bringing it back to the emotional experience," he explains. "Maybe that can break through the shell we've built up around ourselves."
Published On: October 24, 2018