Brandeis Alumni, Family and Friends
BOLD 9
Seeking Groundbreaking Young Alums for BOLD 9 2023!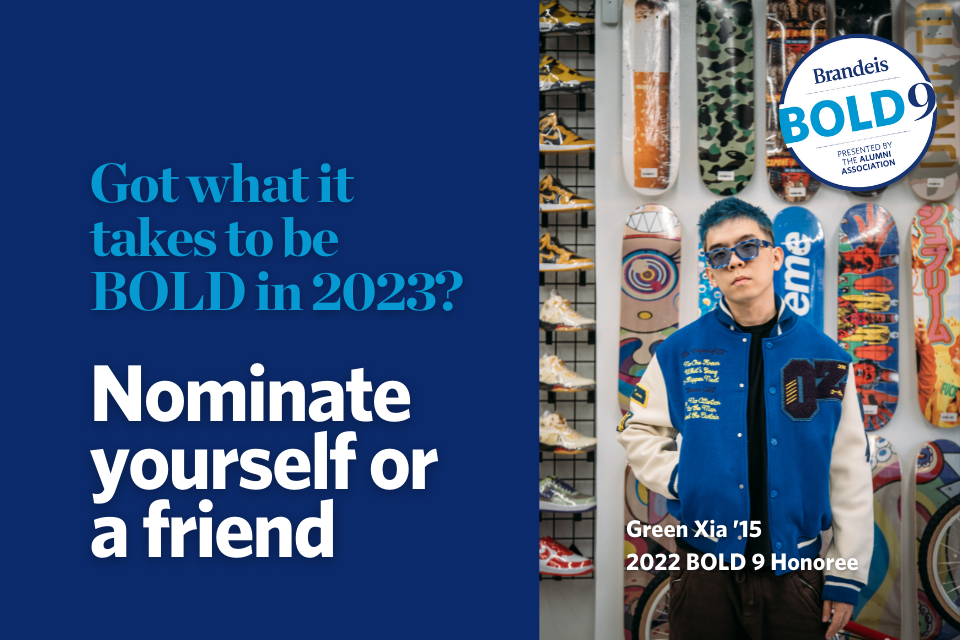 We launched BOLD 9 two years ago to celebrate alumni who have graduated in the last ten years and have already made major contributions in their chosen fields. Now, we're excited to continue this recognition and officially welcome nominations for 2023's class.
Nominees can work in any field. Past honorees have been entrepreneurs, artists, activists, educators, and influencers. The only qualifications we seek are that they embody Brandeisian values and are driving change, sparking creativity, or starting new conversations. 
Using the form below, please feel free to nominate yourself, a friend, a classmate, or a Brandeisian you admire from the class years 2013-2022. Nominees must be undergraduate or graduate Brandeis alumni from the past 10 years and under 35 years of age to be considered. Nominations for multiple alumni may be submitted with a unique form submission for each individual. 
Honorees can expect coverage via Brandeis' websites and social media channels, reaching over 60,000 community members. They will also have the unique opportunity to be recognized in conjunction with the university's 75th anniversary. Submit your nomination by December 9th. 
BOLD 9 2023 Nomination Form 
---
Did you graduate from Brandeis within the past 10 years? Discover all that BOLD (Brandeisians of the Last Decade) has to offer.