Brandeis Alumni, Family and Friends
Commencement 2022: 'Make Your Citizenship Personal'
May 22, 2022
Brandeis celebrates three classes of graduates on a historic commencement day.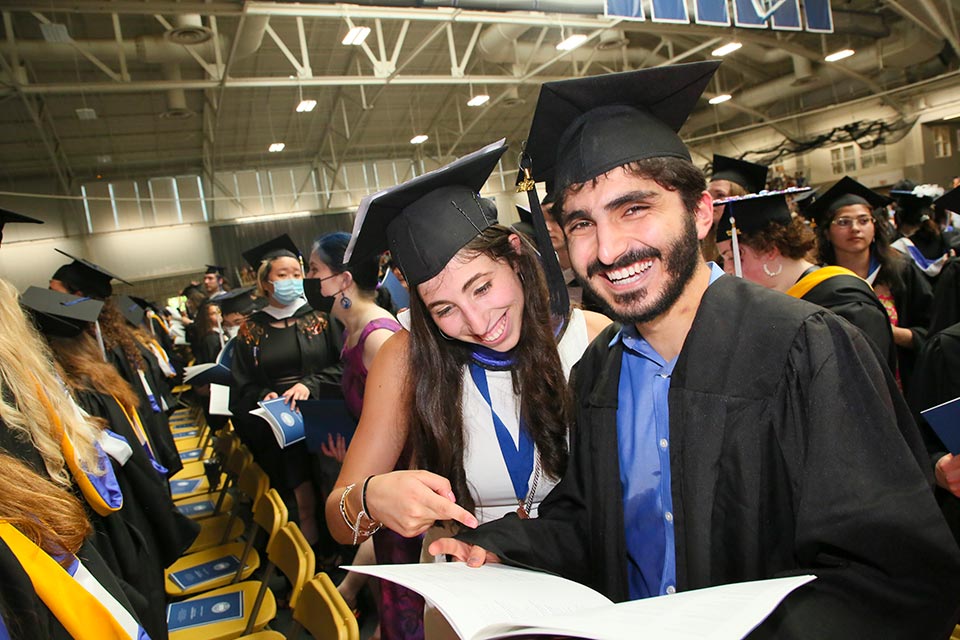 For the first time since 2019, a Brandeis University graduating class gathered together on campus, in person, to celebrate Commencement.
The Class of 2022 assembled in Gosman Sports and Convocation Center on Sunday morning, along with throngs of friends and family. Temperatures climbed toward the 90s, but the sweltering heat was no match for the joyous spirits of the thousands in attendance. Campus was abuzz with energy and excitement as graduates attended smaller ceremonies for departments and programs before filtering into Gosman for the main event.
In his keynote address, former Massachusetts Gov. Deval Patrick, H'17, urged the graduates to put aside cynicism and frustration about the state of American politics and be active citizens.
"Citizenship is an act, a thing you do, not just a thing you are. Its privileges and responsibilities are interdependent, each one making the other both possible and meaningful," he said. "So, act like it. Make your citizenship personal. Don't let your stake in your neighbors' dreams and struggles be a purely abstract idea. Bring it to life in the way you behave and the things you do."
It was a celebration doubleheader. The 71st Commencement Exercises were held in the morning, while the Classes of 2020 and 2021 were welcomed back to campus for [Re]Commencement, a special in-person ceremony since their original graduation exercises were held remotely due to the pandemic.
[Re]Commencement featured a keynote speech from TV's "Friends" and "Grace and Frankie" co-creator Marta Kauffman '78, H'20, who implored the young alumni in attendance to remain open, make their voices heard and hold onto the friends they made on campus.
"When you try things, when you remain open, when you face your insecurities and your fears, when you learn from your failures, when you, as a friend of mine would say, 'wear your scars like stardust, when you step out of your comfort zone, you just may find yourself, like I did, doing not what you expected, but what you love,'" she said. "So, dear ones, hold onto your friends and lift each other up,  have good cries and great laughs, stay open, resist, persist, insist, elect."
'The moment is now. And you are enough.'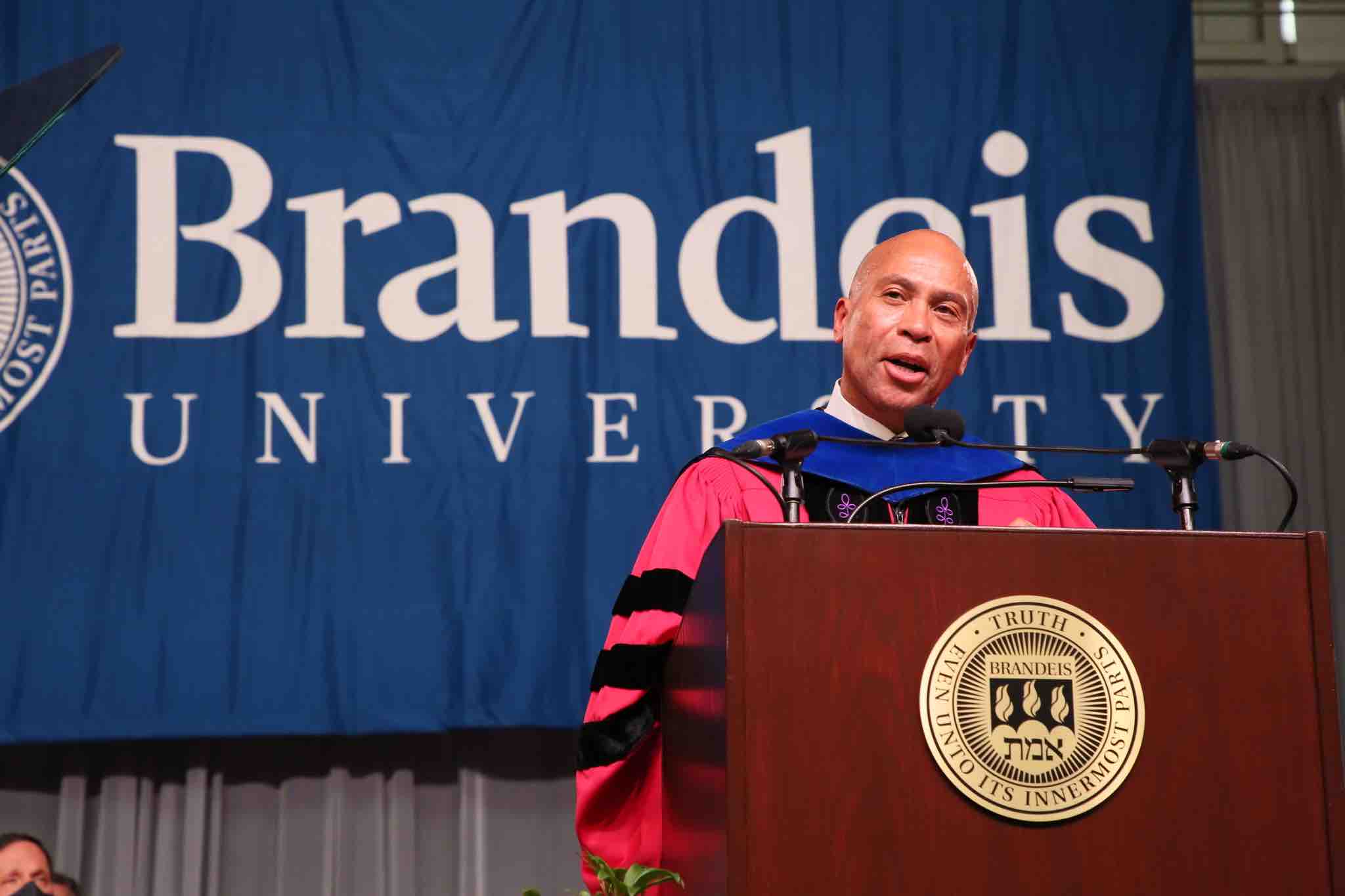 During Commencement, Patrick — a former two-term Governor of Massachusetts and presidential candidate who is now a professor at Harvard University's Kennedy School of Government — described two key challenges facing American democracy today: to make it function and to make it matter.
Making it function means it must be straightforward and transparent to register to vote, stay registered, vote and have that vote counted, Patrick said. States are creating laws that make voting more restrictive, he said, while Congress and the Supreme Court have failed to act in a meaningful way.
This is the latest in a string of efforts to encumber the functionality of American democracy, Patrick said, following measures like hyper-partisan gerrymandering; the widespread purging of registration rolls; and the flood of dark money into politics.
"Whether this is all part of a strategy, or just a series of unfortunate coincidences, you start to see how we keep treating our democracy as if it would tolerate limitless abuse without breaking, they add up to constraints on participation and representation that make democracy weaker," he said.
Patrick described growing up with his grandparents in a crowded tenement on Chicago's Southside, often relying on public assistance. He beat the odds and became a successful lawyer, business executive and politician with grit and determination, but also thanks to social programs and public resources, he said.
"My story in many ways is one, perhaps like yours, of not being either defined or limited by my circumstances of birth," Patrick said. "... That is an American story. But that story is lived less and less often today. Income and wealth inequality, economic immobility, wage stagnation — call it whatever you want. The American Dream is further and further out of reach for more and more Americans."
Meanwhile, unkept political promises, uninspiring candidates and campaigns, insurmountable odds, impenetrable political establishments, and change that's slow to come have all fueled the challenge of making democracy feel like it matters, Patrick said.
"(These) all combine to convince a lot of people, maybe some of you, that your duty as a citizen to vote is a waste of valuable time," he said. "I get that. But I can't accept it. And neither can you. Because there is too much at stake."
He told the members of the graduating class to make a plan for how and when they will vote, to bring others to the polls with them, and to educate themselves on and vote in elections outside the ones the media pays the most attention to.
"America needs you to put your cynicism and your frustration down, and to overwhelm the inconveniences and outright barriers thrown up to frustrate you and make you cynical. What is at stake, I believe, is the last hope for your own and your neighbors' American struggle and story," Patrick said. "The moment is now. And you are enough."(CQ)
Patrick, who was awarded an honorary degree in 2017, was joined on stage by American Jewish Committee CEO David Harris, P'05, who received an Honorary Doctor of Humane Letters from President Ron Liebowitz. Mathematician and aerospace engineer Christine Mann Darden, who received an Honorary Doctor of Science, was unable to attend the ceremony.
Slideshow: Students add their own flair with decorated caps
Photo Credit: Mike Lovett
'Pursue your dreams with boldness'
In his opening address, Liebowitz told the graduates and their families that Brandeis' successful launch and improbable rise to prominence as a major research university stems from its unique character. He cited Brandeis' "willingness to be bold, innovative, and to do things differently — to take advantage of significant challenges and see them as an opportunity to provide solutions and succeed."
He highlighted accomplished alumni who personify this can-do character, including Drew Weissman '81, GSAS MA'81, P'15; Stephanie Tilenius '89, IBS MA'90;  Rachel Fish, GSAS PhD'13; and Oleksandr Pertsovskyi, IBS MA'10.
Weissman is a professor of medicine at the University of Pennsylvania whose messenger RNA research laid the foundation for COVID-19 vaccinations. Tilenius is the CEO and founder of Vida Health, a telehealth company that aims to tackle health challenges with empathy and compassion. Fish is co-founder of the think-action-tank Boundless, a nonprofit that works with community leaders to combat antisemitism in daily life in North America. As the head of passenger service for Ukrainian railways, Pertsovskyi has overseen the safe passage of millions of people fleeing war.
"As Brandeisians, you are a part of that history, culture, and values that have endured for seven decades, and have shaped you, too," Liebowitz said. "You need not only look to our institution's founding for an abstract example of that spirit. Rather, there are many concrete examples at the individual level — Brandeis alumni who are tackling major challenges, exhibiting hope, creativity and determination to succeed. They should give you confidence about your own futures and ability to pursue your dreams with boldness, innovation, and that Brandeis-honed edgy eagerness."
Photos: Inside the Commencement celebration
Photo Credit: Mike Lovett

Photo Credit: Mike Lovett

Photo Credit: Mike Lovett

Photo Credit: Mike Lovett

Photo Credit: Mike Lovett

Photo Credit: Mike Lovett

Photo Credit: Mike Lovett

Photo Credit: Mike Lovett

Photo Credit: Mike Lovett

Photo Credit: Mike Lovett

Photo Credit: Mike Lovett

Photo Credit: Mike Lovett
'Leaving does not mean forgetting'
A total of 854 undergraduate members of the Class of 2022 earned diplomas, along with 295 from the Heller School of Social Policy and Management; 142 from the Brandeis International Business School; 265 from the Graduate School of Arts and Sciences; and 129 from the Rabb School of Graduate and Professional Studies.
Undergraduate speaker Haley Brown '22 reflected on Admitted Students Day in 2018, which occurred during an unexpected spring snowstorm. It was not the last time the Class of 2022 would have to weather a storm.
"From the very beginning of our Brandeis experience, from that first April snow, we have shown ourselves that the unexpected is nothing more than an opportunity. That's why, by our sophomore year, when we were told we had to pack up our belongings and leave in the middle of yet another unexpected spring because of the pandemic, we never abandoned our commitment to the values that make us all Brandeis students," she said.
 "… Leaving was hard, but we can look back and remind ourselves that leaving does not mean forgetting. We have been forever changed by Brandeis — the people we've met, the classes we've taken, the traditions we've found spirit in — they don't leave us when we pack up our belongings, they are amongst the boxes we take with us."
Graduate speaker Apthi Harish, IBS MSF'22, recalled the unwavering support she received from her professors and the university community.
"Being part of Brandeis fills me with hope. It gives me the chance to fail but not feel like that is what would define me. The faculty have time and again helped me up, instilled courage in me when I needed it, and have been open to listening to me," Harish said. "They have made me question and ask. No class of mine has been rote learning only. Every session has left me thinking and wondering."
Brandeis Alumni Association President Lewis Brooks '80, P'16, welcomed the Class of 2022 to the alumni family.
"You will always be connected to your fellow classmates in the Class of 2022, as I am to my Class of 1980, but you're also part of a bigger group of over 60,000 members. Our house is a very big house covering 70 years of alumni," he said. "You can reach out to them and meet them at events all over the world. Or you'll see them on the street wearing their Brandeis swag. Say hello. Trust me, they'll like that."
Visit Commencement 2022 for full coverage of Brandeis' commencement day for the classes of 2022, 2021 and 2020.