Brandeis Alumni, Family and Friends
President Liebowitz: 'Pursue Your Dreams with Boldness'
May 24, 2022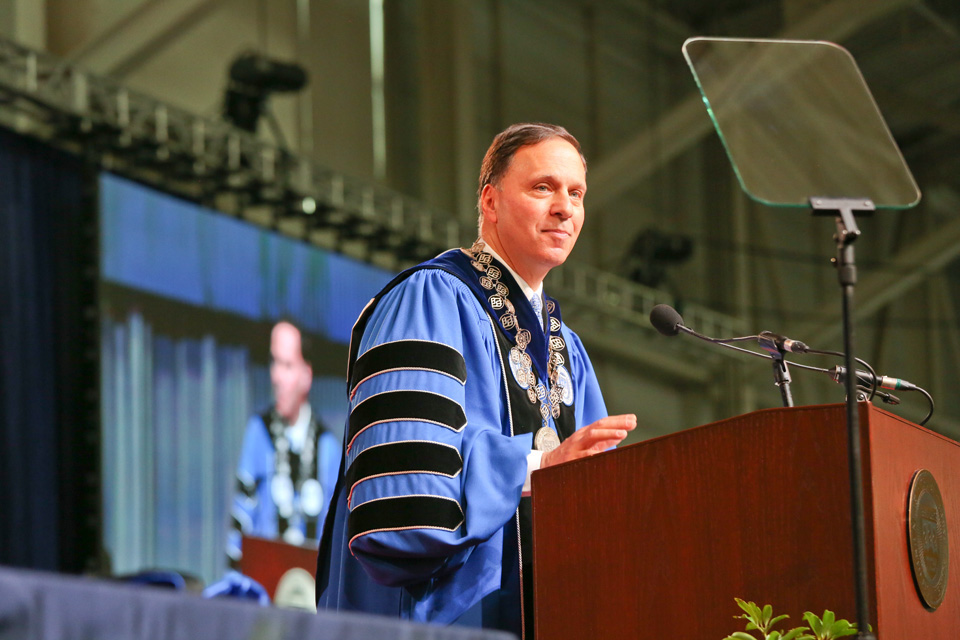 Transcript:
Good morning. It's wonderful to be back in Gosman, even with this heat this morning. Wonderful. On behalf of the faculty, staff, and trustees of the university, I too am delighted to welcome all of you to the 71st commencement ceremony of Brandeis University.
Congratulations to the Class of 2022. You arrived at this day through persistence, determination, and resilience, and we happily celebrate your achievements here in person. Many people have worked to make this commencement ceremony possible. I cannot possibly list them all, but I
ask that you join me in thanking our staff and many volunteers for their heroic efforts in the face of many and seemingly unending challenges. Thank you all. 
As our board chair did, I too want to recognize all those who have helped our graduates reach this milestone. To the parents, grandparents, family members, loved ones and friends present here today, by supporting our graduates you have played a vital role in contributing to their success. We all thank you. 
Each year I have had the honor to offer a special welcome to Frank Brandeis Gilbert, the grandson of Louis Brandeis and Frank's wife, Ann. Sadly, Frank passed away just nine days ago at the age of 91. Frank loved this university and was dedicated to its success from the beginning. He attended the celebration of its founding at Boston Symphony Hall in 1948, and was a regular participant at commencement from the first one in 1952 until 2015 when health challenges limited his participation. Though Frank is not here today, I know he is still very much with us as we keep him in our thoughts. His wife Ann is with us today, so please join me in welcoming her to today's ceremony. Ann, where are you? 
Our graduates today should take great pride in their accomplishments. They know firsthand how the COVID-19 pandemic affected their studies and their lives. They are aware too of the many societal challenges their generation will need to address in the coming years. One cannot know precisely what the future will hold for these graduates, but I know they will see opportunities for hope, vision, and leadership. Brandeis' early leaders envisioned that Brandeis with pursue academic excellence through a dual mission, committing itself to offering both a first-rate liberal arts education and a cutting-edge research endeavor. This was a bold vision, especially for a new university lacking an alumni base, a faculty, or the financial resources to guarantee success. In fact, the odds of survival were long. But founding president Abram Sachar exhibited the creativity and resourcefulness that would become an important characteristic of the
university in overcoming these non-incidental missing pieces. He engaged members of the American Jewish community and declared them foster alumni, many of whom provided significant financial and emotional support. He also built a faculty, and with it a culture of excellence that persists today by hiring leading scholars who because they were Jewish, immigrants, or harbored communist leanings back in the late '40s could not secure faculty appointments at any other American University. 
Indeed, Brandeis' successful launch and improbable rise to prominence as a major research university stems from its willingness to be bold, innovative and to do things differently, to take advantage of significant challenges and see them as an opportunity to provide solutions and succeed.
As Brandeisians, you are a part of the history, culture, and values that have endured for seven decades and have shaped you, too. You need not only look to our institution's founding for an abstract example of that spirit. Rather, there are many concrete examples at the individual level. Brandeis alumni who are tackling major challenges exhibiting hope, creativity, and determination to succeed. They should give you confidence about your own futures and ability to pursue your dreams with boldness, innovation, and that Brandeis-honed edgy eagerness.
Here are a few examples. 
The first, Drew Weissman graduated in 1981 with a bachelor's and master's degree in biochemistry. Drew began research 23 years ago that led to the development of the Pfizer and Moderna messenger RNA vaccines. Long before his visionary work altered the course [APPLAUSE] of the COVID-19 pandemic, the Brandeis faculty here provided the learning environment in which Drew furthered his interests in scientific research. That environment sustained him even when his and his research associate, Katalin Karikó's seminal breakthrough would wait 15 years for its full potential to be recognized by the scientific community and the world.
That same visionary spirit drives Stephanie Tilenius, CEO and founder of Vida Health. As an economics undergraduate student and then a graduate of the university's business school, she like many of you, was very much influenced and inspired by this community's commitment to social justice. The Brandeisian ethos inspired her to found a telehealth company that would make quality health care accessible and effective when she was faced with the complexities of helping a loved one manage care for multiple chronic conditions. Stephanie applied her skills in Brandeis education to remove barriers and solve inequities that affect many people through her now thriving company, Vida Health. 
Another alumna with Brandeisian spirit is Rachel Fish. Rachel earned her PhD from the Department of Near Eastern and Judaic Studies less than a decade ago. She joins many other Brandeis alumni who are dedicated to combating hatred and are determined to help repair the world. Rachel is co-founder of the think action tank Boundless, a new non-profit that works to fight the pernicious anti-Semitism that pervades daily life and to advance a more balanced education on the state of Israel. Recognizing that Jew hatred is a longstanding and highly complex form of bigotry, her non-profit pursues collaborations with diverse community leaders to bring about change through education and spirited engagement. 
Finally, there is Oleksandr Pertsovskyi. Oleksandr graduated from the Brandeis International Business School in 2010 and is the head of passenger service for Ukrainian Railways. As we have witnessed the conflict engulfing Ukraine, Oleksandr has lived it and quite literally has saved thousands of lives. As millions have fled their homes, Pertsovskyi has courageously remained in his post, finding innovative ways with no blueprint to reroute and change schedules to maximize the safe evacuation of the fleeing masses. The Ukrainian railway system is the single most important source of travel in the country and has been vital to the successful movement of millions of Ukrainians.
These are just four of many alumni who have used their Brandeis experiences to tackle great challenges. Their vision, leadership, and belief in the power of hope should inspire us all and offer optimism about the future. And so, to the graduating students here today, may your Brandeis education endow you with the spirit you share with all Brandeisians and prepare you for all the joys and challenges you experience in the coming chapters of your lives as they have done so for so many alumni before you. I wish you every success in your future endeavors and I look forward to welcoming you back to campus as alumni often. Congratulations and good luck.