Brandeis Alumni, Family and Friends
Apthi Harish, IBS MSF'22: 'Being Part of Brandeis Fills Me With Hope'
May 24, 2022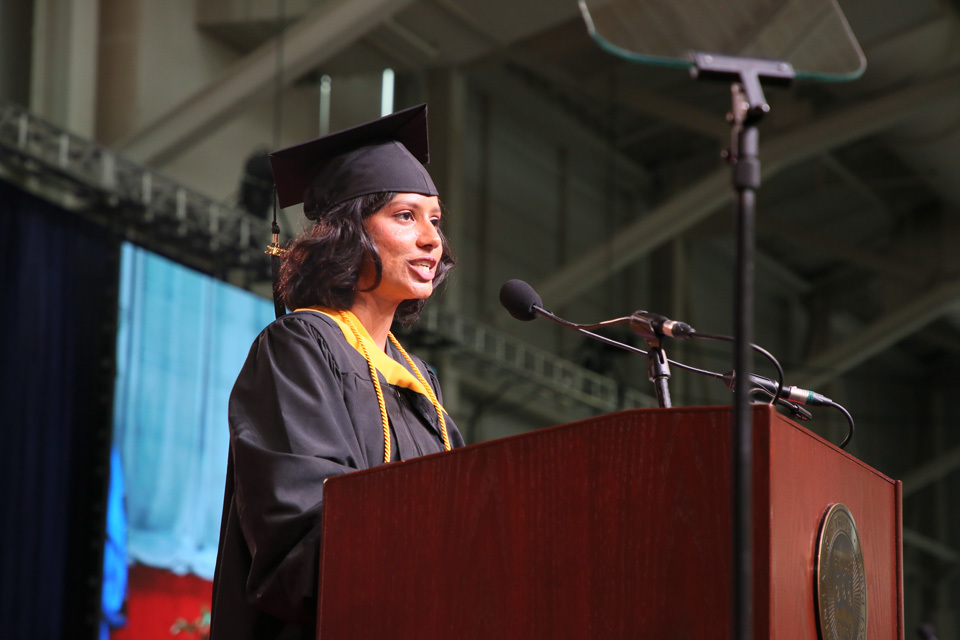 Transcript:
It is my honor to deliver this commencement address to President Liebowitz, members of the board, faculty, family, friends, distinguished honorary degree recipients, commencement speakers, staff, alumni, and the incredible graduating student body. 
I am Apthi Harish, a Masters of Finance Student, and Leadership Fellow at the International Business School. Most of us graduating today have lived through times of uncertainty. But here we are, together, ready to step into the world. And though we may not know what it holds for us, we do know that we have a place that will always have our backs. 
My journey at Brandeis did not begin on my first day, but from the time I decided to apply. I felt supported by the Brandeis community and I know this is a feeling that everyone graduating shares. 
I was scheduled to begin in fall 2020, but because of COVID-19, the visa offices were shut and I had to postpone my start date. But during this time, the Brandeis faculty were constantly checking in on us and made sure that we had the right documents to make it on time to campus in spring 2021. 
When I first arrived in the US, it was cold and I did not have the right gear to protect myself from the harsh winter and getting around places was difficult. During this time, my academic advisor reached out to me and helped me figure out where to buy a coat. Just this gesture made me feel warm. 
Not only did the faculty make us feel close by allowing us to sit in on a few classes and webinars before school started, but fellow students reached out to one another and formed a close-knit community. And during these times of uncertainty, having this community helped all of us out. 
Being a part of Brandeis fills me with hope. It gives me the chance to fail, but not feel like that is what will define me. The faculty have time and again helped me up, instilled courage in me when I needed it and have been open to listening to me. They have made me question and ask. No class of mine has been rote learning [inaudible]. Every session has left me thinking and wondering. The learning and unlearning that I have been through has taught me the importance of being coachable, which is something that I will take with me.
I recall having a difficult time with fixed income, but my professor was always available for me to discuss my doubts and apprehensions till I got it right. The experiences I have had during my time here, and though most of it has been online, has been enriching and have helped me grow as a person. I know that I will always carry these with me. 
Brandeis stands for inclusivity, activism, and self-expression. Look around you. Inclusivity is not just a word, but the very fabric of our community. As an international student, I have sometimes felt out of place outside of the university. But at Brandeis, every person gets to be their best selves. Just the fact that I get to be here addressing all of you is a testament to what an inclusive school Brandeis is.
I've had the privilege of being part of the DEI committee where we interviewed various candidates for the position of the Vice President for Diversity, Equity, and Inclusion and during this process, I understood how important activism was for Brandeis. As a committee, we were allowed to be very vocal with our opinions about who we thought was going to lead Brandeis and take the meaning of what we stood for further. 
When I walk around campus, I find it refreshing to see how students are just themselves, the freedom to be exactly who they want to be and it always feels just right. As I say this, I am reminded of something I read in Tuesdays with Morrie, a book my mother introduced me in eighth grade, written by Mitch Albom, a fellow Brandeis alum. At a time when Brandeis wasn't even on our minds. 
Accept who you are and revel in it. 
I am so lucky to have been part of a university that values self-expression so much. Graduates, I know today is a day of mixed emotions. As we step into bigger opportunities, we also leave behind a life that has become so familiar to us. But we do this with our heads held high and heart strong. We leave knowing that we have done the best we can during our time here. We have come so far in our journeys and we have so much further to go and look forward to. 
As we mark the end of one of the most important chapters in our lives, I want to leave you with the lyrics of a song by Natasha Bedingfield that always lifts my spirits. Today is where your book begins, the rest is still unwritten. Let us go on and fill our books and I hope when we flip the pages, we can see that we are thriving together.