Brandeis Alumni, Family and Friends
President Liebowitz [Re]Commencement Address: 'You Will Tackle Major Challenges'
May 26, 2022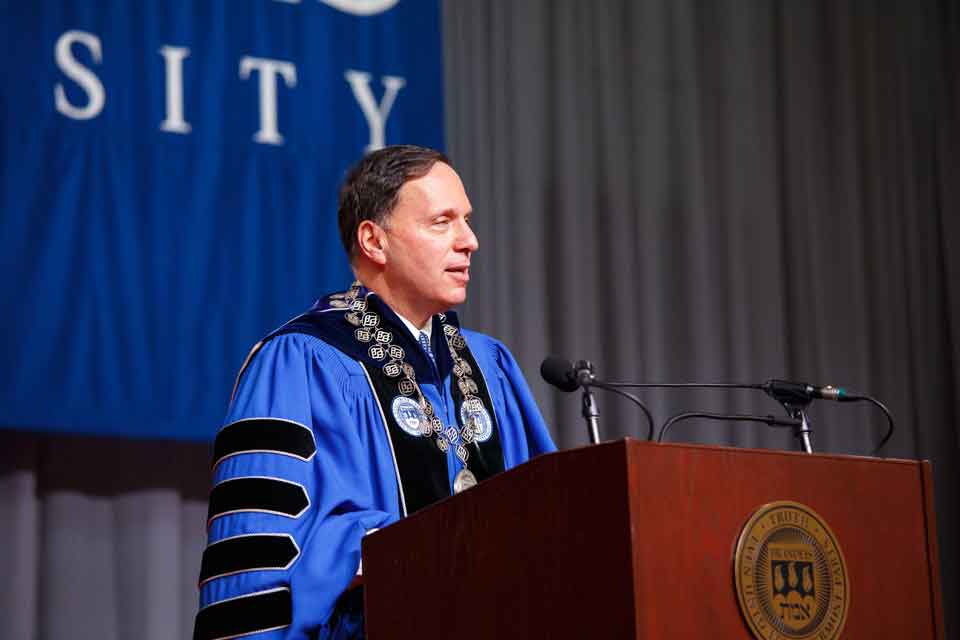 Transcript: 
Thank you. Good afternoon. My watch says it's still afternoon. It's not evening yet. On behalf of the faculty, staff, and trustees of the university, I'm delighted and honored to welcome all of you back to Brandeis and to our recommencement celebration for the classes of 2020 and 2021. Many people have worked to make this commencement ceremony possible and I cannot possibly list all of them. But I ask you to join me in thanking our staff and our many volunteers for the heroic efforts in the face of many and seemingly unending challenges. Let's give them a hand.

As chair Kranc said, we cannot have arrived at this joyous day without the devotion of the many people who have supported our recent graduates throughout their lives and into these changing times. I too want to thank the parents, grandparents, family members, loved ones, and friends. You have all played an important role in contributing to their success and we all thank you.

To the members of the classes of 2020 and 2021, when we last held our commencement exercises for the class of 2019, few of us could predict what lay ahead. Indeed, yours are two classes unlike any other in Brandeis' history. Your last memories as students were marked by the pandemic and social upheaval. With a spring semester drawing to a close, graduates of the Class of 2020 were forced to flee campus just months ahead of what we all had anticipated being a well-deserved celebration of their hard work and achievements, as students with all the festivities that traditionally accompany commencement.

Many of the graduates of the class of 2021 were able to return in the fall, but they arrived to a campus environment vastly different from what they had once known. Faced with unfamiliar adversity, you were compelled to rise above the circumstances and set out on your next chapters after Brandeis, unknowing of what your future held for you.

But in all challenges, there are silver linings. There are opportunities for hope and vision and there are opportunities for leadership. Indeed, the entirety of Brandeis' founding and rise to prominence as a major research university against all odds, stems from its willingness to be bold, to be innovative, and to do things differently, to take advantage of vexing challenges and to overcome them. As Brandeisians, you're a part of that history and the culture and values that have shaped Brandeis, they have also shaped you.

During your time here, whether that was one, two years ago or more, you developed or imbibed the spirit that makes it more likely than not, that you too will find ways to tackle many problems of our time.

You need not only look to our founding for examples of that spirit. To highlight, here are four Brandeisians, who have tackled or are tackling major challenges, and it should serve as an inspiration to you and give you confidence about your own future and ability to address that future with boldness, innovation, and a Brandeisian's style of creative thinking.

The first, Drew Weissman, graduated in 1981 with a bachelor's and master's degree in biochemistry. Drew began research 23 years ago that led to the development of the Pfizer and Moderna messenger RNA vaccines. Long before his visionary work altered the course of the COVID-19 pandemic, the Brandeis faculty right here provided the learning environment in which Drew furthered his interests in scientific research. That environment sustained him even when his and his research associate, Katalin Karikó, seminal breakthrough would wait 15 years for its full potential to be recognized by the scientific community and the world.

That same visionary spirit drives Stephanie Tileneus, CEO and founder of Vida Health. As an economics undergraduate student and then a graduate of the University's Business School, she, like so many of you, was very much influenced and inspired by this community's commitment to social justice. This Brandeisian ethos inspired her to found a telehealth company that would make quality health care accessible and effective when she was faced with complexities of helping a loved one manage care for multiple chronic conditions. Stephanie applied her skills and Brandeis education to remove barriers and solve inequities that affect many people through a now thriving company, Vida Health.

Another alumni with the Brandeisian spirit is Rachel Fish. Rachel earned a PhD from the Department of Near Eastern and Judaic Studies less than a decade ago. She joins many of the other Brandeis alumni who are dedicated to combating hatred and are determined to help repair the world. Rachel is co-founder of the think action tank, Boundless, a new non-profit that works to fight the pernicious anti-Semitism that pervades daily life, and to advance a more balanced education of the state of Israel. Recognizing that Jew hatred is a longstanding and highly complex form of bigotry, the non-profit pursues collaborations with diverse community leaders to bring about change through education and spirited engagement.

Finally, there's Oleksandr Pertsovskyi. Oleksandr graduated from the Brandeis International Business School in 2010. He is the head of passenger service for Ukrainian railways. As we have witnessed the conflict ongoing in Ukraine, Oleksandr has lived it and quite literally saved thousands of lives. As millions have fled their homes, Pertsovskyi has courageously remained in his post, finding innovative ways with no blueprint to reroute and change schedules to maximize the safe evacuation of fleeing masses. The Ukrainian railroad system is a single most important source of traveling the country and has been vital to the successful movement of millions of Ukrainians.

As you leave campus once more and return to your lives beyond Brandeis, you carry with you that same spirit that has forged these remarkable alumni into such bold and visionary leaders. There are countless Brandeis alumni who have overcome challenges and adversity through a combination of skill, resilience, and hope. Their vision and leadership offer us a lens through which we could consider and tackle the issues that we must confront to begin, to imagine a better future so long as we are willing to commit ourselves to shaping it. I have every confidence that each of you will, and we will watch your lives continue to unfold with abiding interest. I wish you every success in your endeavors and I look forward to welcoming you back to Brandeis many many more times.

Thank you.