Brandeis Alumni, Family and Friends
Philanthropist and Iconic Business Leader Leonard A. Lauder Shares Lessons on Business and Life
May 14, 2021
Chairman Emeritus of the Estée Lauder beauty empire and a renowned philanthropist, Leonard A. Lauder shared his views on business, life and love in a webinar hosted by President Ron Liebowitz and his wife Jessica.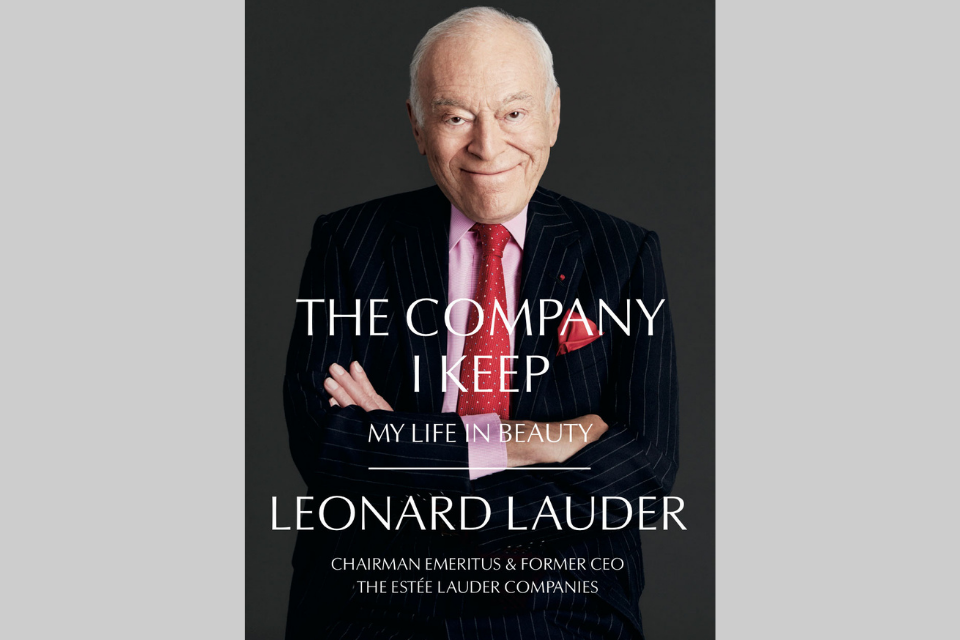 Global business leader and Chairman Emeritus to The Estée Lauder Companies beauty empire, Leonard Lauder shared his insights on business and life in a Brandeis University webinar on April 27. The event, a Q & A session hosted by President Ron Liebowitz and his wife, Jessica, was moderated by Kathryn Graddy, dean of the International Business School and Fred and Rita Richman Distinguished Professor in Economics. The discussion flowed from Lauder's fundamental corporate wisdom to the foundation of a happy marriage, among the topics covered in his recently published memoir, "The Company I Keep: My Life in Beauty."
Known at the company that bears his family name as its "Chief Teaching Officer," Lauder is a major philanthropist and art collector, who helped grow Estée Lauder into an $89 billion company. He is the oldest son of the late Estée Lauder, who founded the cosmetics giant in 1946. The trail-blazing company (the first to bequeath the gift samples now standard to the highly competitive industry), The Estée Lauder Companies now has over 25 high-profile brands including Aramis, Aveda, Clinique, Bobbi Brown, MAC, Smashbox, and Bumble and bumble. 
Lauder's philanthropy has a global reach. He co-founded and co-chairs the Alzheimer's Drug Discovery Foundation, which funds clinical trials around the world. Lauder is a passionate supporter and longtime friend of New York's Whitney Museum, having made a milestone gift of $131 million in 2008 and to which he has gifted more than 700 artworks over the years. The Whitney's building in Manhattan's Meatpacking District was named for Lauder in 2016. In 2013, Lauder made headlines when he promised his prominent collection of Cubist art to the Metropolitan Museum of Art in New York City, one of the largest gifts in its history. Lauder has often said that his philanthropy in the art world is fueled by a lifelong love of paintings and a desire to share the works of art he enjoys with as many people as possible.
Leonard and Judith: A Love Story
Jovial and down to earth, Lauder responded to Graddy's questions with warmth and candor. Near the end of the virtual event, Lauder was joined, in what was billed as a "surprise appearance," by his wife, Judy Glickman Lauder, a prominent photographer and author. The two had been friends for years, as had their spouses, and became a couple a few years after each was widowed. They love to recount their second chapter story. "We are one, not two," Lauder told Graddy, after his wife offered a synopsis of their history. "When I met Judy, I found my soulmate. Our motto is 'follow your heart.' Your heart often knows what your head cannot comprehend."
In sharing his business acumen, Lauder also emphasized the importance of good instincts and self-awareness. He offered morsels such as, "You can take the baby out of the Depression but you can't take the Depression out of the baby," explaining to Graddy that he is the one in the house who's "always turning off lights, the one who saves paper clips." He said living through the Great Depression taught him to be a wise investor, one who understands the payoff may be years away. Asked about lessons learned from his iconic mother, Lauder mentioned her bold decision to give away her products as samples, much to the consternation of others. His mother grew the business through quality more than advertising, he said. As a leader and a boss, Lauder favors the Socratic method when dealing with employees, he told Graddy. He stressed the importance of trust ("With trust, you can be a leader par excellence") and the value of humility and resilience ("You learn more from failure than you do from success").
Be Better, Be Smarter
Lauder said one of his favorite books is Andrew Grove's "Only the Paranoid Survive." He admits to being paranoid about competitors edging out his companies, and always believing he and his workforce can be "better, smarter," and lighter on their feet. He recalled cross-country road trips with his managers to see how the company's products were being sold and to assess what needed improving. Lauder also attributed his company's success in part to the fact that 92% of his employees are women, whom he believes are natural problem solvers. "Women have a different mindset," he told Graddy.
In speaking of his philanthropy, Lauder cited University founder Louis Brandeis's belief that business can be a profession that does far more good than harm. "Businesses are supposed to be great citizens of their nations," Lauder said. "It's not just profits for shareholders; it's what you do for the nation you're in."