Brandeis Alumni, Family and Friends
For These Alumni, Biden's First 100 Days Mark Crucial Shift to Expertise, Trust
April 30, 2021
Alexander "Sasha" Suderow '05 and Dennis Kelleher '84 share thoughts on how the transition to the Biden administration has gone so far, and the challenges ahead.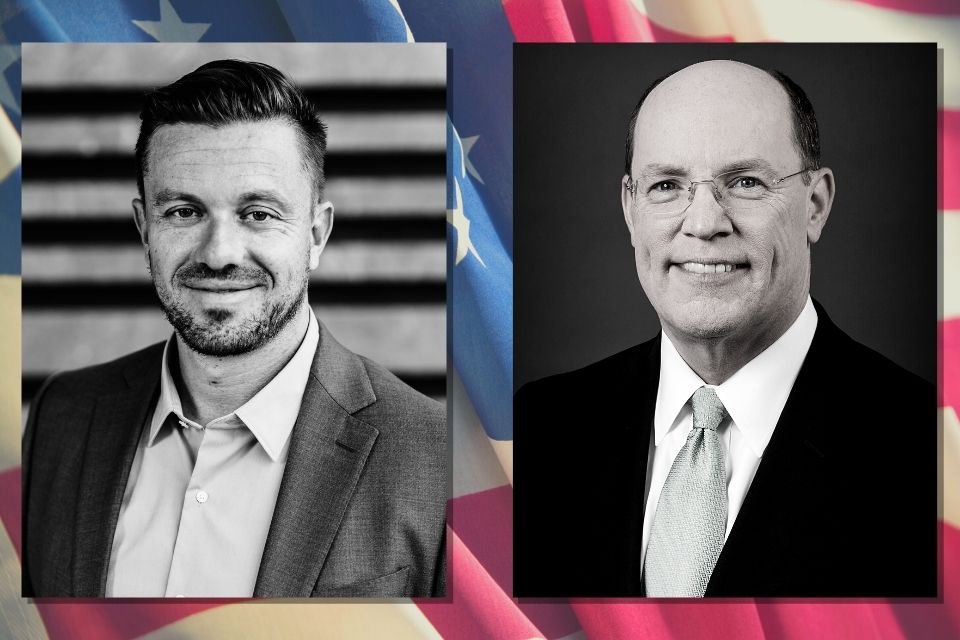 As the presidency of Joe Biden marks its first 100 days, we asked two alumni associated with his administration to share their assessments of his transition to power, notable accomplishments, and the major challenges he faces. We spoke with a key figure in President Joe Biden's transition team and a career member of the State Department. With notable strides (re-joining the climate accords and the World Health Organization, fortifying and streamlining the COVID-19 vaccination program) and some persistent obstacles (undocumented immigrants in limbo at the southern border, a string of mass shootings) Biden and his team have managed overall to institute key initiatives. While Biden faces staggering challenges from the pandemic to deep racial and economic disparities, Alexander "Sasha" Suderow '05 and Dennis Kelleher '84 note that Biden's vast experience and beltway knowledge have for the most part made it easier for the government to do its job, for career staff and political appointees alike.
A financial expert and Wall Street watchdog who Washington Magazine recently named one of the capital's "most influential people," Kelleher is President and CEO of the nonprofit advocacy organization Better Markets and has worked with policymakers in every branch of government. Kelleher was tapped in the summer of 2020 to join Biden's transition team on the group handling the Federal Reserve, banking and securities reviews. He notes that unlike the famously smooth Bush to Obama transition, the Trump to Biden path was studded with roadblocks. Still, with its wide-ranging expertise, Biden's track record and his ability to assemble professionals willing to work "at breakneck speed," Kelleher, who has known Biden since the President's U.S. Senate days, believes that the transition team's due diligence is paying off in overt and subtle ways.
He Hit the Ground Running
Biden hit the ground running despite an approval rating over just over 50 percent. He has paved the way for bold initiatives including the $2 trillion infrastructure and economic recovery plan, a sweeping American Families Plan to expand access to education and childcare, and the $1.9 trillion relief and stimulus package known as the American Rescue Plan Act, which became law on March 11. 
For the Biden team the first order of business was the pandemic. "There was an incredibly robust analysis with a team focused on the health crisis so that literally on day one Biden could invoke the Defense Production Act (DPA) to super-charge" the pandemic response, said Kelleher. In addition to providing economic relief to families, businesses, schools and public transportation, to name a few, the bill falls into candidate Biden's promise to "Build Back Better," said Kelleher. "It's what he believes," Kelleher said. "Even once we get vaccinated it is a deeply damaged and scarred economy. Millions of small businesses may never come back. The only way to address this is to figure out how to build back better, and that's what the infrastructure bill is all about." At this juncture, a lot depends on the bill, which also addresses racial injustice and climate change, said Kelleher. "The country is lucky to have someone with Joe Biden's experience and unlimited Rolodex," he said. "There's almost no margin for error on the health crisis and financial crisis." Addressing a litany of "embedded problems," Biden "doesn't have the luxury of waiting for Republicans to do what's right for the country," said Kelleher. "I know Biden well, he was close to the senators I worked for so I got to see him up close and personal for many years."  In his relatively new presidency it's apparent, says Kelleher, that Biden "is not going to sacrifice the best interests of the country on the altar of Congressional bipartisanship that isn't real and real fast." "He, as Obama's vice president, and I, as a senior Senate leadership aide, saw how much damage those unreciprocated efforts did to the American people in 2009-2010. The lessons have been learned."
More Predictable, Less Impulsive
On the international front, Biden's 100-day milestone is marked by the U.S.'s return to greater predictability as a world leader, a power willing, as Suderow put it, "to occupy a seat at the table." A foreign service officer specializing in international security and political economy who recently returned to D.C. after a posting in Morocco, Suderow was hired during the Obama administration and is, as he often takes pains to explain, a state department career official rather than a political appointee. "State department professionals proudly serve Democrats and Republicans, and it's a point of pride among our colleagues that our loyalty is to the taxpayers and the constitution," Suderow said. That said, Suderow sees a general sense of relief as the Biden administration returns to more sedate longstanding practices, including out-of-the-gate returns to normalcy like remaining within the WHO or NATO.
"The Trump administration was unique in terms of its occasional hostility to state department personnel and longstanding policy practices," said Suderow. "Our core function is to interact with the world and he often made that challenging. I would dispel the idea that this was an issue of the political right or left; it was more an issue of openly rejecting America's leading role in the world. Other countries look to us for guidance, and Washington sometimes gave worrying signals that we were just going to walk away from the table." As Biden began his term with a climate change team already in place and took a leadership position at the recent virtual summit, those working in climate change "were marginalized under Trump," said Suderow. A hundred days into the Biden presidency both appointees and career staff are buoyed by revived administration support to confront a variety of "hot button" topics from family planning policy overseas to LBTQ issues. "With Biden's arrival we received signals to please engage in these issues," said Suderow. For example, he noted, "it's hard to talk about human rights but not mention anything about LGBT issues."
Surpassing Politics
Four months into Biden's term, Suderow, now working in DC, is hopeful that the U.S. will be able to sit down with "the nations we have real tensions with," like Russia and China. "The transition didn't erase the reality of those tensions, but when officials sit down and talk there are rational, practical results," he said. "And those working abroad might worry less about unpredictable, sudden policy upheaval." Suderow says he doesn't subscribe to the idea that the world is more dangerous than it was in the past. "In every age, people are ultimately able to sit down and chart a path forward," he said. "I have faith that cornerstone relationships can surpass momentary politics."
Both Suderow and Kelleher spoke of the way their careers in public service and advocacy have foundations in their experiences at Brandeis. For Suderow, who routinely dons a Brandeis cap given to him by a group of Brandeisians who connected with him on their study abroad trip to Morocco, the heated discussions that flowed freely in his classes prepared him for his job in the foreign service. "There were debates about contentious topics that made me think deeply about my own views and prepared me to defend my position after reflection. Brandeis has served me well." Kelleher, who makes fundraising calls on his class's behalf, sees Brandeis as a "magnet for people who think broadly about how they act and live in a way that contributes to the success and happiness of other people." Kelleher describes himself as an atypical Brandeisian – he served in the U.S. Air Force before attending – but is convinced that everyone coming out of Brandeis is empowered, as he is, "to undertake challenges of being an active, engaged citizen in the community and the world."