Brandeis Alumni, Family and Friends
In the Eye of the Election Storm
December 3, 2020
As senior politics editor at The Philadelphia Inquirer, Dan Hirschhorn '07 was at the epicenter of the nation's biggest political story as the 2020 presidential election hinged on the Pennsylvania vote.
A former editor in chief of the Justice, who has been a reporter and editor for, among other news outlets, Time, Barron's, and Politico, Hirschhorn now lives in Philadelphia with his wife, J.J. El-Far '07, and their two children. In this dispatch from the field, he describes what it has been like to provide the first rough draft of history of a presidential contest unlike any other.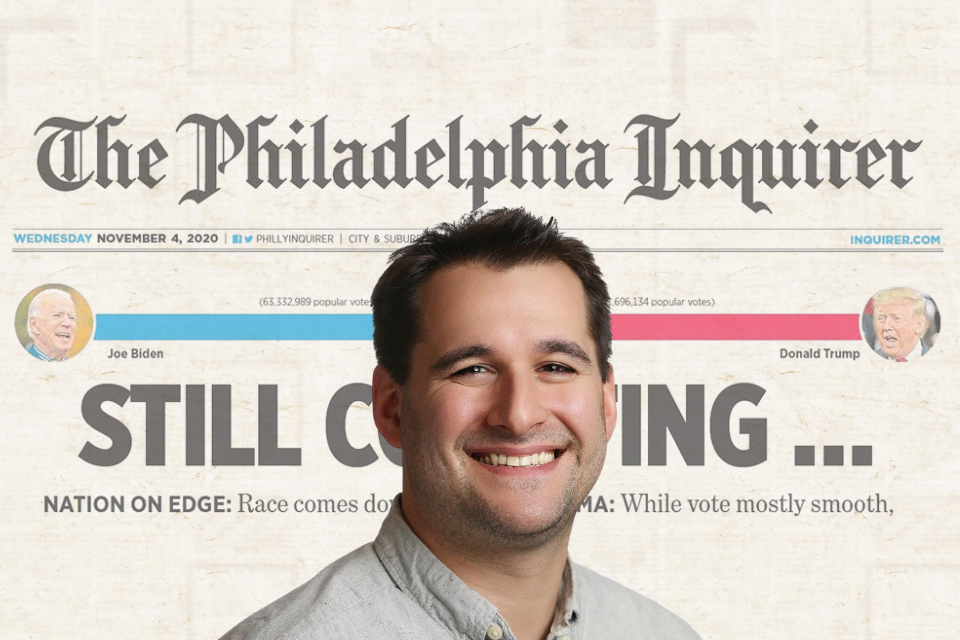 It was just like an all-nighter spent putting out an issue of the Justice — except it lasted almost a week under the glare of a national spotlight.
What started for me in Room 252 of the Shapiro Campus Center reached its apex (so far) over the course of five days spent directing The Philadelphia Inquirer's politics coverage from my pandemic home office, starting on Election Day and ending that Saturday when news organizations called Pennsylvania — and the race — for Joe Biden.
It was the kind of exhilarating experience for which I had left New York, almost a decade after moving there to be with my future wife, a fellow Brandeis Class of 2007 alum. I got my start covering city and state politics in Philadelphia. Everything pointed to Pennsylvania being a decisive state in a historic presidential election. We brought our family back to my hometown for the opportunity to do such meaningful work. In between our arrival and Election Day, a once-in-a-century global pandemic bounced politics, literally and figuratively, off the front page.
"It was jarring: to wait for days, to see national cable networks live-streaming the counting of votes in Philadelphia, as the country and the world waited on us." - Dan Hirschhorn  '07
But in the end, it was a photo finish, with both Biden and President Donald Trump basically living in Pennsylvania in the campaign's closing weeks, and the state's 20 Electoral College votes making Biden the president-elect that Saturday.
It was also a lesson in just how accustomed Americans have become to instant political gratification. 
For decades, news organizations have used sophisticated statistical modeling to "call" races on election night. At The Inquirer, we knew 2020 would be different, especially in Pennsylvania. A coronavirus-fueled surge in mail ballots would take days to count. And Trump's relentless and false attacks on mail voting added a layer of complication: Democrats would predominantly vote by mail, while Republicans would mostly vote in person. This would make it look like Trump was "winning" on election night — when, in reality, all it would really mean was votes for him were being counted first.
Our reporting suggested all this would happen, and it went down pretty much as we expected. It was nevertheless jarring: to wait for days, to see national cable networks live-streaming the counting of votes in Philadelphia, as the country and the world waited on us.
But the machinery of democracy worked, even if it took a little longer and looked a little more confusing than we're used to. And instead of waking me up for class in our Ridgewood Quad after a Justice all-nighter, my wife, mercifully, got the kids so I could sleep a bit longer.