Brandeis Alumni, Family and Friends
Remembering Earle Kazis '55, Former Trustee Who Endowed Business Professorship, Fellowship
April 22, 2021
Earle Kazis '55 empowered fellow Brandeisians to follow in his footsteps with successful careers in real estate.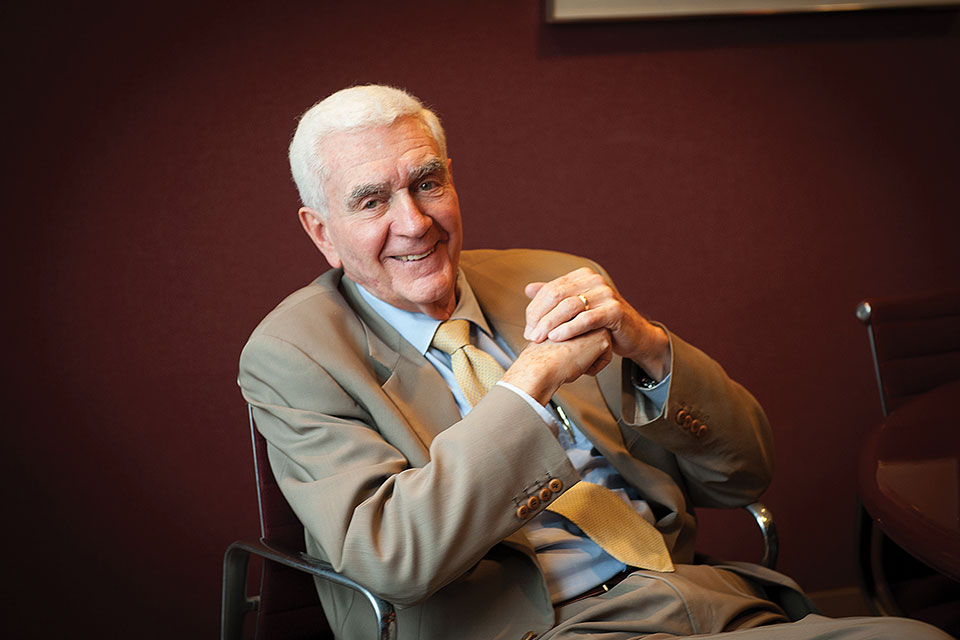 Photo Credit: Mike Lovett
A former Brandeis trustee who left a powerful legacy with endowments to the International Business School, Earle Kazis '55, died in New York City on April 8. A member of Brandeis's fourth graduating class, Kazis was a prominent real estate developer and visionary who expanded the influence and reach of the business school by launching its now popular course of study in real estate. His endowments to the school established a real estate professorship as well as the Earle W. Kazis '55 Endowed Fellowship for MBA students. "The ability to study real estate with an MBA is pretty unique," said Kazis fellow Paul Schulman, MBA '21.
From Vision to Reality
Earle Kazis's gift enabled the International Business School to launch its real estate specialization, with the appointment of Ed Bayone as the Earle W. Kazis Professor of the Practice of Finance and International Real Estate.
"We now have many alumni with successful careers in real estate, all as a result of his foresight and gift." -Kathryn Graddy, Dean of the Internatonal Business School
His foresight was apparent when, a little over 15 years ago, Kazis challenged the business school to create a real estate program from scratch. If it could, said Bayone, Kazis promised to endow a chair. According to Bayone, "Earle knew, even if we didn't, that income-producing real estate was, and is, the largest asset class in the world. And he wanted a practitioner to be named to the chair, as he felt that real estate was a business about people doing deals, re-imagining neighborhoods, constructing iconic towers, and building affordable housing."
A Legacy of Leadership           
Kazis received his MBA in 1958 from Columbia University. As a student and throughout his life, Kazis was strongly committed to Judaism and the Jewish community. He served as President of the Jewish Campus Life Fund and led the construction of the Columbia/Barnard Hillel, also known as the Kraft Center for Jewish Student Life, which opened 20 years ago. Earle was an active member of the B'nai Jeshrun Congregation in New York City where he served on the board. He was also a devoted supporter of the work of the Jewish Theological Seminary.
Kazis founded the real estate firm Earle W. Kazis Associates, Inc. in 1964. He had a successful career developing and owning commercial properties around the country. He was predeceased by his wife of 49 years, Judy, who died in 2012. He leaves his two children and four grandchildren.