Brandeis Alumni, Family and Friends
Drew Weissman '81, MA'81, P'15, Among Time's 'Heroes of the Year'
December 15, 2021
Drew Weissman '81, MA'81, P'15, is recognized by Time Magazine for his foundational research which led to the development of the COVID-19 mRNA vaccines.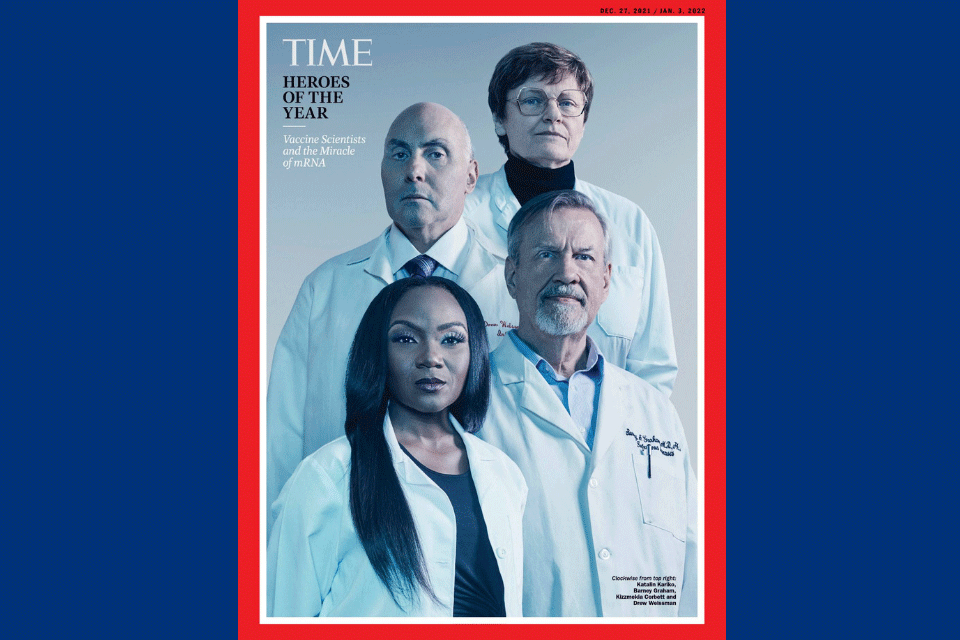 Photo Credit: Mattia Balsamini for TIME
Drew Weissman '81, MA'81, P'15, along with fellow scientists whose work led to the development of COVID-19 vaccinations, has been named one of 2021's "Heroes of the Year" by Time Magazine.
Through years of painstaking research, persistently pursuing the science despite setbacks, Weissman and his research partner Katalin Karikó found that by engineering a modified version of messenger RNA — which transports instructions to cells regarding the production of proteins — and then developing a system to deliver it, they could trick the immune system into thinking the body is infected with a virus and produce antibodies to create at least partial immunity. Their work laid the groundwork for the BioNTech/Pfizer and Moderna COVID-19 vaccines.
Weissman and Karikó were among four scientists Time recognized in its latest issue for their heroics, along with Kizzmekia Corbett and Barney Graham, whose work in structure-based vaccine design were foundational in developing COVID vaccines.
A Lexington, Massachusetts native, Weissman followed his youthful passion for science to Brandeis. He studied biochemistry and enzymology, fulfilled pre-med requirements, and embarked on a lifetime of research, getting his start in professor Gerald Fasman's lab. Outside the classroom and lab, he engaged with other students in environmental and racial justice, and voting rights activism.
He went on to earn his PhD and MD from Boston University. After graduate school, Weissman completed a residency at Beth Israel Deaconess Medical Center and a fellowship at the National Institutes of Health (NIH), where he worked on HIV research under the supervision of Dr. Anthony Fauci, director of the National Institute of Allergy and Infectious Diseases and chief medical adviser to President Joe Biden. Since 1997, he has been a professor of medicine at the Perelman School of Medicine at the University of Pennsylvania.
Weissman was awarded an Alumni Achievement Award from Brandeis in 2021, as well as the Lewis S. Rosenstiel Award for Distinguished Work in Basic Medical Research, together with Kariko. 
Time describes how he and Kariko met at Penn "thanks to a casual office conversation by the copy machine."
An immunologist and physician named Drew Weissman had just joined Penn to start a lab focused on developing a vaccine against HIV and other diseases. He and Kariko shared a habit of photocopying articles out of recent scientific journals from the research library. By the machine, they discussed their respective approaches to vaccine development. Kariko tried to convince Weissman of the still unappreciated merits of the synthetic RNA she was making. "I'm open to anything," says Weissman, and so he decided to give it a shot.
Years of research eventually led to a landmark paper in the journal Immunity in 2005.
"I told Kati the night before the paper was published, tomorrow our phones are going to ring off the hook," says Weissman. No one called.
It would take another 15 years — and the emergence of the devastating SARS-CoV-2 virus — before the global science community would finally grasp the importance of their discoveries.
Watch: Weissman being awarded the Alumni Achievement Award along with Patricia Hill Collins '69, PhD'84 and Susan Reich Weiss '71. 
About the Author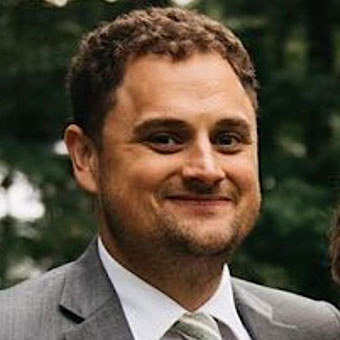 Jarret is a senior content and marketing specialist in the office of communications at Brandeis. Before joining the university, his work as a journalist appeared in The Boston Globe, The Boston Herald and The Eagle-Tribune of North Andover, MA.