Brandeis Alumni, Family and Friends
How Brandeis Alumni Rabbis Are Living and Leading Through a Modern-Day Plague
March 24, 2021
As the modern-day plague of COVID-19 begins to recede with the rollout of vaccinations, this Passover will mark the first time some people hug relatives and friends in more than 12 months. Others will participate in a Zoom seder or "Zeder," for the second year in a row. 
While Passover provides these milestones, it also has something to tell us about living through hard times. The Brandeis Alumni Association reached out to a number of our alumni Rabbis to hear their perspectives and to learn how they're celebrating the holiday, which begins the evening of March 27.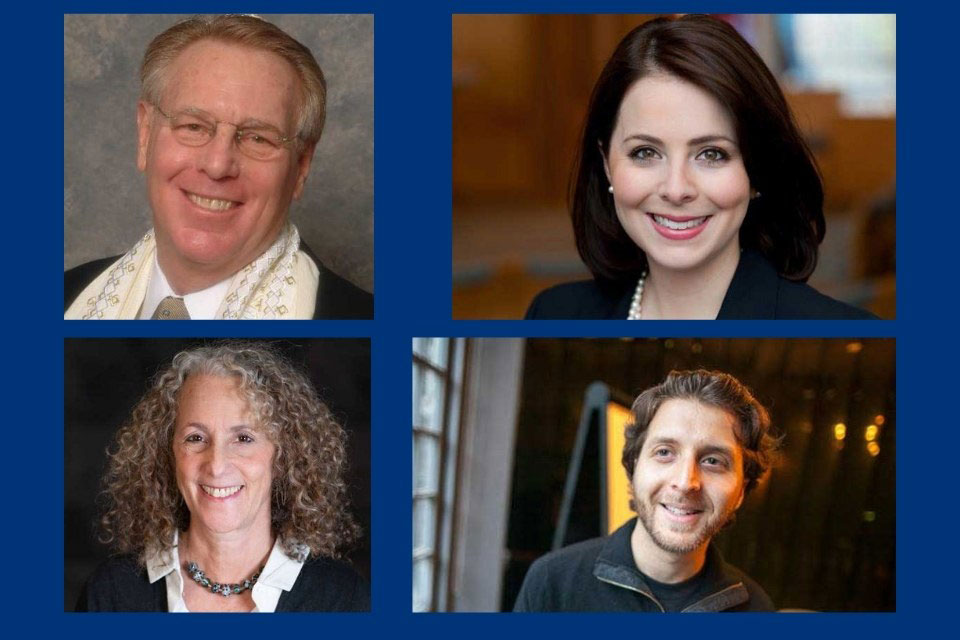 A Taste of Freedom 
"Reflecting on last Pesach to this Pesach, it's almost like we've learned what the Israelites learned during the Passover story," says Rabbi Danielle (Gobuty) Eskow '08 of Brookline, Massachusetts. "The whole concept of the seder is that you're supposed to experience it as if you were freed from slavery in Egypt, and last year we felt these restrictions on our life and on our freedoms to do our daily activities and to celebrate. This year we have a little bit more of a taste of freedom with the vaccines and opening up of our towns and cities, but we're still restricted in some ways. Just like the Israelites fleeing Egypt with the bread on their backs, you don't know what's going to happen in life and you have to be ready to adapt."
For Eskow, adaptation has taken many forms. She has seen the rapid expansion of her nearly 10-year-old business, OnlineJewishLearning.com, which provides remote Jewish education to students throughout the world. About 200 of its 500 students joined this past year. Eskow also has found new ways to serve the community. With her physician sister Marisa Tieger, Eskow organized a vaccination clinic for Holocaust survivors at Congregation Kehillath Israel in Brookline. Eskow said that since all the adults in her family, including her husband Jonathan Eskow '08, have been vaccinated, they plan to have an in-person, but smaller-than-usual seder, another modification during a year of learning to be flexible.
Finding Opportunities and Choosing Joy 
Rabbi Stuart A. Paris '64, P'92, P'97, the spiritual leader of The New Synagogue of Long Island in Manhasset, N.Y., says that Passover during COVID-19 reminds him of other moments in Jewish history. "We've had many trying times," Paris said. "What about the Marranos, who had Passover in their basements with the Spanish Inquisition happening all around them? Throughout history, we've faced challenges. As Torah teaches us, we have choice, and Passover is a choice for us. Passover this year, like last year, is very much about what we decide in our minds and hearts, rather than how we do it." Last year, Paris led a family-friendly virtual seder for about 60 congregational families, and he is planning to do that again this year. He'll also celebrate in-person, but separately, with each of his five children and their families, including Brandeis grads Jason L. Paris '92 and Gail Paris Schwartz '97. 
"It's been hard for many, but I look for the opportunity for joy and teaching," said Paris, who teaches weekly classes on Kabbalah, Jewish mysticism, to nearly 20 people, Torah, daily meditation for 40 people. He also leads virtual family and children's services. "In my opinion, anything that happens presents challenges and opportunities. And if we look for the opportunities in Covid, we can find them. As Rabbis, we have the opportunity to bring people together and provide them with a sense of family and belonging in order to deal with the loneliness that everyone has faced this past year."
Celebrating Growth and Resilience
Rabbi Elyse Goldstein '78, P'11 the spiritual leader of City Shul in Toronto, says that Canadians who celebrate Passover are gearing up for another year of online seders since most of the country is not vaccinated and in-person gatherings are not allowed. She hopes people who are celebrating Passover online this year will get creative. "Start by finding the right Haggadah and go from there," she said, referring to the text read at a Passover seder. "Study the story of the Exodus. Ask your family and friends to answer interesting questions before the holiday and read their answers at the Seder. Don't be a slave to the way you used to do it, or to any notions of 'perfection.'" 
Goldstein anticipates fewer "Zeders" next year. "I feel confident we will be in person next year, but this year has given us hard-earned lessons about resilience, community, family, spirituality and inner strength," Goldstein said.  "We've become more compassionate, more creative, more attuned to nature and more interdependent on our fellow human beings. All this is not a 'silver lining,' but a real result of living through trauma together, as a global community. It's called Post-Traumatic Growth and it's a real psychological response. A healthy one. And I think we are going to see more and more appreciation of what we've learned soon, right around Pesach, when we all yearn to find the Promised Land."
Gratitude Coupled with Anticipation 
Rabbi Avram Mlotek '09 author of "Why Jews Do That: Or 30 Questions Your Rabbi Never Answered" and the recently-published children's book "Passover in a Pandemic," says that the first Passover took place in a quarantine situation. "Moses told the Israelites not to leave their homes, as the angel of death was traveling through the land. The Warsaw Ghetto Uprising famously took place on the first night of Passover in 1943. Passover is inherently bound up with survival and the Jewish people have survived many a pandemic, including COVID."
Mlotek is the co-founder of Base, an outreach program made up of rabbinic couples in nine cities worldwide who use their homes as convening points for Jewish life. He serves as the rabbi for Base MNHTN in Manhattan. He and his family will have a small seder this year with his vaccinated parents. "There's such a bittersweet element of being able to gather physically with loved ones we don't usually get to see while also mourning we're not nearly back to a full normal yet," he said. "I think that emotional reality captures where I am right now: grateful while also still waiting to exhale a big deep breath."
Read about how Brandeis students are celebrating Passover this year as never before.