Brandeis Alumni, Family and Friends
Remembering Sherman Starr, Brandeis Benefactor and Rose Art Museum Patron, For His Generosity, Dedication to Jewish Causes
May 18, 2020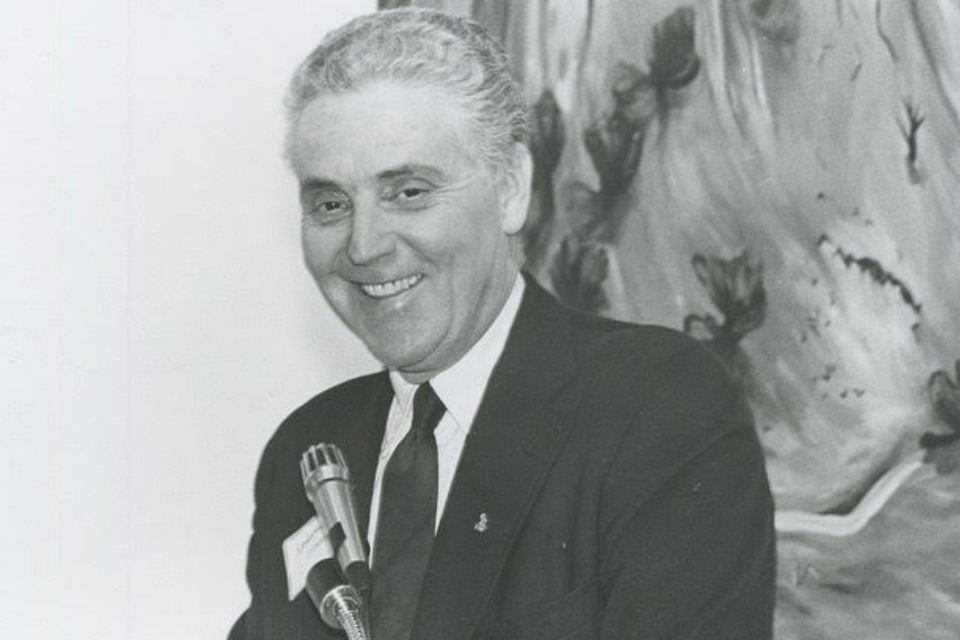 Sherman H. Starr, of Weston, Massachusetts, a longtime supporter of Brandeis for whom a student curator program at Rose Art Museum is named, passed away April 22. He was 94.
Mr. Starr was the benefactor of the Sherman H. Starr Family Student Curatorship at the Rose Art Museum, one of the nation's premier museums dedicated to modern and contemporary art. The landscaped Starr Plaza in the heart of campus also was created through his philanthropy and bears his family's name.
"Sherman Starr was very devoted to Brandeis because of his regard for the university's Jewish identity and its commitment to learning, critical thinking, and the ideal of making the world a better place through one's actions," said Brandeis President Ron Liebowitz.
"His support for the Rose Art Museum and its internship program has enabled Brandeis students to immerse themselves fully in the world-class art museum just outside their doors," President Liebowitz said. "His legacy at Brandeis is an enduring one, for which we are most grateful."
Mr. Starr and his family have been part of the Brandeis community since the university was founded. His parents, Max and Doris Starr, were early Brandeis supporters. Mr. Starr began giving to Brandeis in 1963 and was appointed to the President's Council in 1975 in recognition of his ongoing support for the university. His wife, Ellie '57, attended Brandeis.
At the Rose Art Museum, Starr Family Curatorial Internships are awarded to outstanding juniors or seniors at Brandeis interested in exploring museum careers.
"The Starr name has become synonymous with an exceptional student experience in the arts at Brandeis and at the Rose," said Caitlin Rubin, assistant curator at the museum, who works closely with the Starr interns.
Mr. Starr served for many years as managing director of the accounting firm Starr, Finer, Starr, LLP, which had been founded by his father, Max. He was a past chairman of the Massachusetts Board of Public Accountancy.
He had a long and distinguished history of community service and philanthropy, serving as president of Combined Jewish Philanthropies, director of the American Jewish Committee, and co-chair of the United Jewish Annual Appeal.
In addition to the Rose Art Museum, Mr. Starr supported numerous other charities, including Combined Jewish Philanthropies, Tuft University School of Medicine, Jewish Family Service of Metrowest, American Jewish Committee and the National Brain Tumor Society.
"Sherman's love of the Jewish community led him to leadership positions in dozens of local and overseas Jewish organizations," said longtime friend and colleague Barry Shrage, professor of the practice in the Hornstein Jewish Professional Leadership Program and member of the faculty at the Cohen Center for Modern Jewish Studies at Brandeis.
"He deeply understood the importance of Brandeis as a resource for American Jewish organizational life and had a special place in his heart for the Rose Art Museum," Shrage said.
"The last visit he and I had together before the virus closed things down was to the Rose. Sherman was animated and excited by what he saw, and enjoyed hearing about Brandeis' direction to remain a leader in Jewish studies and our commitment to service to the American Jewish community."
Mr. Starr, raised in Brookline, graduated in 1946 from Harvard College after serving with distinction as a sergeant in France and Belgium in the Second World War. He pursued graduate studies in business and accounting at Harvard Business School and Boston University. 
A founding member of Temple Isaiah in Lexington, he was a longtime member of Temple Beth Elohim in Wellesley. Mr. Starr played golf, enjoyed lobster nights with family and friends, and celebrated many happy occasions at Belmont Country Club. A devoted Boston sports fan, he especially enjoyed watching the Red Sox, Patriots and Harvard football and hockey games.
In addition to his wife, his survivors include son Sandy and wife Raine Figueroa of Cambridge; son Tony and wife Kathy of Newton; daughter Julie Starr-Duker and husband Jay Duker of Newton; daughter Enid "Dinny" Starr and husband Alan Gordon of Newton; 14 grandchildren; and five great-grandchildren.