Brandeis Alumni, Family and Friends
Celebrate the Graduating Class
May 6, 2020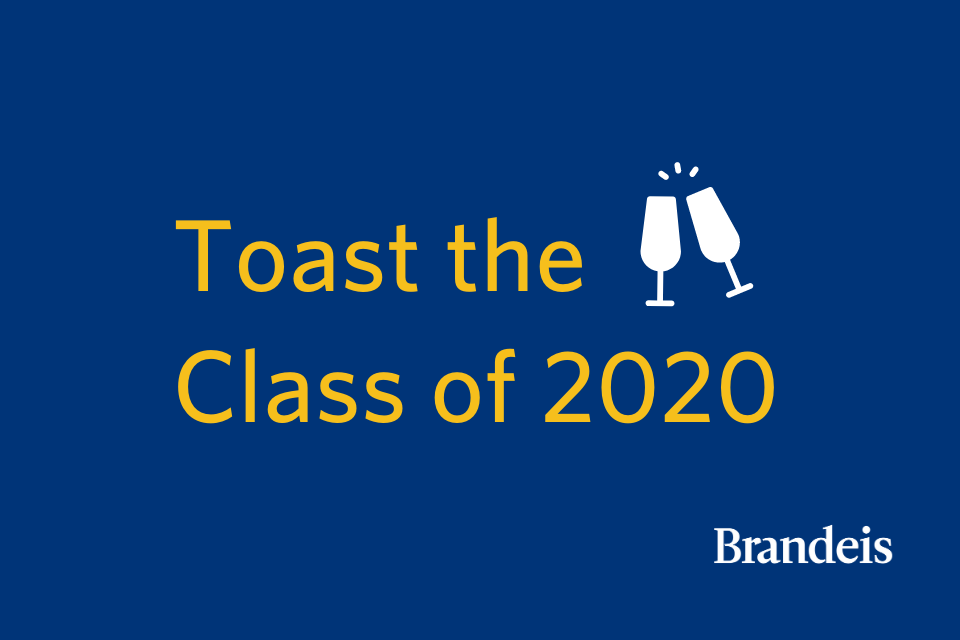 Join us in offering a virtual toast to the Brandeis University Class of 2020 to congratulate them on all they've accomplished so far, and wish them well on what's next. Share your well wishes, words of encouragement and advice so our graduates feel the support of the Brandeis network, even when we can't gather in-person to celebrate.
Toast the Class of 2020.
Welcome the newest members of the Brandeis Alumni Association by raising a glass in their honor by May 17. Snap a picture, and share it with us.
On May 24, we will share your submissions online and on social media to celebrate our graduates virtually. Post on your own social media accounts, too, using #BrandeisGrad!
More Ways to Support Students
In addition to toasting the Class of 2020, there are other ways you can help Brandeis students.
Hire a Brandeisian
Now more than ever, a Brandeis connection can open doors for students seeking jobs and internships in an uncertain job market. If your company is actively recruiting, consider a Brandeisian to fill open roles.
Share open positions or offer career support.
Support the Emergency Scholarship Fund
When Brandeis transitioned to online classes in response to COVID-19, the generosity of hundreds in the Brandeis community provided money—for plane tickets home, internet access, laptops and more—to ease the financial burden on students and their families.
Now, as the next academic year approaches, many Brandeis families are facing a harsh economic reality that could put their students' access to a Brandeis education in jeopardy.
The Brandeis Emergency Scholarship Fund will provide emergency financial aid to Brandeis students during this unprecedented time. Thanks to a generous Brandeis donor, gifts made to this fund will be matched, dollar for dollar, up to $100,000.