Brandeis Alumni, Family and Friends
5 Things to Know When Your Kids Are Learning From Home
September 25, 2020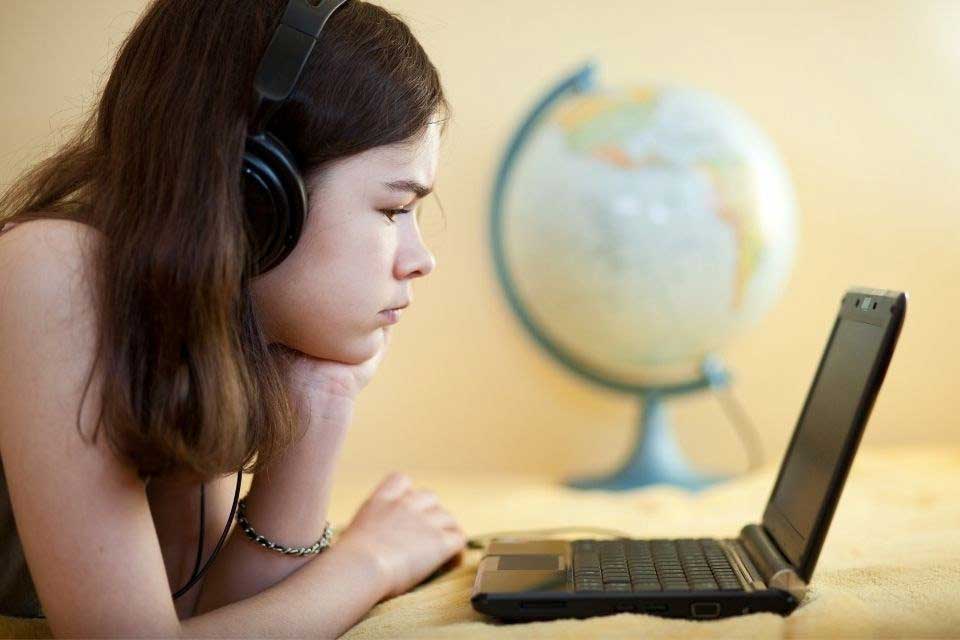 "Remember that this is a journey and every student is on a different version of the same journey." That's the advice home-school expert Ali Kaufman '97 gave to alumni parents whose children are learning at home due to the COVID-19 pandemic.
The founder of Space of Mind, a leader in customized home education, Kaufman partnered with the Brandeis Women's Network to lead a virtual discussion for the Brandeis community on Sept. 16, "Homeschool Madness: How to Make Homeschooling Work For You and Your Family."
Whether you have chosen to pursue a remote, hybrid or home-school option, here are five takeaways from her presentation that may help your family ease into the world of learning at home.
Put your mask on first.
Many parents find themselves in a seemingly impossible situation: how to balance working at home with educating school-aged children at home. 
"Parents are in these roles that they didn't necessarily ask for," Kaufman acknowledges, "and also you're working and managing your households and managing your social relationships and family responsibilities." So it's a lot for a parent to become a teacher, a coach and a mentor to their children, on top of other demands. 
She says the most important strategy you can employ is what you do on an airplane: "Put your [oxygen] mask on yourself first and then you help others." It's a stressful time and it's important that parents set boundaries with their children so as not to become overwhelmed, she says. "Kids pick up on energy. Let's turn this into an adventure instead of what a nightmare this is."
Failure builds resilience.
"This world is kind of crazy right now," Kaufman says. "How do I log into 12 Google Classrooms? How do I find the reading assignment on this other website? What if my kid is falling behind?" In today's remote learning environment, every teacher, student and parent is feeling disorganized, inattentive and anxious in some way, she says.

While parents naturally want to remove as many obstacles to their children's learning as possible, she says, parents shouldn't prevent failure entirely as it's an integral part of the developmental process. "Especially now, when problem-solving and resourcefulness are so vital to our survival," she says. "We want these kids to not be rule-followers, we want them to be explorers."
Kaufman recommends shifting focus: "It's less important that a student knows the Pythagorean theorem than it is that they know how to be resilient and communicative and passionate."
Let your student be your guide.
"Your best success tool right now is to let your student guide you," Kaufman says. Families need to understand what drives their students to learn and what blocks their students from learning. 
She recommends asking open-ended questions like: "What makes you excited to learn? What makes learning hard?" Ask how they approach different scenarios that might help you understand them as a problem-solver, as a leader.
You don't need a "catalog-ready classroom" to create a successful home learning environment.
"I'm watching a lot of parents put a lot of money into building these beautiful classrooms in their homes," but for most students, that's not the best way to learn, she says. "If they're sitting in the same place all day long, at the same desk, it's going to become too rote, it will be too boring for them." 
Instead, she encourages families to change up their students' learning environment throughout the day. "When there's a little bit of action and motion around you, it's actually easier to stay focused." It's the same reason why many adults enjoy working at their favorite coffee shop, she says. 
There's no right or wrong place to be.
"Parents are putting a lot of pressure on themselves right now, thinking that the clock is ticking down, but right now, the whole world is in a little bit of a freeze mode and it will all even out.
"There's no right or wrong place to be," she says. "We're in a completely brand new place with education, but it is definitely an evolutionary moment."
---
"Homeschool Madness: How to Make Homeschooling Work For You and Your Family" is just one of more than 40 event recordings you can watch through the Brandeis Alumni Association's On-Demand Events Library.