Brandeis Alumni, Family and Friends
BNC President and Financial Services Executive Elected to Board of Trustees
September 23, 2020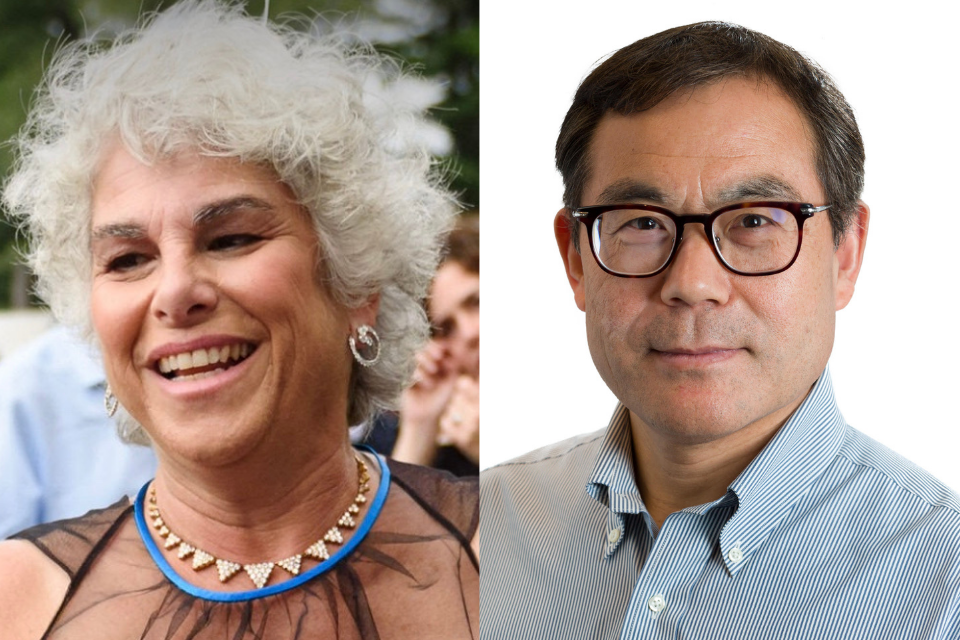 The new president of the Brandeis National Committee and a partner in one of Europe's largest hedge funds have been elected to the Brandeis Board of Trustees.
New members of the board are Merle Carrus, P'12, of Hollis, New Hampshire, the president of the Brandeis National Committee (BNC) since July, and financial services executive Bing-Le Wu, PhD'91, of London and New York City, who holds a doctorate in mathematics from Brandeis. They were elected at a meeting of the Board of Trustees on July 27.
"I'm pleased to welcome these new trustees and the unique talents they bring," said President Ron Liebowitz. "Merle Carrus lends the enthusiasm and can-do spirit that have marked her years of service to the BNC, while Bing-Le Wu offers expertise in finance combined with a distinctive record of alumni and civic involvement here and abroad. Brandeis will benefit immensely from their contributions."
Carrus, who succeeded Madalyn Friedberg as president of the BNC on July 1, had chaired the Honoring Our History Campaign as vice president of the BNC's national board. A life member of the BNC, she has been a leader of the Greater Boston Chapter and has served as New England Region president.
A book-lover who writes reviews for the New Hampshire Jewish Reporter and co-chairs the reading group of the Women's League for Conservative Judaism, Carrus is an elected trustee of the Hollis Social Library in her New Hampshire hometown. She and husband Steven have two children, including Danielle '12, MAT'14. Mother-in-law Jean Carrus, G'12, is a Fellow and active in the BNC's Desert Chapter.
Wu, a partner in the London-based firm Capula Investment Management, LLC, has been a generous benefactor of the Professor Richard S. Palais Endowed Fellowship Fund at Brandeis. His Brandeis activities include membership in the Alumni Club of Great Britain, the Alumni Club of New York City, the Alumni in Finance Network, and the International Alumni Network.
His other civic activities include membership in the President's Global Council at New York University and serving as an advisor to the International Rescue Committee and to the Center for Violence and Recovery at NYU's Silver School of Social Work. He and his wife, Wei Du, PhD'94, are the parents of two children.
"Merle Carrus and Bing-Le Wu both have demonstrated a noteworthy commitment to Brandeis' mission and to advancing the university as a place that is remarkable not only for excellent teaching and research but for its social conscience as well," said Meyer G. Koplow '72, P'02, P'05, chairman of the Board of Trustees. "I look forward to working with them as colleagues to help Brandeis build and strengthen its tradition of shaping leaders to repair the world."