Brandeis Alumni, Family and Friends
Brandeis Women's Network Launches in New York City
July 31, 2019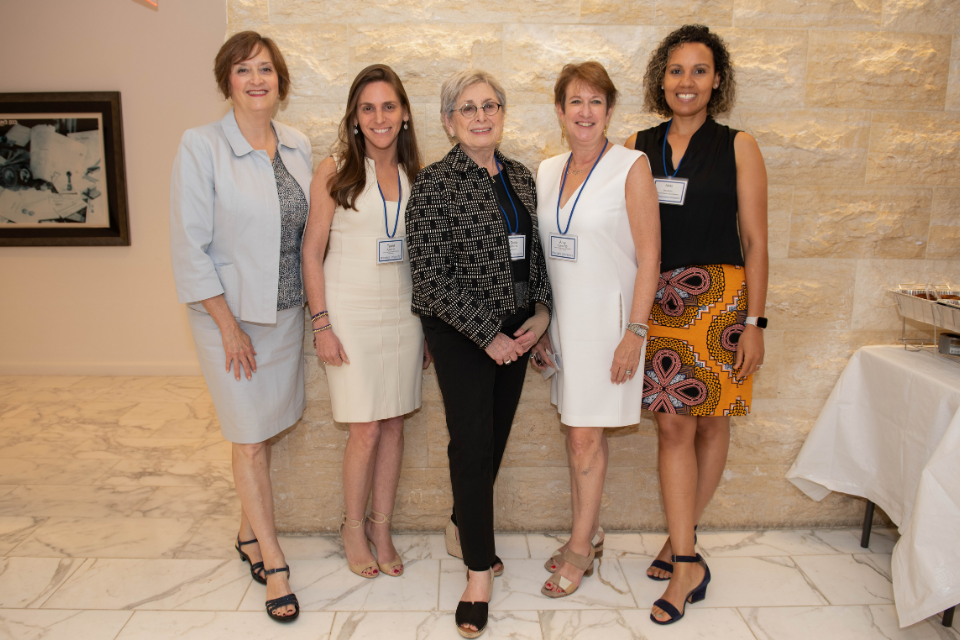 The Brandeis Alumni Club of New York City recently launched the Brandeis Women's Network, which brings together Brandeis alumnae and friends in New York City to strengthen their connections.
"Brandeis alumnae are very smart and very accomplished in so many aspects of their lives," said Amy Cohen '85, who chaired the event, which was hosted by Talee Potter '97 at the New York offices of Bank Leumi. "The network is a means to connect alumnae so that they can share their experiences, learn from each other, help each other and, of course, connect with Brandeis." 
About 65 alumnae and friends attended the kick-off event, which featured a talk on navigating gender discrimination in the workplace by pioneering employment law litigator Dona S. Kahn '54, whom Cohen introduced as "our own Ruth Bader Ginsburg."
Kahn has tried more than 30 employment jury trials, including one before the U.S. Supreme Court, in cases primarily involving discrimination, harassment and retaliation claims. "There is a long way to go before women can say discrimination is a thing of the past, if it can ever be said," Kahn remarked to a captivated audience.
Potter said the network is a grassroots effort. "The power of the Brandeis experience is steeped in the deep relationships and special connections we made at school, and this is our way of taking that to the next level and facilitating women helping women," she said. "I hope that we will consider our fellow Brandeisians when selecting business associates, hiring, networking, mentoring and providing any other form of support that one can find in a community."
Cohen said she would like to see the network, the latest shared-interest group for Brandeis graduates, inspire alumnae in other cities to connect with one another.
"I hope the network will enrich the lives of Brandeis women in New York City by creating a group of women that will help each other be their best selves, both personally and professionally," Cohen said. "And I hope that the Brandeis Women's Network in New York City will serve as a model for alumnae in other cities and regions. Together we are stronger." 
View photos from the event on Facebook.
Stay tuned for future events and opportunities to get involved with building this new network in New York City.