Brandeis Alumni, Family and Friends
The Voice of an Era: Remembering Andy Jick '74
June 6, 2019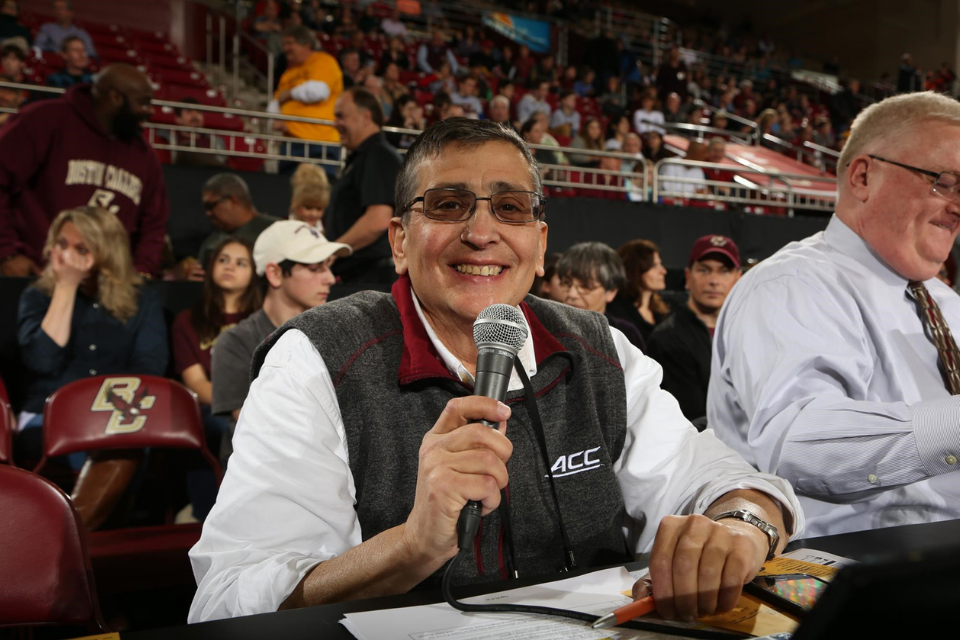 By Heather Salerno
Andy Jick '74 held a celebrated position as the Boston Celtics' public address announcer from 1980 to 1997, when the "Big Three" of Larry Bird, Robert Parish and Kevin McHale led the team to glory. Jick was there for Bird's entire career, including three NBA championship wins. In fact, he was considered such an integral part of that era that he was asked to introduce Bird's teammates at the legendary player's star-studded 1993 retirement ceremony. 
So when Jick died unexpectedly in his sleep on May 3 at age 66, there was an immediate outpouring of condolences from athletes, coaches, managers, journalists and sports fans, who fondly recalled his skill at the microphone and his passion for the teams he covered. "For anyone who enjoyed the iconic run of the 1980s Celtics in the Boston Garden, Andy Jick's voice provides the soundtrack to those memories. We join his loved ones in mourning his loss," the Celtics organization tweeted.
Friends and fans recalled the way the crowd would go wild at Jick's distinctive, drawn-out calls: "Three-e-e-e-e points for Larry Birrrrd" or "Time Out Celllltics." Yet Jick would never grandstand, always keeping focused on the game. "I never lose sight of the fact that I'm not the show," he told The Boston Globe in 1991. 
Dan Jick '79, P'09, P'12, also noted that his older brother genuinely cared about the coaches, players and staff members he encountered throughout the years, and developed deep connections off the court. "What would put a smile on his face was all of the friendships he built along the way," said Dan Jick, a member of the Brandeis Board of Trustees whose family established a memorial fund in his brother's name.
Jick kicked off his announcing career at Brandeis, where his family has strong, longtime ties. His late father, Leon Jick P'74, P'79, G'09, G'12, taught Near Eastern and Judaic Studies at the university. Jick's sister-in-law Elizabeth '81, P'09, P'12, niece Jamie '09, and nephew Josh '12 also attended. As an undergraduate, Jick volunteered to manage the men's basketball team and eventually started calling the Judges' home games.
He never expected to continue after graduating with a degree in politics, but the Celtics asked Jick to step in one day in 1978 when the team's regular announcer wasn't available. (A fellow Brandeis alum who worked in the Celtics front office recommended him.) Jick became the official voice for the Men in Green two years later, and he spent nearly two decades announcing every lineup, score and assist—while simultaneously holding full-time jobs in marketing and special events management.
Jick left the Celtics in 1997, and joined Boston College as the PA announcer for men's and women's basketball in 2001. He quickly became a vital part of the BC Athletics community, adding announcing gigs for hockey, lacrosse, baseball and other sports after retiring in 2012 from Timberland Co. as a corporate travel manager.
"Having the voice of the Boston Celtics come over to Boston College was so great. But that's such a small percentage of the story," baseball head coach Mike Gambino told Boston College's sports news website. "Hearing his voice do our PA made us happy because of how much Andy made us happy. Every time you heard his voice made you feel good because every time you saw him or said hi to him, Andy just made you feel good."
Donations in Jick's memory can be made to the Andrew Jick Memorial Fund at Brandeis University, c/o Brandeis University, 415 South Street, MS126, Waltham, MA 02453 or online at giving.brandeis.edu/makeagift (choose "Other" for the gift designation and type in "Andrew Jick Memorial Fund").