Brandeis Alumni, Family and Friends
Kathryn Graddy Named Dean of Brandeis University International Business School
May 1, 2018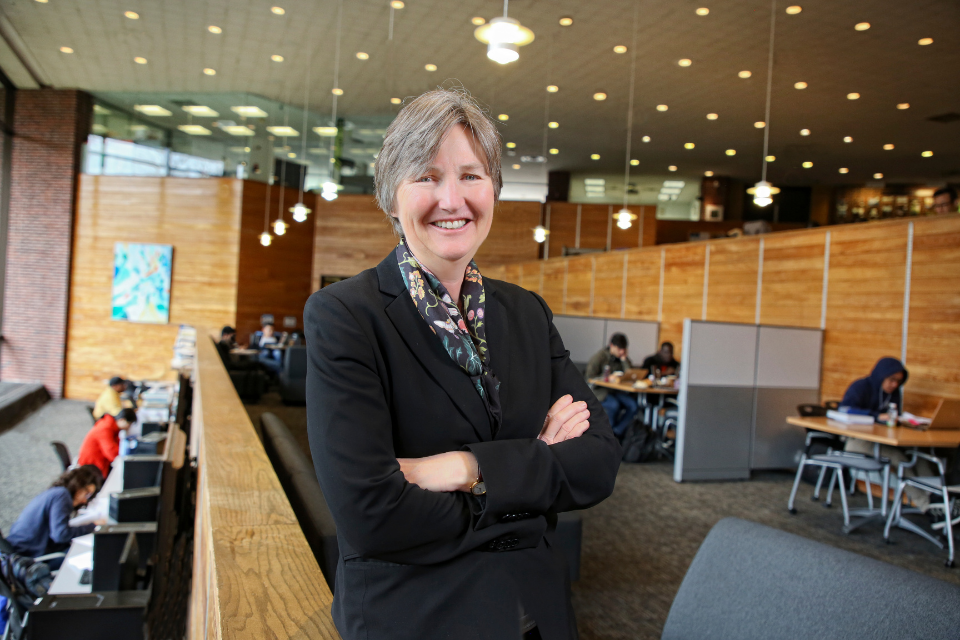 Graddy, who came to Brandeis in 2007 from Oxford University, has held numerous leadership positions at Brandeis. She served as program director for IBS' PhD 
program
 as well as chair of the university's 
economics department
. Under her leadership as senior associate dean, she spearheaded innovations at IBS, from achieving 
STEM designations
 for its core programs to developing a new 
master's in business analytics
 to be launched in the fall. She has been instrumental in expanding the school's global footprint by strengthening and widening its partnerships with academic institutions worldwide.
"Throughout her career at Brandeis, Katy has proven herself to be not only a distinguished researcher and respected teacher but also an innovative and thoughtful leader," said Brandeis President Ron Liebowitz. "Under her guidance, IBS is poised to continue its rise regionally and internationally as an institution recognized for its outstanding programs in business, economics and finance."  
As the school's dean, Graddy will lead a top-ranked, globally focused business school that prepares both graduate and undergraduate students to excel across borders and cultures. The school's alumni work in multinational corporations, public and nonprofit institutions, and academia in more than 100 countries. In addition to offering an MBA, the school also delivers specialized pre-experience master's programs as well as the undergraduate business major, which is currently the third-most popular at Brandeis. 
"I believe that Brandeis IBS is at a pivotal moment in its history, and I am honored to be selected as its next dean," said Graddy. "This institution and our programs are built on a solid foundation of being rigorous, global and experiential. These bedrock principles will serve us well in the years ahead, as we continue to execute our mission of enabling our graduates to succeed in the global economy." 
While at Oxford University, Graddy was a fellow of Exeter College. Prior to Oxford, she was assistant professor of economics at the London Business School and a junior research fellow at Jesus College, Oxford. She received her PhD in economics from Princeton University, her MBA from Columbia University, and her BS and BA in mathematics and Russian from Tulane University. Graddy was awarded an honorary doctorate from Copenhagen Business School in March.
Graddy's research focuses on the economics of art, culture and, more generally, industrial organization. She has published extensively in the field of the economics of the arts, with papers in top international journals including The American Economic Review, Management Science, the Journal of Economic Literature, The Rand Journal of Economics and The Journal of Economic History. She has written policy papers on Artist's Resale Right for the World Intellectual Property Organization and the UK Patent Office, and she is a former editor of the Journal of Cultural Economics. 
"Katy is a proven leader, and she will continue to amplify the school's impact not only on our talented students but also, through its research and scholarship, on the global marketplace of ideas," said Brandeis Provost Lisa M. Lynch, the Maurice B. Hexter Professor of Social and Economic Policy. "At the same time, she will ensure that we continue to advance the belief of our university's namesake, Justice Louis Brandeis, that business can serve as a productive and positive force in society." 
Lynch thanked the search committee, composed of faculty, students, staff and advisory board members, for generously devoting their time to a comprehensive international search. The committee was led by Blake LeBaron, the Abram L. and Thelma Sachar Professor of International Economics at IBS and the program director of its Master of Science in business analytics degree. It was supported by the search firm R. William Funk and Associates. 
Lynch also thanked Peter Petri, the Carl J. Shapiro Professor of International Finance and the school's founding dean, for his service as interim dean. 
"The university is deeply grateful to Peter for returning to his leadership post at the school. We benefited greatly from his vision, his long-standing commitment to Brandeis and his outstanding leadership of IBS," Lynch said.