Brandeis Alumni, Family and Friends
Sharon Himeno, P'20, P'24, Enjoys Brandeis Through Her Daughters' Eyes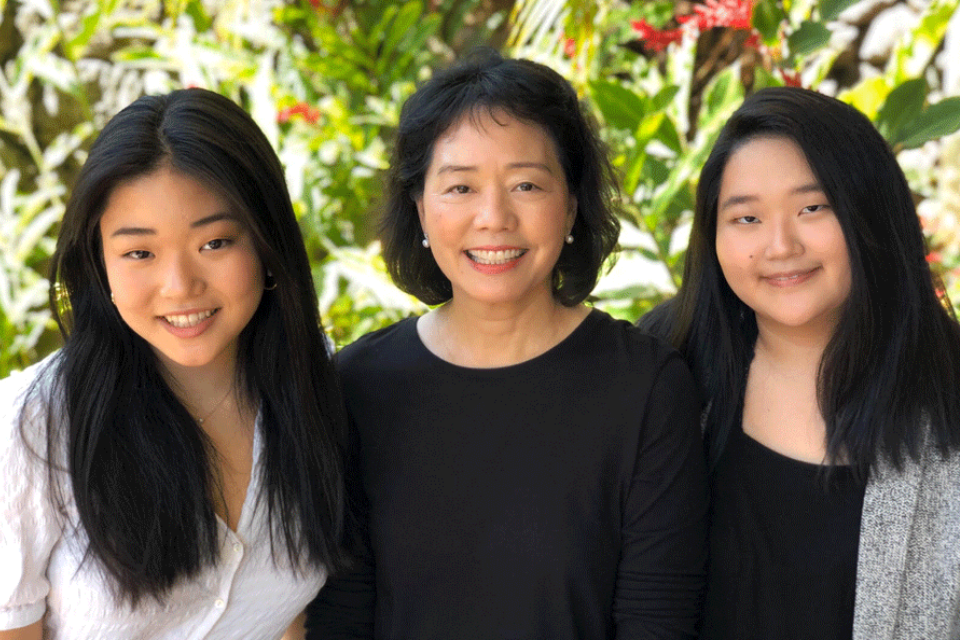 Sharon Himeno, P'20, P'24, of Honolulu, Hawaii, proudly notes she and husband Warren Price, P'20, P'24, are Brandeis parents times two. Daughter Sasha '20 has just graduated, and now daughter Sofia '24 plans to enroll in the fall of 2020. 
"I loved seeing Brandeis through Sasha's eyes," says Sharon. "For four years, Sasha always sent me a video of the first snowfall — a big event for a Hawaii kid!" 
"She'd call to tell me how much she enjoyed a class or a professor's interesting comments in a group discussion. She'd describe insightful conversations with friends over coffee, and fun things like getting ice cream at Lizzy's on Moody Street or catching the BranVan into Boston." 
"Now my younger daughter, Sofia, has chosen to enroll at Brandeis," Sharon says. "I am looking forward to the next four years of seeing Brandeis through Sofia's own unique lens. I cannot wait to see how Brandeis enriches and transforms Sofia, just as it did Sasha." 
Sharon says she is pleased her younger daughter is carrying on the Brandeis tradition, because the university's progressive values mean a lot to their family. 
Sharon and Warren recently retired from the practice of law, and Sharon currently volunteers on the boards of the Hawaii Youth Symphony and the Hanahau'oli School, a progressive elementary school in Honolulu that she and her daughters attended and shares Brandeis' spirit of social justice. 
This summer, Sharon spoke with the Parent and Family Giving Program about getting ready to send another daughter 5,000 miles away to Brandeis, the rewards her family has gained from its association with the university, and the appreciation she feels for maintaining the "P" next to her name. 
We are celebrating Sofia's decision to join the Brandeis Class of 2024! She was determined to follow her own path, and carefully considered what college would be best for her. I am deeply grateful and excited about four more years of having the "P" next to our name. 
For our family, the opportunity of a Brandeis education is well worth the long distance from home. Sending a daughter 5,000 miles away for college is daunting under the best of circumstances. Doing so amidst the uncertainty of a global pandemic can be nerve-racking, to say the least. As a parent of an incoming Brandeis student, I understand that there is a level of uncertainty in the months to come. The pandemic has brought all sorts of challenges to higher education and I have encouraged Sofia to "stay flexible" as things are changing so quickly with lots of unexpected developments. 
It all comes down to trust. We trust our daughter has the judgment to respond appropriately to changing circumstances, and knows when to reach out for help and support. Just as important, we trust Brandeis will always place the health and safety of its students and community first. 
While different in many ways, each of our daughters felt she would fit in and find her own place at Brandeis. Our two daughters are complete opposites – in personality, interests and how they express themselves. Brandeis' respect for different cultures and perspectives, and its encouragement of diverse opinions, was compelling for both daughters. 
Sasha's fondest memories are of the connections she has made at Brandeis. She has made lifelong friendships, and feels she has grown so much through being with such a diverse cross-section of people. 
Brandeis' social justice heritage has a huge appeal to our family. As parents, we appreciate the opportunity for our daughters to be immersed in social justice and the possibilities for change, especially in this time of divisiveness and inequality. It has never been more important to support and educate our next generation with these critical values. 
As a Brandeis parent, you see your child grow and mature in unimaginable ways over four years. Although it may be difficult to "let them go" as they head off to their first year, they arrive at a wonderfully supportive place where people truly care about their learning and well-being. They graduate from Brandeis with an amazing set of skills and life experiences that will both ground them and let them take flight. 
Sasha describes Brandeis as a "kind and vibrant place." It's an apt description. It can be challenging for a university to merge academic rigor with a culture of empathy and compassion. Brandeis succeeds brilliantly at blending the two. 
Our family is honored to support such a wonderful community of learning. We support Brandeis philanthropically as a way to say, "Thank you." 
Published On: July 21, 2020