Brandeis Alumni, Family and Friends
Marvin Kabakoff '68 Reflects on Pride Month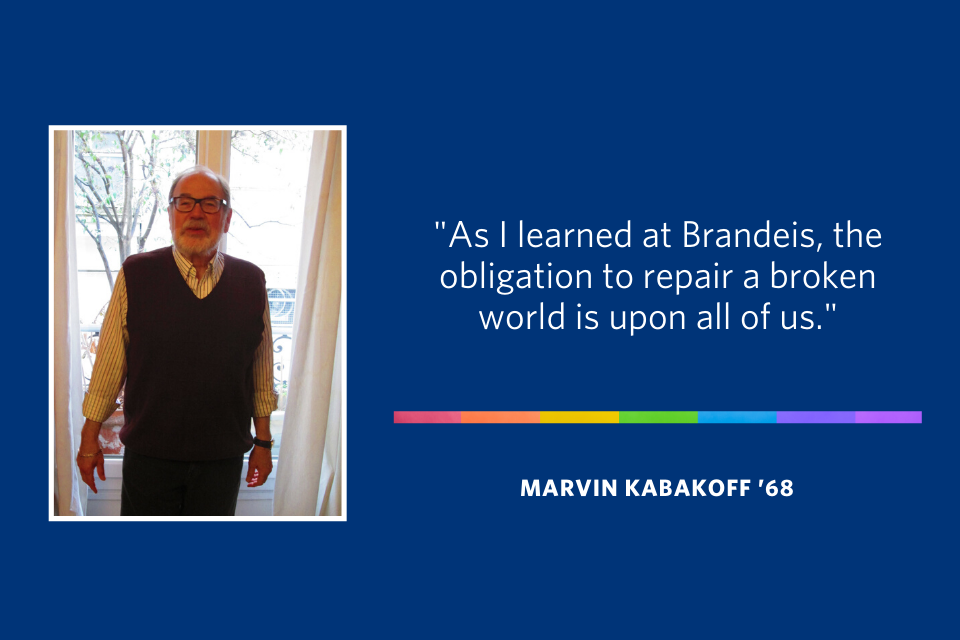 Marvin Kabakoff '68 has been involved with the gay rights movement since the early 1970s. After graduating from Brandeis, he received a Ph.D. in history from Washington University in St. Louis and worked for the National Archives as an archivist for more than three decades. He currently chairs the Rainbow Committee at Temple Sinai in Brookline. He has been involved with The History Project, which documents, preserves and shares New England's LGBTQ history, for several years and on the board since 2013.

In honor of Pride Month, the Brandeis Alumni Association invited Marvin Kabakoff to reflect on his experiences living through and documenting LGBTQ history.
More than 50 years after graduating from Brandeis, I look back and try to see how it shaped my life. Certainly, the Jewish concept of tikkun olam ("repairing the world") was greatly nurtured at Brandeis, and has influenced both my political activities, and especially my activism in the LGBTQ community–and since the personal is political, the two are joined together.

Growing up in a working-class, immigrant, mixed-race community, in the years after the Holocaust, I was made aware of what it meant to be Jewish in a Christian world and that my behavior would reflect on all Jews. I was also taught that because Jews had been the victims of hate and bigotry, we therefore need to treat other people well. So, by the end of high school, I had some involvement in the civil rights movement, at least in getting other white folk aware that not everyone had the right to vote.

Brandeis was a perfect fit: I continued some civil-rights activity and then became active in the anti-war movement, joining SDS [Students for a Democratic Society] and the May 2 Movement [in 1964, the first major student demonstrations against the war in Vietnam], and training to teach others about the real reasons for the Vietnam War. Although I was aware of my being gay, I stifled it, until my senior year, when I finally came out a bit. But there was no gay movement on campus, and only the beginning of one in the wider world. Brandeis taught me how learning and transmission of history could work to make the world a better place. So I decided to go to graduate school in order to teach and radicalize my students. Brandeis also helped in my getting a queer deferment from the army so I could continue my education.

In graduate school, I continued anti-war activity, and also went further in my exploration of gay identity. I joined the Mandrake Society in St. Louis, which was essentially the local branch of Mattachine, the moderate men's gay rights groups started in the 1950s. Then a gay liberation group formed on the Washington University campus, and I became active. We had programs, dances and later gay consciousness-raising groups. I moved to Paris for over a year to research my dissertation and joined the Marxist split-off of the larger gay group. We published a newsletter, marched in the May Day parade as openly queer, and had long meetings. When I returned to St. Louis, I became vice president of Dignity St. Louis (the gay Catholic group) for a year (my then-boyfriend was Catholic) and then became very active in the newly formed gay community center, working on the gay hotline, writing lots of articles, particularly historical ones, for the newsletter, and eventually becoming vice president. When that folded after about four years, I took a break. By that time, I was working for the National Archives.

When I moved to Boston in 1987, I immediately joined the gay synagogue, Am Tikva, which in the 1980s, was the only place in Boston where one could be openly queer and openly Jewish. I became active in that, ending up being the service leader for a number of years. I was also part of a Jewish AIDS group, providing training to temples and religious schools on AIDS. And through work, I was very active in Boston's Federal AIDS Task Force, which trained federal employees about AIDS and participated as a group in the AIDS Walk. Am Tikva gradually shrunk, the victim of the LGBTQ movement's success in integrating into the Jewish community. However, we still provide partial high holiday services and holiday parties. More recently, as Am Tikva began to become less vital, I joined Temple Sinai, the Brookline temple where we had been meeting since the early 90s, and participated in the Rainbow Committee, which I now chair, with the mission of educating the congregation about issues in the LGBTQ community. I'm also on the board of the History Project, Boston's LGBTQ archives, whose mission is to collect, maintain and make available all kinds of documentation of Boston's queer community, to ensure that our history is not forgotten but passed on to future generations.

Looking back on all this, I can see that repairing the world has been the major focus of my activities, particularly for the LGBTQ community, though I also stayed active in a variety of other progressive ventures. With Pride Month here, I can see the progress that we have made over the past 50 years, and it does seem amazing. Being recognized as equals in most states, and many countries around the world, is a major accomplishment, as of course, is equal marriage. (I have to admit that our original goal was to overthrow marriage and not be coopted into it.) The ability to be public, to be ourselves all of the time, and not just on weekends, or when we are able to get away from heterosexual society, is huge. The idea that our lives are valuable is something we had to make sure we learned and taught others, even as so many of our brothers and sisters were attacked and killed. And while there is more awareness, and sometimes punishment, we, and particularly our trans and genderqueer siblings, are still being attacked and murdered; our rights are being denied or diminished in a number of states; the suicide rate for queer teens is horrendous, and the current administration is stacking the court system with people who could take away many of the gains we've accomplished.

And while I write this, our nation is convulsed by courageous protests against police and white supremacist murders of Black people. The Black Lives Matter movement is one we must all support, regardless of our skin color. The slogan, "Same Struggle, Same Fight" comes to mind, as does the concept of the Gay Liberation Front back in the 70s, that we all in this together; now this is called intersectionality, but it is the understanding that our enemies are the same. Those who oppose rights for queers are likely to oppose rights for Blacks, Latinx, women. So while there are some reasons to celebrate, there are also reasons to be wary, and to be ready to continue the fight.

As I learned at Brandeis, the obligation to repair a broken world is upon all of us. And while the world is less broken than it was 50 years ago, it is far from being whole. The struggle continues.
---
Read additional Pride Month reflections from Brandeis alumni.
Published On: June 5, 2020