Brandeis Alumni, Family and Friends
Dr. Julia Blanter '13 on the Front Line Against Coronavirus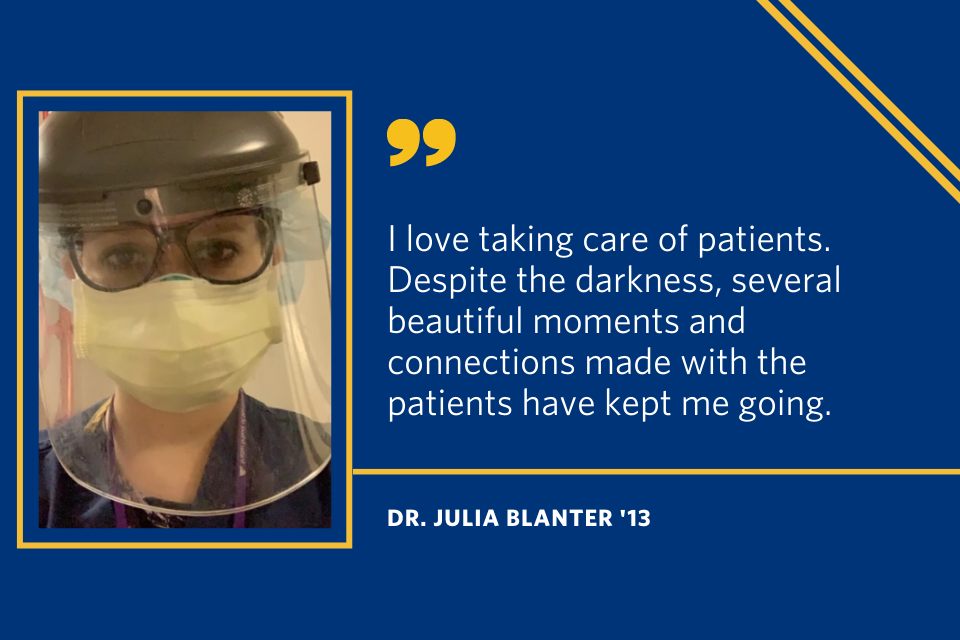 Dr. Julia Blanter '13 is a medical resident taking care of COVID-19 patients at Mount Sinai Medical Center in New York City.
The Brandeis Alumni Association asked her share her perspective with the Brandeis community.
Currently we do seven days in the hospital followed by seven days on sick call. My last seven days were on a COVID unit at our main hospital. I work with an intern and we split seeing our patients then meet with our attending to discuss a plan. Often the plans will be similar: Do everything we can to get their oxygen up. Our day involves spending time with the COVID patients: checking their oxygen levels, following their labs and praying they don't decompensate. We do get a lot of breaks filled with free food donations.
The most challenging thing has been taking care of the really sick patients. Sometimes, it feels like no matter what we do, they keep getting worse. A seemingly healthy 50-year-old will come in and a week later he will be intubated in the ICU. It has been hard to remain resilient in those moments.
The community has been incredible. We have been overwhelmed by kind words and donations. Even families of sick patients are profusely thanking us when they, of course, have more pressing stresses. 
I most definitely never expected to experience anything like this in my lifetime. I typically would have gone home to visit my family around this time. It has been especially hard quarantining from loved ones. Our lives essentially consist of being at work followed by self-quarantining while on sick call.
I love taking care of patients. Despite the darkness, several beautiful moments and connections made with the patients have kept me going.
The best thing to do is to remain patient and keep protecting yourself and your loved ones. It is imperative that we follow the guidelines of safe social distancing through to the end. Despite how difficult it is to remain cooped up, if we all stay strong together, we can end this soon enough.
---
Read additional reflections from Brandeis alumni on the front line in New York City.
Published On: April 19, 2020