Brandeis Alumni, Family and Friends
Changing Course to Help Save a Family Business
When the COVID-19 pandemic struck, Elyssa (Pesin) Kotzen '07 and husband Jeff realized their family's 100-year-old wholesale produce business was at risk of collapse. Pivoting quickly, they launched a premium grocery home-delivery service, New England Country Mart, which serves Greater Boston, Cape Cod and Rhode Island, while supporting local New England businesses through the products they carry.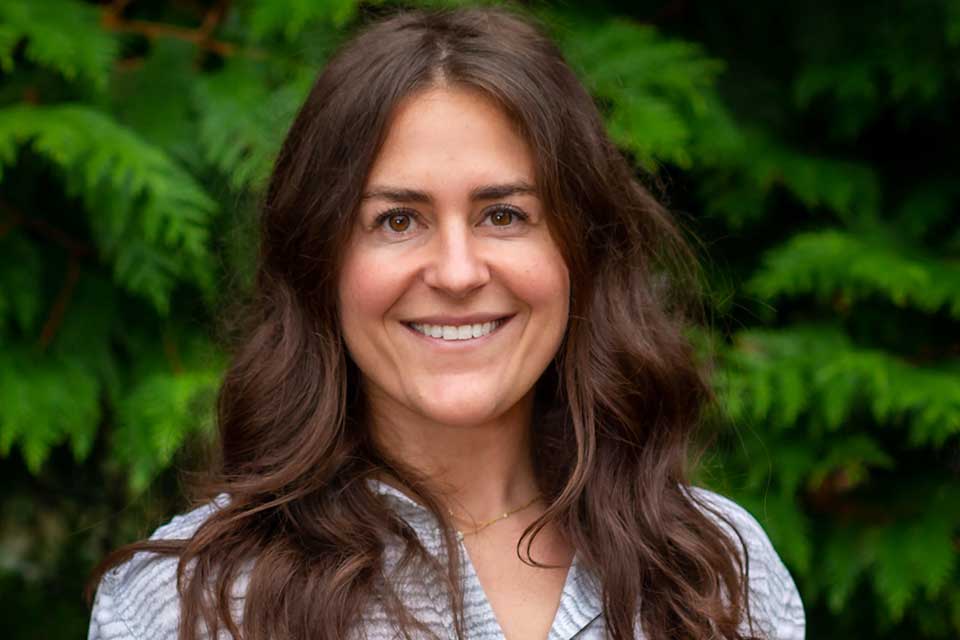 This past fall, Boston Business Journal named the Kotzens of Wellesley to its 2020 "40 Under 40" list," which recognizes Greater Boston's "best and brightest young business leaders." The paper wrote, "In a year like no other, the Business Journal is introducing a class that is overcoming obstacles and challenges never before seen."
Harnessing the Power of Community 
When Massachusetts ordered a lockdown in March 2020, the family's Chelsea-based produce business, J.W. Lopes, which supplies restaurants and catering companies, lost nearly 80 percent of its business in a single day, according to Kotzen.
Switching to home delivery by launching New England Country Mart was an "all hands on deck" family affair, she said, with the new venture's success resting on the power of social networking, creative adaptation and pure moxie.
Kotzen began by sending a single email to her social, community and business contacts letting them know about their new business, then amplified the message on Facebook and Instagram.
"At the beginning of the pandemic, when everyone was home and there were so many unknowns about the virus, people were panicked," she said. "We were overwhelmed with orders, serving over 200 customers a day, six days a week without yet having the proper logistics software or website in place. It was a really challenging time for us."
Still, with help from family and friends, they were determined to make it work. New England Country Mart has provided a safe way to get groceries during the crisis, has helped the regional economy by carrying products from local small businesses, and has donated groceries to local food pantries and school-based food programs.
A Winding Career Path 
All this has represented something of a professional departure for Kotzen. At Brandeis, she had decided on a career in healthcare. She completed a summer internship at Massachusetts General Hospital before her senior year and went on to receive a graduate degree and to work in that field at Dana-Farber Cancer Institute in hospital administration. After taking some time off to raise her young children, she explored interior design, working with a Boston-based firm for two years, before ultimately returning to public health.
While helping operate New England Country Mart, Kotzen has continued her professional work with CRI Foundation, a Boston-based organization that supports global health initiatives in sub-Saharan Africa. She is currently developing the foundation's first grants management database. And like many parents, Kotzen has had to balance her work while helping her children navigate remote learning from home.
Kotzen, who majored in Health: Science, Society and Policy (HSSP), has remained in touch with many friends from Brandeis and credits her professors with cementing her passion for health care. "The major was still very new [then], so it felt really exciting to be a part of this new curriculum, which was one of the main reasons Brandeis piqued my interest." Kotzen also made use of the Hiatt Career Center, making connections that helped her chart her academic and internship pathways. "My career path has turned out to be anything but linear," said Kotzen. "It's about the skill sets you build over time and learning from practical life experiences. You can apply your transferable skills in any new direction. The ability to pivot opens us to new opportunities. You never know what's waiting for you."
— Naomi Blumberg David