Brandeis Alumni, Family and Friends
A Civil Rights Journey With Brandeis Travelers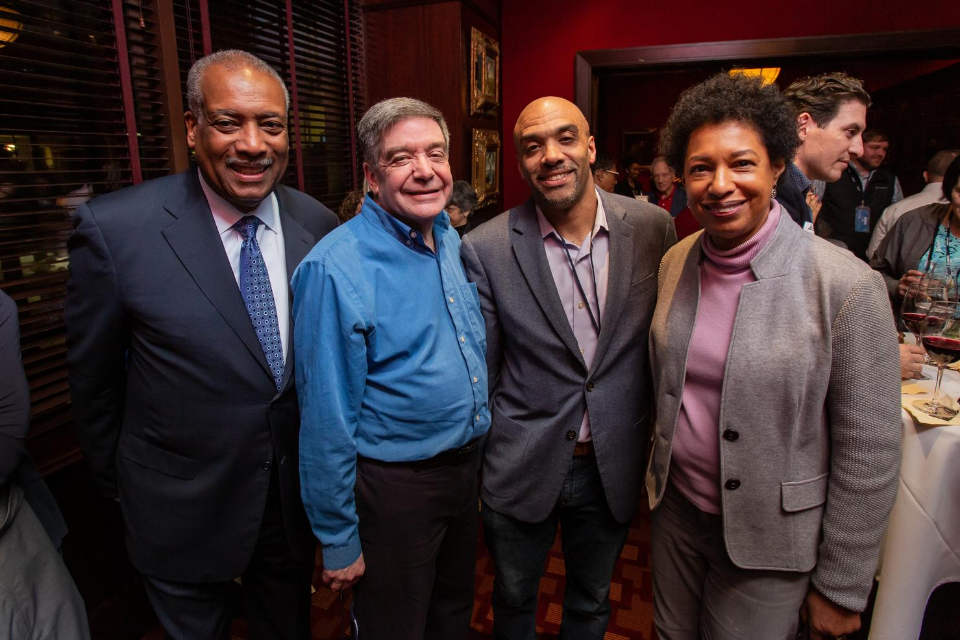 During Presidents Day Weekend, more than 30 people took a Brandeis Travelers trip to America's Deep South to explore the lasting legacy of the civil rights movement, and learn about the rich history and culture of the region.
Among them was Brandeis Trustee Barbara Dortch-Okara '71, a retired Massachusetts Superior Court judge who was the first African-American and the first woman to become chief justice for administration and management of the Massachusetts Trial Court. She reflects on the journey, which was led by Chad Williams, the Samuel J. and Augusta Spector Professor of History and African and African-American Studies.
Q&A with Barbara Dortch-Okara
Why did you sign up for this trip?
I had a need to make this journey. I grew up in the segregated South, in Memphis, Tennessee, leaving in 1967 to attend Brandeis. I was an interested young observer when my older brother participated in the lunch counter sit-in demonstrations. I remember that my friends and I could only go to the zoo and to the fairgrounds on Tuesdays. We could go to the movie theater downtown anytime, but we were restricted to the balcony. There were parks and picnic areas for whites only. As there were no public pools for blacks accessible to me, I didn't learn to swim until I went to college.
Before I finished high school, things changed. My most vivid memories of the changes involved going to restaurants and eating anywhere I wanted to eat. 
I wanted to see where the civil rights movement started, and to learn more about what many of us experienced at different times and places across the South. 
What site had the biggest impact on you?
In Alabama, the Legacy Museum's exhibits about Montgomery's role as a slave-trafficking hub were gripping; I still feel angry about what I saw. The dramatization of the enslaved young boy dressed in rags, holding his little sister's hand and plaintively calling out, "Mama, Mama," was horrifying. These children were held in a pen that was much smaller than a jail cell, more like a pen for an animal. Men, women and children were confined in pens like this located in warehouses close to slave markets. They were transported by the thousands to trafficking hubs like Montgomery and sold at auction for labor on plantations farther south. The site of the Legacy Museum is a former warehouse used to hold enslaved people, located near the former slave auction site. 
A close second were the monuments at the National Memorial for Peace and Justice. Among the hundreds of monuments dedicated to black Americans who were lynched, I located a column that identifies 20 men who were lynched in Shelby County, Tennessee - which includes Memphis -- between 1887-1939. Numerous black women were recorded throughout the field of columns and other monuments. Metal panels illustrated the "infractions" committed by the lynched. One stated, "Elizabeth Lawrence was lynched in Birmingham in 1933 for reprimanding white children who threw rocks at her."
What surprised you?
I was delighted by the astounding examples of the challenges that were overcome in the latter years of the 19th century like Montgomery's historic Dexter Avenue King Memorial Baptist Church. This majestic red brick Victorian church was constructed in the 1880s by a local congregation of formerly enslaved African-Americans, near the former slave auction site. It is only a few blocks from the Alabama state capitol in Montgomery. It's hard to imagine that such prime real estate would be sold to former slaves.
What was special about journeying with fellow Brandeisians?
Although I'd met only a few of my fellow travelers before the tour, I enjoyed the company of the entire group. We were a diverse lot, but we meshed well and expressed our collective outrage at the exhibits we saw. Nancy Kummer shared a poignant story about her husband's participation in the Selma-to-Montgomery marches; a rabbi at the time, he was accompanying a Boston clergyman who was murdered during one of the marches. 
The importance of looking back at the civil rights era at this time in our history cannot be understated. Considering the losses and setbacks we African-Americans — and all Americans — are now suffering, it is heartening to take stock of how far we have come.
Published On: March 10, 2020